-
Store Main
-
Big Buck DVD's
-
Big Bull DVD's
-
Big Game DVD's
-
More Hunt DVD's
-
Elk Calls
-
Window Decals
-
Hunting Hats
-
Books
MossBack
Bull Busters 2
Extreme Bulls 6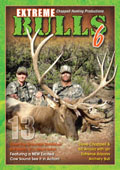 Extreme Bulls 3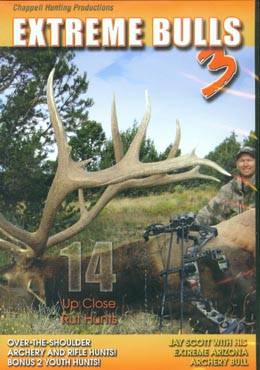 14 Up Close Rut Hunts!
Over-the-shoulder archery and rifle hunts!
Bonus 2 youth hunts!
Once again the Chappell Hunting Productions Team has captured the magic of the fall rut on video-up close and personal!
Arizona is home to the biggest bulls in the world and you'll witness them first hand. This video is loaded front to back with Huge Bugling Bulls, Explicit Kill Shots, and exciting, quality, over-the-shoulder archery and rifle hunting!
It's just what you've come to expect from Chappell Hunting Productions. Sit back and enjoy the stars fo the show--EXTREME BULLS!
Available in DVD Only
DVD Price: $5.00