"Straight Six Cedars Bull"
Written by Adam Castor
After hunting mule deer and spike-only elk for the past 13 years with my brother-in-law, Jeff Edwards, we decided that it was time for me to put in for a Fish Lake limited entry trophy bull tag and start building up some bonus points. As luck would have it, I found out in April that I had successfully drawn a tag for the 2008 early season hunt, on my first application. We had talked so many times about how fun it would be to hunt trophy bull elk, and now we were going to get our chance.
Over the years, we have seen a lot of bulls in the higher elevations of the Fish Lake unit, so we spent several weekends during the summer scouting for elk in these areas. We saw several nice bulls still draped in velvet and close to the area where we normally camp and were planning to hunt. We also herd that two nice bulls had been seen above our camp spot and that some big bulls had been seen down lower in the cedars. So we decided that on opening morning we would saddle up the horses and ride up into the high elevation aspen forests above camp and hunt the bulls up there.
As dawn broke on opening morning, we jumped a herd of elk with a good bull in the aspens, but by the time we dismounted and tied up the horses the elk had moved out of the area. We hiked down through the aspens listening to the bugling, but were never able to catch up to them. After about an hour of trying to call the bull back in, we hiked back to the horses. The rest of the morning was spent riding down off of a big ridge through the aspens and oak, but no other elk were seen. That evening we decided to follow the tip that there were elk down low in the cedars, so we hiked into a spot where we could glass into a drainage that the elk used to travel back and forth to some feeding pastures. We heard a couple of bugles and just before dark we spotted a nice six point bull with about 10 cows heading down toward the pastures. He was about 350 to 400 yards away, so we watched him until dark and decided that we would start hunting this area first thing the next morning.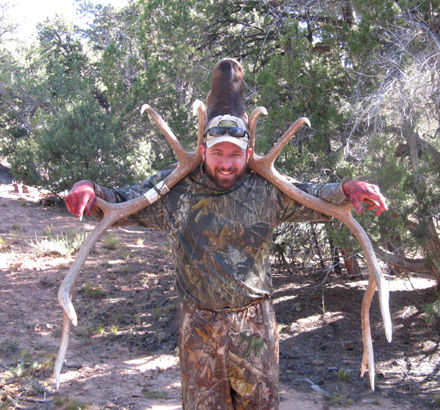 We hiked back into the same area Sunday morning a little later than we had planned, and by the time we got on top of the ridge where we'd seen the big bull the night before, the elk had already moved through and were higher up on the mountain. We could hear the bulls bugling, but never did see any of them, so rather than pressure them by trying to catch up we sat and glassed for awhile, and then hiked back out. Later that afternoon, we hiked back into the same spot and set up on the same ridge where we could see down off both sides and waited for the bugling to begin. Sure enough, just before dusk the bulls started bugling and we were able to locate two bulls on a side hill north of us. One was a big bull that Jeff only saw briefly; the other was a smaller bull with three or four cows that we decided to pass up. We watched him until dark and then made the hike back out, knowing that we would be back before light the next morning.
On Monday morning we woke up around 4:30 am and again headed down to the cedars. We were able to cut the hike in half by driving the pickup in as far as we could. We made the rest of the hike in the dark and were set up on our ridge before light. As expected, just before dawn the bulls started bugling back and forth, and we realized that again they had gotten above of us and were higher up on the mountain. We stayed put and listened to four or five bulls bugling above us and one still below us that sounded big. As the symphony of bugling progressed, it sounded as if the upper bulls weren't going any higher and we were surrounded by elk. We decided to hike down off our ridge and up to a steep, narrow rock outcropping that would give us a better vantage point of the entire drainage. As we ascended, it sounded like the bulls were moving in all around us, but because the cedars are so thick we just couldn't see them. So we just slowly moved up the rock outcropping and kept glassing and listening.
Finally, after about twenty or thirty minutes of glassing and listening to a frenzy of bugling bulls, we saw a nice bull moving through the cedars above us and to the east. I moved over onto the north side of the rock outcropping and took a perfect rest on a deadfall cedar branch. Just as I finished getting into position, the bull followed his few cows out into a clearing at the end of a small ridge, right into my scope. As I lowered the crosshairs to just behind his front left shoulder, Jeff said "take him!" That was all I needed to hear. The first shot hit right on the mark and the second shot put him down for good. The Springfield .30-06 that my grandfather gave to me was dead on and the 180-grain, Federal Premium Nosler Accubond bullets did their job in taking the big bull with two clean shots within 250 yards. We waited for a few minutes before making the short hike over to where we'd last seen him, and found him about ten paces from where he was last standing, lodged under a dead fall cedar at the bottom of the little ridge. After dislodging him from under the tree, we 'high fived', took some photos, and then got him into a position for the long chore of field dressing and hauling him out. What an amazing experience, from start to finish!
My cedars bull is a beautiful, symmetrical 6x6 with good mass and length. He officially gross scored 316 1/8, and has an outside spread of 48 6/8 inches. Many thanks go out to Jeff Edwards, Rhett Fergusen, Heather, Logan, and Auston, all of you guys down there who helped out by looking for elk over the summer, and to Todd Rasmussen at Todd's Taxidermy for scoring him. This hunt wouldn't have ended the way it did without all of your help and patience. Thank you all!
Click-a-Pic ... Details & Bigger Photos
Click-a-Pic ... Details & Bigger Photos
Home | Hunting Forums | Photo Gallery | Hunting Articles | Videos

|


Hunts & Tags | Hunt Draw Odds | About Mule Deer | About Elk
Store | Classified Ads | Photo Tours | About this Site | Advertising

|


Older Content | Email Us | Privacy Policy | Links | Podcasts