"Sydney's Royal"
Written by Chad Schow
That was an elk! And he's close! I almost didn't believe it at first but the presence of a bull elk is unmistakable. It had been over a year since I had heard the thundering roar of a big bull echo in my ears. Anxiety rushed through me as I blew on my new Primo's hyper lip cow call. A roaring bugle less than 600 yards away assured me that I was dealing with a bull in rut. The king of the mountain had awoken and he let everything within a thousand yards know with his breath-taking scream. The sounds of a rockslide came to mind as he came crashing down the mountain like a freight train in my direction.
Things were happening fast! My legs felt weak and were shaking uncontrollably as I rushed into the timber for cover. I let out another bugle to see what would happen. The mountain came alive with four bugles from four different bulls! What a rush! Ben, my brother-in-law and lifetime hunting partner, was on a ridge 500 yards to the east of me bugling and raising his own ruckus with the bulls. A visual of a small 5x5 and a few flashes of golden yellow through the timber were enough to bring us together for an exchange of high fives and a couple "we're in the elk" chants.
The next weekends scouting trip didn't start off as hot as the previous weekend, but the results were more gratifying. The elk were gone. It was only seven days later and there wasn't an elk in sight. We had to move on to another area of our unit to find the elk and fast, opening day was ten days away. Aaron, Ben's brother and third owner of our drawn party tag located a cattle rancher at the bottom of the hill. The advice of a cattle rancher in any unit is comparable to gold. The rancher was on his last trip to the mountains looking for a lost group of cattle led by a white heifer. We exchanged information about our sightings of the cattle and in turn, the rancher provided us with information on the elk in that area.
As I reached the top of the ridge, my bugle caught the attention of soon to be named "Sydney's Royal". A low, deep moan answered my hyper-lip call from the next ridge in which we later named Royal Timber. It's hard for a herd bull to leave his harem and come to a bugle, especially after the peak of the rut. However, a few cows do come into heat late, which explained why this bull wouldn't respond to my bugle but would moan and groan every time I blew on the Hyper-lip call. The low moans eventually turned into bugles as my taunting and teasing caused the bull to pace back and forth through the timber. Ben and his friend Chuck, who joined us on this scouting trip, were 800 yards above me and in great position to move in on the bull. Wind in their face, they were about to enter the zone!
Aaron was scouting the canyon south of me when my Motorola Distance radio spoke out in his voice "Every time you blow that cow call, these bulls in here go wild!" Aaron was in another group of elk! The sounds of three different bulls were enough for me to leave my post and dive into the canyon Aaron was in, in search of a visual. I only made it a hundred yards when my radio rang again, this time in a quiet whisper from Ben, "Chad, ……. I just found your bull". Ben was staring at a large 6x6 bull standing broadside at 80 yards. According to Ben, the smell of elk was strong and three bogs were found surrounding a lone quaking aspen in which we marked as the bedding area for "Sydney's Royal" and his herd. This was one place we would definitely return to when the season opens.
Opening day this year was on a Monday, which meant we still had one last weekend of scouting. Aaron, Ben and I arrived Friday night and set up camp less than a mile away from some natural mountain hot springs. We decided to spend one of our last two days scouting the mountain in which the four bugles came from and the other day looking for new elk. Saturday's scouting trip was unsuccessful in the fact that we didn't see any elk but we were fortunate to see a number of large trophy mule deer. Aaron however, talked to two other hunters who had drawn the same tag and unlike most, willingly shared their stories on where and how many elk they had seen on this same mountain. Their sightings of six bulls including one 6x7 were enough for me to decide on my opening day location. We all agreed that high on this mountain was the place to be opening morning.
October 15, 2001. Opening day. Our elevation was approximately 8000 feet when the three of us decided to separate. Aaron took the ridge to the east, Ben took the ridge to the west and I crept down the middle ridge looking for an open area to sit and glass. As soon as I sat down, seven cows scurried fifteen yards beneath me. My lens caps were open and my heart was pounding! I waited and waited with my rifle secure on my shoulder hoping for a bull to follow. Ten minutes passed and no bull. I managed to regain my composure after the early morning surprise and decided look for a more open area along the ridge.
Two gunshots blasted from the east as the ridge Aaron was on came alive with elk. I watched fifteen cows race across the open hillside before the first bull stepped out. I could tell he was big but not huge. The cross hairs of my 3x9 Leopold scope measured him out to be a 5x6, just as a second bull reached the opening. This bull was bigger and was moving much faster. Another dozen cows followed the 300-class bull across the opening at a distance of 400 yards, never giving me a good opportunity for a shot.
My gut instinct told me the elk were going to cross in the same place as the seven cows had crossed earlier that morning. I began moving up the ridge to get in position for a better shot. Before I knew it, elk were crossing all around me. Antlers! More antlers! The two bulls were less than 30 yards behind me following a cow. She stopped dead in her tracks when she reached my footprints in the snow and stuck her nose straight up in the air. I was busted! A couple big sniffs of human scent and she was gone. The two bulls stood frozen, confused and fortunately for them, well covered in the thick timber. My only shot opportunity was to take two steps to the right and hope for an open shooting lane. My heart dropped as the bulls spotted my movement and crashed off into the distance. Multiple gunshots echoed through the canyon seconds later and I knew my opportunity to harvest one of those bulls was over.
As opening day concluded, the two bulls surfaced one last time. This time tagged and in the back of a Ford F150 parked next to the mountain hot springs. Bragging rights of the hot springs were granted to the lucky hunters as we exchanged stories about the same two bulls.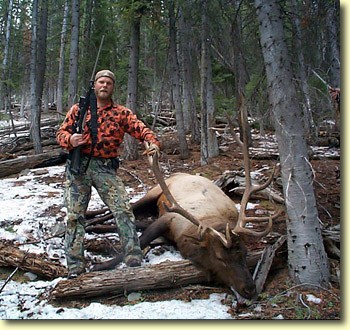 Chad's bull grosses 312 and nets 290 B&C.
Day two: Our return to Royal Timber started out with plenty of action. Ben spotted two spikes, a small 3x3 and a 5x5 on his hike to the top of the ridge. Holding out for a wall hanger, Ben passed on the smaller bulls and continued hiking until he reached the next ridge. I was sitting roughly 800 yards down the main ridge from Ben, while Aaron was another 500 yards below me. What was about to happen next was unpredictable and will never be forgotten.

Ben located another bull feeding approximately 1200 yards away at the top of the butte. The bull appeared to be a nice 5-point, so Ben set up his spotting scope in order to take a better look. Just as the scope dialed the bull in as a 5x1, a small airplane buzzed the top of the butte and tipped its wing. I have no idea who this pilot was or what his intentions were but it sure spooked the elk. In single file, roughly 50 cows, a 4x1, 5x1, 5x5 and a large 6x6, were steadily approaching Royal Timber.

Again, my instincts told me the elk were heading back to their bedding area near the lone quaking aspen. The elk were moving fast, therefore I needed to move faster. Their bedding area was nearly 1000 yards across the canyon and up hill.

As I closed the distance on the quaking aspen and bedding area, two elk spotted me and crashed away. With more than 50 elk heading in my direction, I opted to find a strategic shooting lane and wait. Seconds later, a cow and calf walked less than 10 yards to my right. Antlers! The 5x1 gracefully approached my window of opportunity at 20 yards, stopping curiously to take a better look at what I was. Never killing a bull bigger than a spike, and never taking my eye out of the scope, I decided to harvest this unique bull. Cross hairs between his eyes, I slowly squeezed the trigger. Click. My safety was on!

In the split second it took to release my safety, the majestic king of the mountain unexpectedly appeared in my shooting lane. In this surreal moment, which will haunt me forever, unfolded as the bull glared into my eyes with fear and distress knowing that he just made the ultimate mistake of stopping and taking a second look. A sudden charge of adrenaline raced through me as we made eye contact at less than ten yards. The large bull stood cold, showing only his long bearded neck and massive 6x6 rack. The hair on his neck created a perfect background in my scope as I squeezed the trigger. The explosion in the dark timber sounded like a canon as "Sydney's Royal" dropped in his tracks.

I stood astonished looking over the bull as the remaining elk frantically scattered throughout the timber. After taking pictures, the work began. Fortunately, we were able to get two four wheelers to the base of the mountain after dragging the huge bull down hill 800 yards up and over numerous rocks and deadfall. The day was complete as we soaked ourselves in the hot springs, this time WITH the bragging rights.


Click-a-Pic ... Details & Bigger Photos
Click-a-Pic ... Details & Bigger Photos
Home | Hunting Forums | Photo Gallery | Hunting Articles | Videos

|


Hunts & Tags | Hunt Draw Odds | About Mule Deer | About Elk
Store | Classified Ads | Photo Tours | About this Site | Advertising

|


Older Content | Email Us | Privacy Policy | Links | Podcasts