"Heaven Sent 6x7 - Part II"
Written by Clint Chamberlain
Eight days after my after papa took his big bull
(Heaven Sent 6x7 - Part I)
, I returned to the same area on my own muzzleloader elk hunt. I had several friends that were to accompany me throughout my hunt. First up, my long time friend and hunting partner Steve was to spend the first two days with me. Steve is an excellent hunter and knows elk very well. I was in good hands. We decided to try a mountain range where he had killed a nice six point a few years earlier with his muzzleloader. The weather was extremely hot and the elk guide was an absolute mountain goat! We got back into some great country with several rubs, but there was not a lot of fresh sign.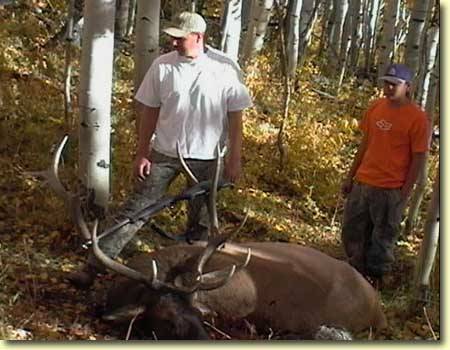 We called pretty aggressively, maybe every 100 yards or so but could not raise a response. Finally, around 9:00 am, we had one lone reply. No matter what we tried he would not respond again. Steve thought we should try to get at the same elevation as we figured the bull to be and try him again. He did his best imitation of a worked up bull raking the trees, rooting the ground and bugling, all with a few cow calls thrown in here and there. After a few minutes of this we could hear footsteps coming. I set up in front of Steve and we waited patiently. Steve saw the bull first, he thought he could see six points but whispered that it was too thick and ultimately I had to make the decision. I got a pretty good look at him at 80 yards and I could only see 5 points, too small of a bull nonetheless.
After he busted us we hiked down the ridge a ways. The rest of the day was uneventful and the motel was a welcome sight after an extremely hot day that started at 2:00 am for us.
The following morning found us in a canyon that we hadn't spent much time in. Within minutes of hiking, it was clear that we'd hit the jackpot. There were four different bulls bugling all around us. One was on our side of the canyon about the same elevation as us. Two others were in the bottom and another one was below us.
As soon as it was light enough to see, Steve spotted the bull below us, he turned out to be a rag horn. He quickly spotted one of the bulls in the bottom and he turned out to be a decent six point. After a quick discussion we thought it was best to take off after the bull we knew was a six point. Though the logical decision, it proved to be the wrong one.
We busted down to the bottom of the canyon and were working the bull we had seen; all the while the bull above us was coming down the ridge. Steve was doing the calling and he was in an area that didn't afford him much of a view behind us.
Before long the bull above us was close so I was trying to watch both directions. Pretty soon I saw several cows walking along the ridge top, soon followed by an enormous bull! My call was securely put away in my pocket so I got Steve's attention and he cow called a few times. I had ranged the bull at just over 200 yards straight uphill. At Steve's persuasive cow calls, the big bull took a few steps off the ridge towards us. Unfortunately, he would not leave his cows and continued down the ridge with them.
Had we stayed on the ridge, the big bull would have played right into our hands. Though we convinced each other that we had made the right choice, it still didn't ease the pain of seeing that magnificent bull walk across the same trail we had been on thirty minutes earlier.
We still had the other six-point screaming above us so we took off after him again. Our plan was to have Steve keep him talking while I snuck in for the shot. It almost worked to perfection as I was close enough to hear him "glunking", however I never did see him through the thick trees. After that we either bumped him or he just walked up in the trees to bed down.
Steve and I walked out into a little clearing to catch our breath and get a drink. While we were sitting there enjoying the incredible autumn colors and the morning's events, two small bulls walked out below us giving us an opportunity to video them. We also watched a nice bull moose feed up the ridge.
Since it was our first time in the canyon, we explored it for a few hours looking for water sources and elk sign. We finally walked out and decided to hike back to the wheelers and ride them down to the valley floor where we could eat lunch and take a nap by a cool stream.
We had both drifted off, but were awakened by a bugle just after 3:00 pm. What in the world was an elk doing in the valley on a hot day? It didn't matter; we were up and after him in a heartbeat. He led us on a chase through some thick brush, eventually topping out right on the 4 wheeler trail. We got a good look at him and he turned out to be a small six point. We walked the ATV trail back down to the wheelers as we talked, bugled, and generally screwed around the whole way down. We were maybe fifty yards away from the wheelers when I glanced up on the hill, another 75 yards or so above the wheelers; a bull was looking at us. He turned out to be a five point and once again Steve was able to get some good video.
By now it was approaching early evening and we decided we better get back up into the canyon where the bulls were earlier that day. We dropped off the ridge hoping that the big bull would return using the same trail as earlier. That evening was uneventful except for seeing a good six point and a five point right at dark across the canyon.
Steve had a job interview in the morning so another good friend, Wes, came down that night. As I relayed the day's events the excitement grew. Wes is an avid elk hunter also, having taken a very nice six-point with a bow a couple of years earlier.
Friday morning found us in the same canyon that Steve and I had been in the previous day. We dropped off the ridge and hung around the same elevation that we had seen the big bull at the day before. There was one bull bugling in the bottom, and after giving the big one a little while to show, we went after the one we could hear. We couldn't quite catch up to him before he decided to be quiet.
We traversed up the canyon a ways and were able to get three other bulls to bugle back at us, but only one of them would cooperate with us. We worked the same plan as we had been using; Wes would keep him talking while I tried to sneak in on him. Again I got fairly close, but he was in an absolute jungle and we weren't sure if he busted me or just decided to leave.
Later that evening, we were pretty close to the top of the ridge in the same canyon where we had heard two other bulls bugle and where we had also found some wallows. As we were sneaking along, Wes spotted a bull. Again it was thick and we couldn't tell if we could see the 5th and 6th tines on a good bull or the 4th and 5th tines on a smaller one. We tried to cut him off but were unable to see him again.
Saturday morning Tim came down with his son Hunter T. and my son Hunter J. Both luck and skill run in his blood, having taken several elk, including a six point with both rifle and bow. I was definitely in good hands. Morning found us in the same spot that Papa's hunt started. Our plan was to spread out a way's apart and see if one of us could get a bull bugling, if so I would go after him.
It didn't take long for Tim to get a bull going and I immediately went after him. I happened to pass Tim on my way and he directed me to a trail that would take me towards the bull. Tim kept him talking and I was extremely close once. I even sat down on a wallow thinking the bull might work down; however the next bugle was quite a ways off. I jumped up and took off after him and immediately busted two spikes. At that point, I thought it was all over.
I still sprinted about a hundred yards and started cow calling. Pretty soon I could hear footsteps coming my way. As I searched through the trees I could see a bull coming down a path that would bring him broadside to me. I verified he was a decent six-point and tried to get set up for the shot. There was absolutely no where to get a dead rest, so I got him in my sights off-hand, everything looked well, so I pulled the trigger.
When the smoke cleared he was standing there looking in my direction through the trees. Pretty soon he started to sway back and forth and at that point I figured I had hit him hard, but he remained on his feet. Pretty soon it occurred to me that I had two speed-loaders in my pocket. I pulled one out, and while keeping one eye on the bull and the other on my loading, I was able to get "most" of the powder in the barrel. I took a shot through the trees and apparently missed. By now I was a nervous wreck.
I pulled out the other speed-loader and tried to calm myself. This time I took a few steps to my left where I had a clear shot at him. After the shot his back legs started to give out and he came straight down the hill at me backwards, finally piling up about 60 yards away. As I walked up to him I was surprised to see that he was bigger than I had originally thought, however he did have a broken sword on his left side.
I back tracked out to a clearing and bugled to get somebody's attention. Wes had heard the bull bugling and was pretty much right on top of me. He got a hold of Tim and Hunter J. on the radios and they all came down. As we sat admiring the bull, Tim and I agreed that he appeared to be the same bull we were trying to get Papa on early in his hunt. Sometime in the last week he had been broken and had lost the cows he was with.
Again it was getting extremely hot and after some pictures we went to work on getting him quartered and caped. We were able to get him down to the truck by 12:30 and were home by 5:30 that evening. I put a tape on him the following day and scored him at 313 inches with the broken sword. If I put the left side sword on his right side, he scores 327 inches. This has been the most memorable hunt of my life and I was thrilled to share it with family and friends.
Click-a-Pic ... Details & Bigger Photos
Click-a-Pic ... Details & Bigger Photos
Home | Hunting Forums | Photo Gallery | Hunting Articles | Videos

|


Hunts & Tags | Hunt Draw Odds | About Mule Deer | About Elk
Store | Classified Ads | Photo Tours | About this Site | Advertising

|


Older Content | Email Us | Privacy Policy | Links | Podcasts