"The Muley Magnet"
Written by Paul Felski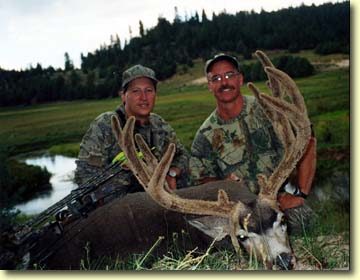 Paul's 2001 Utah buck gross scores 182 1/8.
"You must have that deer magnet in your pocket again," Said my hunting partner Darrel Bussard as we were looking at the magnum size muley buck at our feet. "Just lucky again," was my reply. And in all actuality on this occasion I was a bit luckier than usual.
My hunting buddies will tell you the same thing, they seem to think I am some kind of deer magnet and the luckiest hunter they know. Over the years on numerous occasions they have seen deer take direct paths to my locations even though they had a whole forest or desert to choose from. I myself really can't explain it, but I am not complaining either.
This hunt had started several days before when I found a large herd of these "magnum" size bucks on my favorite ridge. There was several that nobody would pass up in this group, two of them over the 30-inch mark and several too close to call. In the up coming days I would get to know each of them, studying them from a distant ridge. I was looking for a flaw in their daily routine and travel. These deer were pretty secure in their patterns and travel routes, except for in one area……
Darrel was delayed in his arrival to camp for a few days, so I waited for him while putting the perfect plan in place. At least I thought it was the perfect plan. Darrel seems to always get the heavy pack frame or ends up carrying the video camera on our hunts, so I wanted him to get the first crack at one of these bucks in return for all his past help. The plan was to position Darrel on the buck's primary escape route, a saddle through a cliff. After the bucks had bedded for the day, I would then circle up wind of their little "hidey hole". The way we figured the deer would scent me and slowly work their way through the pass, giving Darrel a perfect shot.
The funny thing about mule deer and bow hunters, they don't always follow perfect plans. The next morning Darrel and I were camped out on the vantage point watching the bucks feed into their bedding area. Things were going like clock work. Now all we needed to do was get Darrel into position undetected. He followed the predetermined route to his makeshift blind and signaled me to start my descent.
I began to work my way over to a finger ridge that ran down to the group of cedars that the deer used as their morning bedroom. I was still over a half a mile away when I saw deer explode out of the pocket of trees in all directions. They couldn't have smelled me yet….What was going on? I looked under the tree that Darrel was using as his blind only to find he was not there. I glassed the surrounding area and could not pick him up; I did however catch movement in my lower field of view. Two of the bucks were on a collision course with me! The rest of the heard had headed out across the flats and into the next canyon. But where was Darrel?
If my luck held out, hopefully the two deer would pass close enough for a shot. I had plenty of time to identify the bucks as they were working their way up the ridge. The one in front was a very nice 4x4, the one following I recognized as "The Cheater" he was a 4x4 with two cheaters on each side plus eye guards. He was very heavy and about 26" wide, so that made the decision of which one I wanted fairly easy.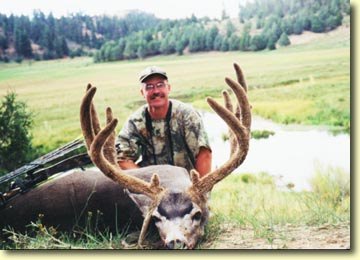 The bucks were being pulled towards me by the "deer magnet" in my pocket. I found shooting lanes and got set up for the shot. The deer were now slowed to a half trot, half walk and were stopping frequently to try and find out what had gone wrong in the cedar patch. They were working the ridge parallel and below me by 30 yards. I would have to shoot before they hit my scent trail to the right. When they crossed behind some scrub oak, I drew my bow. I followed the 4x4 through my shooting lane and waited for "The Cheater". As he was walking I was timing him and when his chest cleared the last of the brush, I let the string slip from my fingers sending the Muzzy tipped, Blackhawk carbon rocket on its way.
The arrow flew true finding its mark and the buck stumbled out of view over the next little finger ridge. Wow! Where is Darrel? I sat down and began scanning the trees for him. It took a while before he appeared from the middle of the cedar patch, and even longer before he saw me trying to flag him down. I signaled him that I had shot a deer and for him to come back up the ridge. It took me several exaggerated hand signals for him to expend the energy to climb back up the ridge. He had some crazy idea in his head that I was just trying to get him to hike back up just for my own personal amusement. I don't know where he gets these ideas.
After he caught his breath and had a drink of water, he was ready to talk. "I thought after looking things over that I needed to get closer to the bedding area. It looked like they could go too many directions, and may not come close enough for a shot," he explained. "Well it kind of worked out that way didn't it, they never did come close enough for a shot after they saw you!" I told him. "Did you drag me all the way back up here just to tell me that?" He mused. I then blurted out that I had shot "The Cheater". "Yeah right! They were over a half a mile a way". He questioned.
Well that went on for a couple of minutes with some stuff being said that I really can't print. "Ok, where is he then? Did you make a good shot" He asked. We walked down the hill and found the arrow covered in bright frothy blood. "What's this from another jack rabbit you shot?" He asked again. Well maybe a large Jackalope I answered as we started the blood trail. Just over the ridge, "The Cheater" had come to his final resting spot. "Hey you were telling the truth! That's a great buck Paul!" We spent some time admiring him and reliving all of the events that took place to make this happen. We did a lot of laughing and arguing over who "The Cheater" really belonged to.
Look I said, "If you use your glasses you can make out the top of the truck way over there". I don't think that he found much consolation in that statement. "Yeah at least it's not like one of your regular pack trips where we have to hike for two days just to find the truck!" He groaned. "I think I pulled something in my leg on the way back up the hill". He stated. Too late I told him, I was watching you all the way! Needless to say we spent the rest of the day taking care of chores and resting in camp, of course.
We continued to locate the rest of the bucks for the next couple of days but could never get Darrel any closer than 70 yards. Being the true sportsman that Darrel is he wouldn't risk a shot that he was not confident in taking. We were close many times to smaller 4x4's, but Darrel was taking a big one or none at all. So even though his ice chest was empty on the way home (except for a few of my choice cuts) those bucks will be filling both our dreams until next year. That will give Darrel plenty of time to find a "Muley Magnet" of his own!
The "Cheater" gross scored 182 1/8 which was actually more than I had guessed when I first saw him. He carried over 20" of mass on each side. The buck was taken in Southern Utah in 2001.
Click-a-Pic ... Details & Bigger Photos
Click-a-Pic ... Details & Bigger Photos
Home | Hunting Forums | Photo Gallery | Hunting Articles | Videos

|


Hunts & Tags | Hunt Draw Odds | About Mule Deer | About Elk
Store | Classified Ads | Photo Tours | About this Site | Advertising

|


Older Content | Email Us | Privacy Policy | Links | Podcasts