"Pals"
Written by Scott McGann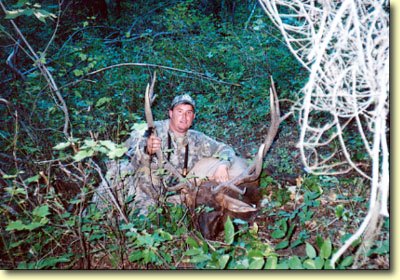 What a great opening day!
It was opening weekend of Archery season. A couple of pals and I headed up to the mountains for a weekend of scouting and a little hunting. That was the plan anyway! After running errands in McCall we finally made it to the cabin around 1:30 p.m. on Saturday. After unpacking, we decided to go up to the funnel (a place where several game trails intersect) and set up a tree stand for Pappy. While in the tree we heard a bugle, shocked as we were, we realized elk were present and our bows were not. We hurried and finished the stand and rushed back to the cabin. That evenings hunt produced a lot of sweat and the sighting of our first elk.
The next morning we got up around 8 a.m. and headed out. We set up on a wallow that was being used, hoping it would get used once more while we were there. I started cow calling and almost immediately heard brush crack. I looked to my right and saw an elk about 80 yards coming my way. I called again and the spike bull stepped out in the open at 30 yards. Out of the corner of my eye I noticed my pal, who had a perfect broadside look, was at full draw. I heard the bow and watched the arrow sail over the bulls back. After a few minutes of pouting we decided to try and go around the mountain and call him in again. This time we split up about 150 yards and began cow calling back and forth. Almost immediately a bull cut loose bugling just below us. I kept calling for a while then noticed movement off to my left, it was my pal waving me to come to him. I ran down and his face was white as a ghost. He said a 5 point had come in and he hit him good, so we sat down and waited about an hour.
After a short search we found my pal's beautiful 5x6 bull (his first bull ever). We quartered him up and after 5 sweat-filled trips to the cabin, we collapsed. I thought "If this fat boy is going to have a heart attack anytime soon, it's going to be now!" We sat around for a couple of hours relaxing, then I thought, "I came up here to hunt, and even if it kills me, I'm going on an evening hunt." My pal said "You're nuts, I'm not moving a muscle." I decided since I was so tired I was just going to go up to the treestand we sat up for Pappy and try some cow calling.
With only 15 minutes of calling, I had three different bulls bugling at me. I almost jumped out of the stand from excitement! In what seemed like a split second, a bull cut loose with a loud bugle about 70 yards to my right. Then suddenly, a beautiful bull elk was right below me. I made a good shot and watched him crash down through the timber. I immediately got on my 2-way radio and called my pal. He said "Yeeaaaah, go ahead". I told him, "get off that porch and get up here, I just shot a 5x5"! He could tell by the excitement in my voice that I wasn't joking.
Upon finding the bull, we learned that he was actually a 6x7, and great first archery bull. What a day, by the time we got back to the cabin it was well after dark. We loaded up the next morning to head home and beat the heat. Our truck was loaded to the gills with meat and horns, what a beautiful sight! We were blessed with the weekend of a lifetime, and a lifetime worth of memories.
Click-a-Pic ... Details & Bigger Photos
Click-a-Pic ... Details & Bigger Photos
Home | Hunting Forums | Photo Gallery | Hunting Articles | Videos

|


Hunts & Tags | Hunt Draw Odds | About Mule Deer | About Elk
Store | Classified Ads | Photo Tours | About this Site | Advertising

|


Older Content | Email Us | Privacy Policy | Links | Podcasts