"A Great Trip for Colton"
Photo provided by: Colton Fuller
Colton Fuller writes, "My name is Colton Fuller, I am 14 and I am from Utah. I got my first archery buck in Central region. It was 3 days before the archery hunt ended. We had skipped the morning hunt because we hadn't done well any other morning so we decided we would hunt the afternoon time. When we got out there the first thing we spotted was a few spikes and a few 2 points. It started getting dark when we saw horns in a field. So me and my cousin Cjay decided to put a stalk on him, we walked out to about the middle of the field when the deer popped up. It looked like from where we were a 3 point with deep forks and pretty wide. As soon as I went to draw back the deer took off. I flung an arrow at him but missed. So we hopped on our 4-wheelers and tried to find him and my arrow but he got away.
Day 2
We unloaded our 4-wheelers a little later than we hoped for, but we hurried and got out there as fast as we could. When we got out there we didn't see deer for a while, but a little while later we found a small 2 point so our group was trying to get shots at it. Little did we know there was a group of 3 more bucks with him. My Uncle Casey ran over to us and said there are 4 deer over this hill, I will kick them up for you. So me and my mom walked around a hill and we saw 1 buck hop a fence nearby. Then I spotted the rest of them following. The first three were little bucks but out of nowhere I saw a big rack just standing there. I drew back, and I flunked my arrow. The buck jumped over the fence and ran off with the others. All I could do was watch a once in a lifetime buck run off into a field, I was so mad. About a half hour later we saw some deer by a little grove of trees. My cousin and I decided to burn over there. Right as we turned the corner we saw 5 deer standing there. They all were 2 point or better but one of them stood out from all the others. It was the same "big rack" I saw a half hour earlier. The deer bolted to the west, me and my cousin took a lower road to try to get in front of them, because we thought we knew where they would go. But they all parted and ran different directions. Besides, it just became too dark to shoot.
Day 3 last day
It was about 6:00 p.m. when we unloaded our 4-wheelers. We started going through a field to catch up with the other hunters in our group. When out of the corner of my eye I saw a big rack pop out of the tall grass. A few cuss words later, I grabbed up my bow, knocked an arrow, and pulled back. I only had 1 thought in my head when I drew back my bow, "do not miss this one." (Earlier in the season I had my fair share of misses.) I held my breath and slowly squeezed the release. When I shot the beautiful sound of bone and meat hitting metal rang in my ears. That deer's front and back legs jumped 7 feet in the air. He took off in a death run. He ran over the hill and my dad could no longer see him. He yelled "get on the 4-wheeler, let's go!" We went over the hill and saw my uncle and aunt going the opposite direction. We flagged them down and told them what had just happened. After the small hill we went over to a road then to another hill. We went down the hill a ways and didn't see a sign of blood or anything. So we walked up the hill and rounded up the rest of the "platoon." When we were standing there I noticed something moving out of the corner of my eye. At first I thought it was someone walking through a bush but no one was walking out. Then I thought, I just shot a deer that has got to be him kicking. So I looked at my dad and told him that is my deer! Me and him bolted over there sure enough he was sitting there dead."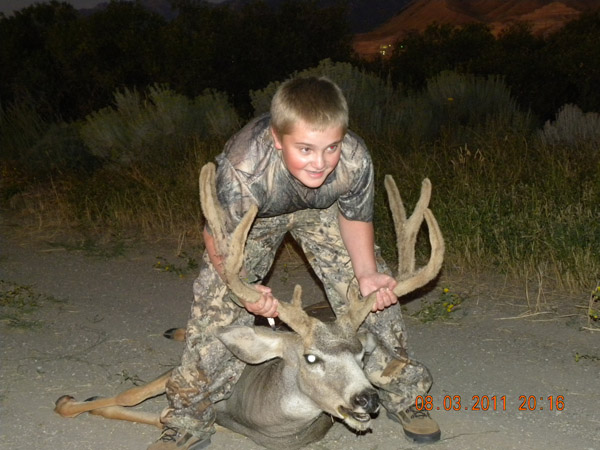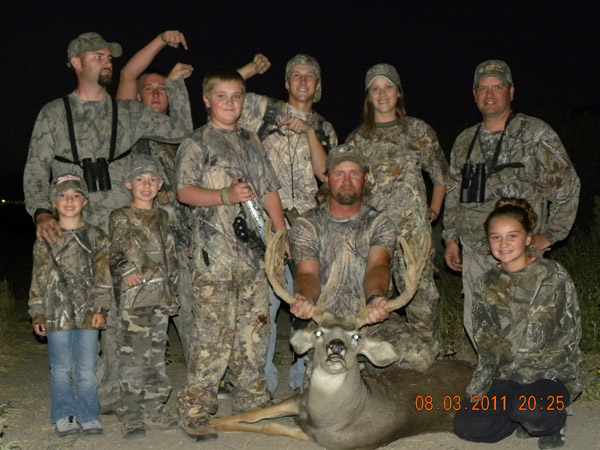 Click-a-Pic ... Details & Bigger Photos
Click-a-Pic ... Details & Bigger Photos
Home | Hunting Forums | Photo Gallery | Hunting Articles | Videos

|


Hunts & Tags | Hunt Draw Odds | About Mule Deer | About Elk
Store | Classified Ads | Photo Tours | About this Site | Advertising

|


Older Content | Email Us | Privacy Policy | Links | Podcasts