Cabins in Colorado's unit 61 & 62.....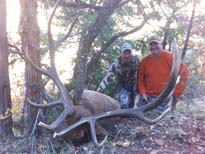 DIY Hunts on Uncompahgre Plateau In Western Colorado's unit 61 & 62
The lodge and cabins in GMU-62 sits in the middle of the largest over the counter elk license unit in Colorado. Hunting camp in GMU-61 is a trophy elk draw unit. Both places are on private land surrounded by USFS Land. Hunt right out your cabin door or use your ATV's or 4 wheel drive, and hunt the bordering USFS. Both lodges have all cookware needed for hunters to use, also beds, shower, T.V. for a very comfortable and memorable hunting experience. Guides and pack references can be provided.
For information on cost and booking, please email or call us.