Providing quality horses for your backcountry adventures.....
Phone: (307) 248-3638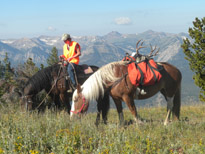 Conveniently located in Star Valley, right in the heart of the Salt River Range, Yellowstone Horse Rentals can help make the difference between a successful Wyoming hunt and an unsuccessful one. As you may know, the Wyoming mountains are some the most rugged hills on the planet. Each year, thousands of hunters visit Wyoming in pursuit of trophy mule deer, elk and bighorn sheep, just to name a few. There are trophy animals in Wyoming, but the country is big and access is very limited. With few ATV trails, and most roads lying 4,000 vertical feet below the high peaks, those trophy animals usually remain safe. However, each year a few hunters venture into the rugged backcountry on horseback and are often rewarded with some great hunting.
We want to help you in your pursuit of not only trophy animals, but also in your pursuit to get away from many of the other hunters. We rent riding and pack horses to hunters, outfitters, fishermen and for summer pack trips.
All of the horses we rent out are in good shape and very well tempered, as many of them are used at children's camps during the summer months. We also completely outfit you with bridles, ropes, saddles, blankets, pack saddles (if needed), panyards, etc. And, we can arrange transportation by providing horse trailers.
Drawing a non-resident deer or elk tag can be very tough, make the most of your hunt by hunting the high mountain tops where few other hunters venture and where the big boys hangout. Give us a call today for more information or to reserve your horses for this years hunt.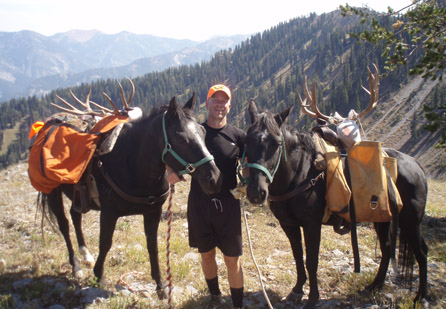 "I highly recommend Yellowstone Horse Rentals. I know as well as anyone how rugged and steep the mountains of western Wyoming can be. I also know how unpredictable the weather is, and how heavy a downed buck or bull can be. Having horses along on your hunt can make the difference between an enjoyable backcountry adventure and a miserable one." Brian Latturner, owner/founder of MonsterMuleys.com
Chad MadsenPhone: (307) 248-3638