-
Store Main
-
Big Buck DVD's
-
Big Bull DVD's
-
Big Game DVD's
-
More Hunt DVD's
-
Elk Calls
-
Window Decals
-
Hunting Hats
-
Books
MossBack
Bull Busters 2
Extreme Bulls 6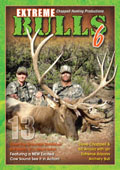 A Decade of BIG BULLS
* 10 Years of the Biggest Bulls on Film
* 87 Minutes of Big Bull Footage
* All Hunts Fair Chase on Public Land
Two of the best big bull videos over filmed! Re-edited and re-mastered,
Buglin' Big Bulls
and
Callin' and Stalkin' Big Bulls
, are now yours for the first time to enjoy as an 87-minute DVD.
Buglin' Big Bulls
is still considered by many to be the classic big bull video. It features a rifle hunt for a 400 class bull, where the bull is called across a huge meadow and taken on film.
Archery hunts with bulls that will stun you, up very close and very big. Starting in the early summer, this wonderfully photographed video follows the elk, from cow and calf herds, to the bachelor bulls and their early fighting and then to the intense rutting period when the big bulls gather their harems.
Callin' and Stalkin'
is a three with a 350 point 6x7 taken on film, a muzzleload "caribull" and a 390 B&C 7x7 rifle bull plus many more bulls rutting, calling and fighting.
Available in DVD Only
DVD Price: $5.00