Utah Taxidermists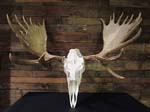 Wasatch European Taxidermy, located in Sandy, Utah. Servicing all of Salt Lake, Utah, and Davis counties. I (Jay) have been doing European mounts for years and offer the best quality at the best price. Give me a call or shoot me a text at: 801-448-5430. See my website at: http://www.europeanmountsutah.blogspot.com

Judkins Custom Taxidermy, located in Salt Lake City, Utah....135 W. Stratford ave. (2550 S.) - Specializing in big game, and European mounts (cleaned with dermisted beetles). Call Jeremy Judkins at 801-694-4466. Visit our web site at: http://www.judkinscustomtaxidermy.com

Skull Designs, located in Salem, Utah - With the use of dermestid beetles, your skulls can be cleaned to perfection, resulting in professional, quality looking skulls with all nasal bones and features intact. Great prices and a quick turn around. Taxidermists welcome! We offer great rates for just cleaning the skulls. And we also do horn mounts and have plaques available. Give us a call at: (801) 362-0725

Michael Christensen Taxidermy, located in American Fork, Utah - I provide high quality taxidermy work for all big game animals. With over 15 years experience and award winning talent, your animal will receive my full, professional attention. Quality materials, tanning, and quick turn-around will allow you to enjoy your mount for years to come. Don't trust your trophy to just anyone. Visit us at: http://www.sagebasin.com

Bridge Taxidermy, located in Price, Utah, is owned and operated by father/son team Ray and Steve Bridge. We have been in the taxidermy business for over 25 years. Steve and I are avid hunters, as such we know what is involved with the taking of a trophy of a lifetime and what that trophy means to you. We take pride in our work and treat every mount as if it were our own. We have a wide array of photos that reflect the quality of our work. If you are interested in viewing additional photos please visit our website at: http://www.bridgetaxidermy.com. You can also reach us at 435-637-0924 or 435-820-4820.
Monarch Mountain Taxidermy, located in South Jordan, Utah - Monarch Mountain offers award winning taxidermy at an affordable price. We can design the trophy room of your dreams, or create a once in a lifetime memory from your hunt. Don't believe us? Look and see for yourself at http://monarchtaxidermy.com. Monarch Mountain Taxidermy is conveniently located just 2 minutes west of the 10400 South exit in South Jordan, Utah. Call at 801-518-2033

Todd's Taxidermy -- We specialize in big game, small game, predator, and bird taxidermy. We take pride in the fact that we offer honest, prompt service to all our clients, and give each and every project the attention that it deserves. Located in Heber, Utah. Visit us online at: http://toddstaxidermy.monstermuleys.com/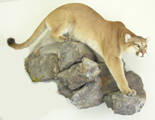 Animal Art Taxidermy, located in Sandy, Utah is owned by Bruce Capes. Bruce has many years of experience in the taxidermy field. From trophy buck and bull head and pedistal mounts to life-size mounts and rugs.
Give Bruce a call at (801) 566-5858 and visit his shop at 8496 S. Harrison St. #105 in Sandy. He's always happy to chat with his clients.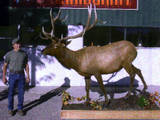 Mike's Custom Taxidermy -- Located in Oak City, Utah. Owned and operated by Mike Hathaway, award winning taxidermist. He has twenty-five years experience in the trade. He has enjoyed wildlife all his life and the art of taxidermy. Mike specializes in life-sized and head mounts of North American big game. Stop in and see him at 160 N 40 E in Oak City, Utah, or call; (435) 406-1036, Email: mikescustomtaxidermy@gmail.com
Here at Silverwolf Taxidermy we have competitive prices and a quick turn-around. We have 25 years experience and do big game heads, birds, fish, lifesize mounts and more. Check out our new studio at 3268 W. 13010 S. Riverton, Utah 84065, call us at 801-253-1121 or email us at: silverwolftaxidermy@hotmail.com

Award winning Ogden Taxidermy, located at 840 East 630 North in Richfield, Utah. Owned and operated by the father and son team of Jay and Shan Ogden. Specializing in big game with over 35 years experience. Meticulous attention to anatomy and detail, along with a personal touch, sets our business apart. Call us at: 435-896-6021 or visit us in person.

Hello, I'm Brenda Bond, Owner and Taxidermist of Wildlife Memories Taxidermy. I have been doing taxidermy for 8 years. I have had my shop for 5 years and I love what I do. Stop by and look at my work. Call for hours at 801-561-2848, 547 West 9460 South. Sandy, Utah 84070. Email us at: wildlifememories@smartfella.com
Wildlife Recreations & Taxidermy is operated by Dell Jay Christensen and his son Jay Christensen. Dell initially started doing taxidermy for his own mounts, but has been in business now for about 20 years. Jay does the birds and is beginning in fish taxidermy and together it makes a good match. At this time, they are trying to build their business to a full time taxidermy studio and welcome anyone who would like to view their work to come and see it anytime. An appointment would be nice, so please contact Dell at (801) 465-9646 and Jay at (801) 794-1487. The taxidermy studio is located at 10604 South 1700 West in Payson, Utah.

Anderson Taxidermy -- This is Tyler Anderson, second generation taxidermist. My father, Merlin, has been improving the art of taxidermy since the 60's. As one of Utah's finest taxidermy producers, Anderson Taxidermy has the expertise to mount your trophy animal. Our benefits include; quality workmanship, competitive pricing, impressive turn-around time, clean shop and friendly service. Check us out 947 East 10825 South Sandy, Utah of call 801-571-0039 - cell 801-910-2348.

Here at Blue Ridge Taxidermy we specialize in North American and exotic big game and custom mounts. Top quality workmanship for excellent life like results. "A taxidermist you won't be skinned by". Call us at 801-520-5320 or come see us at 15341 S. 2200 W., Bluffdale, Utah 84065.

Tory Brock Taxidermy is located in the heart of Mule Deer Country with the Kaibab, Arizona Strip and Paunsaugunt all at our front door. I specialize in Mule Deer mounts with an average six-month turnaround and over 10 years taxidermy experience. Bring your next trophy to me! Tory Brock Taxidermy---39 West 100 South, Kanab, Utah 84741. Give us a call at: (435) 644-5236

Taxidermy-Art Studio, located in West Jordan, Utah. Yuri Rulin is a master taxidermist specializing in all game and pet, and has been in business for 30+ years; winner of local, national, and world taxidermy competitions. Located at 1721 West 7600 South, West Jordan, Ut. 84084, tel 801-255-4754.
Is your Taxidermy business listed here? Should it be? Click here to find how you can get your business listed.
Click-a-Pic ... Details & Bigger Photos
Home | Hunting Forums | Photo Gallery | Hunting Articles | Videos

|


Hunts & Tags | Hunt Draw Odds | About Mule Deer | About Elk
Store | Classified Ads | Photo Tours | About this Site | Advertising

|


Older Content | Email Us | Privacy Policy | Links | Podcasts