Super Raffle Mega Muley -- What a super tag that Donnie scored on! He made the absolute most of it and took himself a real mega muley.
Nevada Backcountry Slug Buck -- Sarah set out on a backcountry solo backpack deer hunt and scored on a great, 193-inch trophy in Nevada. Cool adventure......
The Elk Hunting Pursuit of "Swords" -- This amazing hunt that included family and great friends ended with Danny harvesting a 376" beast on the Wasatch unit in Utah.
The Wrong Place at the Right Time -- It's not often that sleeping in a little later on opening morning pays off, but it did for Eli and Eric this year. 200-inch plus monster buck!
Roadside Ruttin' Archery Bull -- Not often things come together as well as this hunt did. With a few bugles, Kris was able to lure this bull in close and his wife made the shot.
Long Awaited Trophy Bull Elk -- Brad waited many years for his bull tag and when it was in-hand, he made the most of it, taking a 352" bull.
Special Rare Prize -- While elk hunting in Oregon, and after letting out a calf chirp, a special prize slipped in to give Keith a rare opportunity.
Western Wyoming Hunting Tips -- Looking to hunt region G or H in Wyoming? Here's some tips to help you have a great hunt. You gotta' make the most of your tag.
Hiking and Hunting Boots ... What's your favorite? -- Here in this article, Brian Latturner shares with you his favorite shoes/boots that have held up well on the trails.
The Perseverance Hunt -- What a fantastic Utah elk hunt that Brent had, and he sure made it one he'll never forget by taking a huge bull.
201-inch "Prairie Ghost" -- Owen didn't let his disability stop him from getting after big bucks in Wyoming. He got it done and took a dandy.
400" Bull?!?! No Way! -- Not many bulls like this one running around. Carl Cox couldn't believe what he took on the Manti La Sal unit in eastern Utah.
The Dream Bull of a Lifetime! -- Talk about an acheivement. Dennis took himself a monster bull in Arizona with his recurve bow. Great story.
Greys River Trophy Buck -- Keith had himself the hunt of a lifetime in Wyoming and taking a trophy buck was icing on the cake. Heavy, long tined typical.
Arizona's Kaibab Mule Deer Hunting -- If you ever plan to hunt any of the Kaibab in northern Arizona, then here's some great information by Dan Fritz that you'll find very useful.
376" Stud Bull ... The Perseverance Hunt -- With the help of his good friend, Brent Near got after it in Utah and took a stud bull.
Awesome Typical Idaho Muley -- Hunts don't get much better. Matthew had his family along for the hunt and anchored a whopper. Great memories.........
Family Fun Hunting Bulls -- Matt, along with his family and friends, had a great time in southern Utah. Success was also on their side, as they downed a 373" beast.
Beginner's Guide to Antelope Hunting -- Looking for some fun hunting? This is it! Read Brad's article here to get started hunting speedgoats.
2nd Chance Monster Muley -- Russ missed a monster in 2013, but he sure redeemed himself in 2014. What a buck!
Backcountry Whopper Bull -- Jacob ventured into the backcountry of Idaho and arrowed a sweet bull.
Rocky the Mega-Muley -- Jaren found a whopper 215" slug for his grandpa, Reed.
Sweet Late-Season Idaho Muley -- With the help of his dad, Matthew took a whopper typical buck in Idaho during a late hunt.
Tripod-Claw Classic -- Hadley and his family had a great time hunting this 36-inch wide 9x12. Scores 203-7/8".
Trevor's "Just in Case" Trophy Buck -- Sometimes everything just works out great, and that's just how 2014 went for Trevor.
Sweet Nevada Trophy Bull -- "My heart is racing. My mind is going 100 mph. I try to calm myself down and draw up a plan. ...."
Big Nevada Velvet Buck -- 14 Year Old, Griffin Grimaldi had himself a fantastic deer hunt in Nevada.
373" Utah Mega-Bull -- It all came together for Jed in 2013. What a whopper bull he downed.
Early Season Elk Hunting Tips -- Brad Vargo shares with you all some great tips on early season elk hunting.
Bowhunting Mule Deer -- One of the finest archers of all-time, Roy Grace, shares info. on bowhunting mule deer.
Be Versatile For Muley Buck Success -- Jeff Keysar shares some great tips on muley hunting. Be successful!
High Country Horse Packing -- "They Eat, They Sleep, They Poop" .... "Scaredy Cat, I Mean Horse"
224-Inch Colorado Hawg Buck -- ".....my eyes were drawn to an AMAZING AMOUNT OF BONE on the ridge ahead."
Scouting, is it worth it? -- Brian Elling shares with you his views on how scouting can help you, where to begin, and what to make note of.
395 Inches of Monster Bull -- "He was coming ... 55 yards, 50 yards and then 45. Randy says..."Hey bull" and he stopped broad side!"
Summer Scouting Tips for Elk -- Brad Vargo shares some great information on scouting for trophy bull elk during the summer.
Summer Backpack Scouting Tips -- Here are a few tips for those of you who will be carrying a backpack into your hunting unit this summer.
Smart High Country Hunting -- "It was now or never! My 200"+ dream buck was standing broadside at 68 yards up the hill from me!"
370+ Arizona Monster Bull -- "Eventually we closed the distance, as we noticed the closer bull had stopped moving."
35-Inch Colorado Slug Buck -- "Suddenly, after being out of sight for about 5 minutes, he appeared on the hillside below me."
190-Inch Stick-n-String Slug -- "Once we got our spotting scopes out we realized that the leg was connected to a typical buck with a skyscraper of a rack."
203" Ruttin' Montana Muley -- "I couldn't believe what was standing out in a stubble field with twenty seven does."
385" Droptine Trophy Bull -- "I fired a shot and the bull stumbled backwards then turned and ran over the hill."
Building an Effective Strategy for Applying for Premium Big Game Tags -- By Brad Vargo
Last-Ditch Effort Pays Off -- "...my brother Shawn radioed us that there was a wide heavy buck across the wash rutting some does."
Two Year Pursuit = Whopper Buck -- "Trying to keep my composure, I ranged his antlers @ 60 yards. I quickly latched my release...."
Time to Apply for Utah's Limited Entry Units -- Brad Vargo shares high value information for sportsmen looking to hunt Utah's best limited entry units.
The Future Of Traditional Muzzleloader Hunting
Follow Your Nose To Elk -- Do cover scents help or hinder?
Wildlife Management 101 -- A professional wildlife biologist brings clarity to a sometimes blurry picture.
Utah's CWMUs -- Cooperative Wildlife Management Units benefit landowners, hunters and wildlife.
Hunting Ethics -- Changing values in changing times.
Camp Stoves Demand Respect -- Tips on taking care of your camp stove.
How To Keep Your Tent Forever -- A helpful hints article about taking care of your tent.
Fawns-Bucks-Does, Where does it all start? -- Could we be hurting our mule deer herds and not even knowing it? Read this excellent article and voice your thoughts in our forums.
It All Starts With the Fawns -- Read this fine article written by Dr. Terry Messmer about the importance of fawn survival.
Some Thoughts on the Delicate Predator Prey Relationship -- A Must Read article by Todd A. Black concerning the predator/prey relationship which is effecting our deer herds.
The Deer Hunters Four Letter Word...LUCK -- Luck is a commonly used word in the hunting world. Most of us not only feel lucky to go hunting, but also feel lucky when we fill a tag. Read this excellent article about both sides of luck as seen by Larry Pasero Jr.
Modernist vs. Traditionalist Debate: -- Is it a losing battle for both sides? Read the article! Written by Mark Banta.
"White-tailed Deer Vs. Mule Deer" -- Whitetail deer are moving into Utah. It's time to decide what to do. This article contains many facts about the whitetail deer and how they will effect our mule deer herd. Written by Todd Black.
What have our highways done to our deer herds? -- Deer-Vehicle Collisions (DVCs) are becoming more common each year. What can be done? Who will get it done? Written by Todd Sullivan.
"Where have all the mule deer gone?" -- Todd Black is a biologist and environmental consultant. He shares his thoughts on what is happening to our mule deer.
Making The Shot -Off Season- -- Featured in the Fall 2000 issue of Trophy Hunter, By Jim Schmidt
How to: "Age your buck" -- A little something on aging deer, with a graphic.



Click-a-Pic ... Details & Bigger Photos




Click-a-Pic ... Details & Bigger Photos




Photos below by
Peter Eades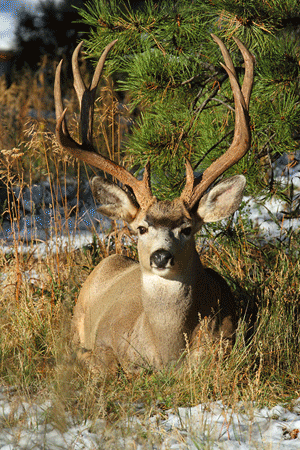 Home | Hunting Forums | Photo Gallery | Hunting Articles | Videos

|


Hunts & Tags | Hunt Draw Odds | About Mule Deer | About Elk
Store | Classified Ads | Photo Tours | About this Site | Advertising

|


Older Content | Email Us | Privacy Policy | Links | Podcasts