Long Awaited Trophy Bull Elk
By Brad Robins
The quest for the Wenaha tag in NE Oregon started in 1997 when my brother-in-law, Greg Bogh, brought home a 337" bull and stories that sparked this fire! This tag is one of the most coveted tags in Oregon for elk. Thousands apply each year for a few dozen tags. But, as the years went by, point creep delayed drawing this tag. Frustrating.
Through the years, friends drew the tag and the anticipation was agonizing. Seeing pics and hearing about their hunts, gave me information and inspiration that would come into play later. I actually went on two short hunts with my buddy who drew in 2014. Screaming bulls on those hunts entered my dreams!
This last June was Oregon's tag drawings. I was expecting the tag, but seeing the results was more relief than excitement. I had prepared for this moment, and could have hunted the next day.
The summer was filled with map studying, both online and paper. I emailed old and new friends that had intel about the unit. Google Earth pins dotted the unit from past hunt information. A fire had raged through a portion of the unit last year, but did not affect the hunt research area at all. A few short trips in the summer to the unit told me that everything was great in the areas that I had picked out to hunt. Workouts were frequent with hills and stadium steps getting the legs and lungs in shape. Shooting my Blacktail recurve at home, at the local Stott Mountain Traditional Archers' club, and at the big 3-D shoot put on by the Traditional Archers of Oregon, made me very confident!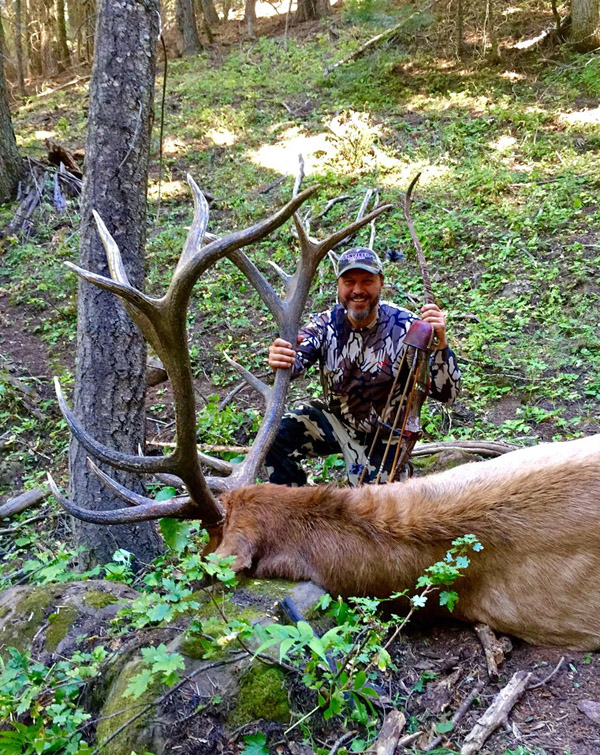 With two weeks to go, Plantar Fasciitis reared its ugly head, and I was sidelined. Never having it before, research for the hunt took a different turn. I went to a better shoe store, and the salesman showed me a skeleton of the foot area and explained what was going on. He pegged the symptoms and the cause. Coincidently, he had hiked the same wilderness a lot, and knew what was in store for me. He showed me how to tape my feet, and what to wear inside my boots and shoes. Very helpful.
Two days before the opener, I set up camp in a centrally located area, and started taking stock of the camps and conditions of the area. Everything looked great, and my area was untouched! The evidence of a pack of wolves surprisingly didn't hinder my excitement.
Friday night, my brother-in-law, and my other partner, Gary Freuler, straggled in very late as they had loose ends to tie up in McMinnville. These two had drawn tags there before, and were both successful. I had hunted with them on numerous occasions and was quite pumped knowing their abilities and knowledge of the area. They either kill a bull each year, or call successfully for their partners. I was in good hands for opening morning.
Opening morning was a bit warm and had a bad SW wind. But, excitement was stronger as we entered the wilderness. We knew of a ridge a few miles in that would hook us back into the wind. We spent the day easing through the blowdowns and meadows, calling sporadically, just waiting for that answer. It was a fun day with these two guys. These two had never hunted together, but are cut from the same elk cloth. We were a very smooth team with no one stepping on each other's toes with differences of opinions. Elk sign was sparse and we were getting a bit concerned, and the earlier seen wolf sign came back into our minds as a possible reason.
But, all that was forgotten at 3:58 pm. A distant bugle answered Greg's bugle. Greg ran down to us and a plan was hatched. Greg bugled again to locate the bull again, and the bull was coming! I immediately ran down the slope to a clump of buck brush in the middle a picturesque, park like forest. Greg and Gary lined themselves up with me and the bull, and Greg bugled again. No cow calls, no grunts or chuckles. Use what works!
The bull showed himself 120 yards down the ridge and the entire "Don't shoot the first one and wait until you see The One" went out the door as I saw the cheaters off the main beam. Those cheaters are in the genes in the area as trail cams and actual live photos showed that this is common. The 8x7 massive bull was coming in on a string. I had kicked all the debris away, affording me the ability to adjust quietly if needed. He was screaming all the way in. It was a rush. It surely wasn't the first time for me, but this stuff never gets old. The bull's antlers were surely doing a great job of taking my focus off the task. I could pick out the devil's point on the driver's side's massive base. He was a first day bull for sure. Later, my partners told me that they were whispering to themselves: "SHOOT HIM, SHOOT HIM".
The bull had made it to my hide out, and screamed at four steps, four steps! I swore that if I could hear him swallow and gather breath after his bugle, he could surely hear my heart pounding! A hard swallow echoed in my head, furthering the fear that he could hear me. He wanted to loop around my spot to the left, but Greg steered him back with his bugle. The beast was now at four steps directly to my right with zero foliage in the way. The wind was still good, but he sensed something was wrong. I tried to draw when he turned his head, but his big ol' black right eyeball caught movement. He bolted and Greg blasted him again with a bugle. Of course, he stopped behind a tree. Greg stuck the bugle down and behind his legs and bugled. That did it. The bull stepped forward.
Right after the release, I saw that my arrow had dived back and down. I was sick as the wood arrow hit behind the last rib, but was angling forward. We could see blood immediately dripping on both sides. Good sign, but all the confidence in my practice with my Blacktail recurve went out the door in one shot. I looked briefly at the fir tree that was close to the path, as I thought maybe I clipped a limb. No obvious sign of that in the short few seconds I looked. Gary and Greg quickly motioned me up, but their smiles didn't help my anguish. We got serious and decided to let the bull go over night.
A long night later, we were on the spot bright and early the next day. We looked at the GPS and phone map apps, and made an educated guess where he might go and bed. The blood trail was constant until the bull traveled around to the hot side of the ridge. The wet blood became dry and faint. We started tracking his tracks on the steep, open slope. Our last spot of blood was at the top of a forested chute on the steep ridge. We sat and had a splash of water. I was getting frustrated, but they were both outwardly sure we'd find my bull. We decided to split up a bit and search on possible lines of travel. Not five minutes later, Greg bugles. Gary and I got there at the same time. Greg was ear to ear grinning as he pointed downhill. There, the bull had died. They let me go first as I like to spend a moment with my harvests. They knew that. They have the same appreciation.
Hugs and high fives, and a ton of pictures later, we sat and finely figured out where we ended up. The bull had only gone about 800 yards down into the Wenaha River canyon. Decision making time. We needed to get this meat out of the canyon as the temps were already getting warm that early in the morning. We decided more bodies would help. My phone had the best coverage, but it was a 1000 feet back up to the top. We decided that Greg would hike up 1000 feet, and three miles back to my truck, and start calling my contacts, while Gary and I took care of the butchering.
Gary and I were quite pleased that zero meat was spoiled!! We each humped 90 or so pounds of meat down to the river trail. Unbeknownst to us, Greg had struck out on getting help, but the last friend suggested a local packer to come in. Upon reaching a side creek, just above the river and trail, we laid out the meat to get it cooled. Gary went ahead to tie ribbons to the main trail. As I sat there waiting, resting, a black canine ran and panted right by me.....wolf? But it had a collar on it. Where in the HELL did he come from? Brian Sanders, his horse and two mules followed. He asked if I was Brad, and I thought to myself; is he God! Great timing! As he could have missed us! Gary, thankfully, had caught him while flagging. They compared GPS coordinates and off he went to get the rest of the bagged meat, and the cape and antlers. Gary graciously offered to follow him for a possible extra hand. I took my wobbly legs and feet and hiked the 2.5 miles up to the trailhead. Greg had made it almost to the bottom when he ran into me. We enjoyed recalling the events of the last two days, and past hunts, as we hiked out together. Greg had logged over 24 miles those two days according to his phone.
Brian and my elk made it up in the dark and we unloaded. What a save! We could have packed out the elk, but between the warm nights, the fly blown sacks, and the wolves, I was thankful. I spent the next few hours cleaning the meat, while my heroes celebrated the hunt. With headlamps, they rough scored my bull at 351", gross. I later scored it at home at 352".
Morning found us packing three large coolers with the meat and stuffing in as much ice as we could. My partners refused to take any meat, and the meat was in fridges by 4:00pm. My father happened to be in town, and he took a bunch, as we had always split meat. He had me take pics of him holding the huge 8x7 bull. He was very proud! I later called an old college football buddy to hook him up with my cape so he can mount it for me.
I could not have asked for two better partners as they were integral in my success in this long awaited dream hunt. We joke that it was too quick as we had a full month to go to enjoy the frenzy that all elk hunters dream of. Back to zero preference points, and again, I am anxiously waiting to draw this tag!!
Click-a-Pic ... Details & Bigger Photos
Click-a-Pic ... Details & Bigger Photos
Home | Hunting Forums | Photo Gallery | Hunting Articles | Videos

|


Hunts & Tags | Hunt Draw Odds | About Mule Deer | About Elk
Store | Classified Ads | Photo Tours | About this Site | Advertising

|


Older Content | Email Us | Privacy Policy | Links | Podcasts