-
Store Main
-
Big Buck DVD's
-
Big Bull DVD's
-
Big Game DVD's
-
More Hunt DVD's
-
Elk Calls
-
Window Decals
-
Hunting Hats
-
Books
MossBack
Bull Busters 2
Extreme Bulls 6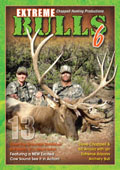 They Shed'Em...I Find'Em
If shed hunting is your PASSION, then you'll love this DVD! Follow along as we pick up over 200 sheds. You will see bucks and bulls in their winter range and we will give you tips and insights into becoming a more effective shed hunter.
* Over 200 sheds picked up on camera
* Sheds range from 330" up to 400"
* 7 featured bulls we have collected sheds from for up to 7 years
* Insights and lessons learned in shed hunting
Available in DVD Only
Price: $5.00