"The Golden State Trophy"
Written by Adam Schultz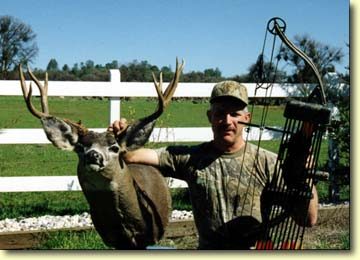 Adam's 2001 California Archery Buck
It was three weeks prior to opening day of the 2001 archery hunt when my wife first spotted the buck along with four others. When she told me about the deer, holding her hands out wide, all I could think about was my buddies and I telling exaggerated fish stories. I told her that if she saw the buck again to let me know and I would go have a look.
That night in our house, I took down a set of 24-inch wide 4x4 antlers from a buck I had killed a couple years earlier and asked her, "How big was the buck you saw compared to this one?" She said that the buck she saw was much bigger!
The next day, while on her run, my wife again saw the buck and immediately headed home to tell me about it. We jumped into the truck and five minutes later I was looking at the largest live deer I have ever seen in the state of California.
Over the next several weeks, I spent countless hours watching the buck, trying to figure out his patterns, waiting for opening day. I hunted the entire opening weekend and was within 25 yards on several occasions, but there was always another buck or doe that was on lookout, so the perfect shot was never presented.
Unfortunately, I had to work on Monday, but as soon as I was off I headed out, but only saw a couple small bucks. No big boy!
Later that night I came home, certain that some other hunter had harvested the buck. I second guessed all the opportunities I had on opening weekend, thinking that I should have taken a shot. Sleep was hard to come by that night!
Equipment Used

Golden Eagle Bow
Toxonics Sight
CX 300 Carbon
Express Arrows
Muzzy 75 Grain
3 Blade Broadheads
The next day after work, I just threw on a camo T-shirt, ball cap, grabbed my bow and went out again. I thought that if the opportunity presented itself, I'd take another, less impressive buck that I had seen in the area.

It was about 30 minutes before dark when I snuck up under a large oak tree and stopped to scan the brush and trees. Suddenly, I heard a noise coming from the other side of the tree I was standing under. I tucked my bino's in my shirt, picked up my bow, knocked an arrow, and slowly looked around the tree. I couldn't believe it, there stood the big buck--my buck, and he was coming right down the trail towards me.
I quickly stepped back behind the tree, drew my bow, took a deep breath and leaned out, taking the 30-yard broadside shot.

The buck jumped and ran about 40 feet. He just stood there with his head down, the fletching on my carbon arrow very visible behind his right front shoulder.
After about a minute, he laid down and my 2001 California deer hunt was over.


Click-a-Pic ... Details & Bigger Photos
Click-a-Pic ... Details & Bigger Photos
Home | Hunting Forums | Photo Gallery | Hunting Articles | Videos

|


Hunts & Tags | Hunt Draw Odds | About Mule Deer | About Elk
Store | Classified Ads | Photo Tours | About this Site | Advertising

|


Older Content | Email Us | Privacy Policy | Links | Podcasts