"Beginner's Luck"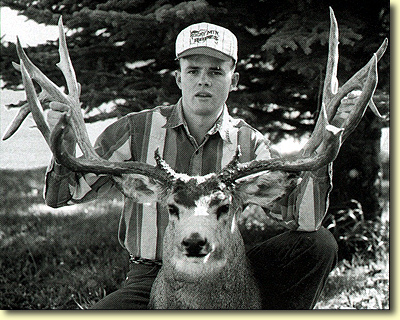 This 44-inch, 8x9 buck was taken in Idaho a few years ago.
Bart Wanstrom was going to school in Rexburg, Idaho, and like most students he didn't have much time or money to indulge in hunting. But, ultimately, he couldn't resist the hunt. It was on a Wednesday of the third week of the season, and Bart didn't have to work. A friend suggested they go deer hunting after school that day, and he agreed. As school ended, however, his motivation was low, and he had pretty much decided he wasn't going hunting. But back at the apartment, his buddy was waiting excitedly. Feeling a little guilty about bailing out, Bart changed his mind and began preparing for an afternoon of hunting.
This proved to be a difficult task. Bart was ill prepared for the hunt. He had to borrow a box of shells and only had his old .243 that his girlfriend suggested he bring to school "just in case." He didn't know how the gun would shoot, because the front sight had been replaced. Bart figured what the heck; it would be fun to get away for a while.
The two hunters loaded up in the Honda Accord at about 2:30 p.m. and headed out of town. As they drove, they discussed where to go, but the decision was made by the late hour: the afternoon was slipping away. After only a half an hour driving, they decided to stop to try their luck.
They came to a halt by a big sagebrush flat with distant hills. A fresh skiff of snow kicked below their feet as they walked out through the sage. What a place! I'm sure it looked as if they were hunting sage hens instead of deer! Looking around, Bart could see rabbit and bird tracks in the fresh snow, but no deer. Slowly, they walked to a small ridge in the middle of the flat. Less than a mile later, they came to a stop at the hill's base. Climbing to the top, they looked back across a sea of sagebrush. Pickups moved down the road where the car was parked, kicking up dust high into the desert air. It seemed like they had picked a pretty bad spot for hunting.
Shaking their heads, they crested the hill with Bart talking all the way. As they topped the ridge, the sun had begun to set. Bart admired the sunset for a moment, and turned to look behind him. Above the rock outcropping, he spotted a real odd-looking bush about 50 feet away. Looking intently, he swore it looked just like a deer! Just as he started to say something, the bush stood up. It was a deer!
Bart didn't have much time and he instinctively jerked the rifle up to his hip and touched off a shot. The gun, which he hadn't fired in a whole year, surprised him! The buck falter as he took a hit and disappeared over the crest. Running around the rock outcropping, Bart saw the buck running back toward him! This was unbelievable luck! He pulled down on him and finished the buck off with another shot. When his buddy walked up and looked at the deer, he couldn't believe it! Everything had happened so fast that he didn't get a single shot off. Bart looked again at the buck and said he was amazed at the neck on this animal. With a rack like that, I don't know that I would have even noticed it.
They started cleaning the deer and quickly made a real mess out of him. This was Bart's first attempt at field dressing an animal, and he admitted it wasn't the best job. In fact, I saw some of the kill photos and decided to spare everyone.
After a long drag back across the sage flat, the cape was ruined. From the photos it appeared he had very little hair on the drag side of his body. Finally, they made it to the road and together loaded the huge buck into the back of Bart's small Honda. Honda's definitely weren't designed for this! With his trophy loaded, he proudly returned to town. The antlers on this 44 incher looked like they would drag the ground if the hunters hit a good bump.
Arriving in town, they created quite a stir! This was when it finally sunk in just how large the buck was. Soon many people were crowded around the animal. The buck has a 44-inch, 8x9 rack. His unofficial score is estimated well over 200 gross, with a net in the 180's.
Note from Rusty Hall:
I interviewed Bart for this story, and at the time he said he hadn't been hunting since he killed the huge buck. I enjoyed the chance to talk with Bart, and I think he realizes the enormous size of the animal he has taken, I'd have paid good money to watch that hunt. Sometimes doing things different than "normal" produces a huge trophy like this.
Written by Rusty Hall, Editor of Trophy Hunter Magazine
Click-a-Pic ... Details & Bigger Photos
Click-a-Pic ... Details & Bigger Photos
Home | Hunting Forums | Photo Gallery | Hunting Articles | Videos

|


Hunts & Tags | Hunt Draw Odds | About Mule Deer | About Elk
Store | Classified Ads | Photo Tours | About this Site | Advertising

|


Older Content | Email Us | Privacy Policy | Links | Podcasts