"Three Quick Elk"
Written by Brad Knutson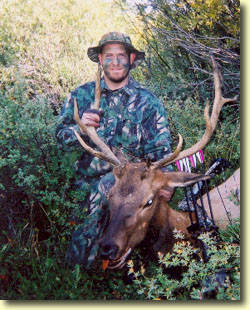 Chris' Bull
After three hard days of elk hunting, calling in elk everyday but having no shot opportunities, my two buddies and I decided to walk four miles back into where we believed some other elk would be. We left the truck at 4:30am and started walking down an old logging road. At 5:45am, we were stopped in our tracks by a bugle just up the ridge from us. It was 30 minutes until shooting light and we were pinned down with a big bull and cows above us and more cows and a raghorn just below us.
We crouched down on the old logging road and waited. The thermals were blowing down slope and we knew it would be just a matter of time before the elk below us, busted us. Sure enough, they bolted, the big bull bugling at them, wondering why they were leaving him. Not wanting to be left behind, he and the other cows followed suit. All we saw in the pre-dawn light was a huge 6-point and some cows crossing the road about 100 yards away.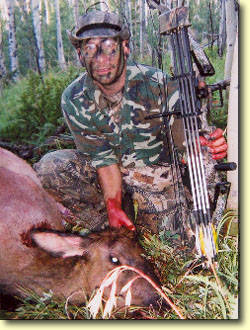 Brad's Cow
We knew where they were going, so we headed that way. An hour later, (it took us a bit longer to get there than it took them), we eased up on them again. They were hanging out in an old clear cut, so we turned around and ran to get in position to call something in.
We all setup with the wind blowing diagonally across. As soon as we started cow calling, here came some elk. Three cows, two spikes and a five point! Chris, being setup closest to the elk, shot the 5-point as he came by. All the elk then ran uphill toward the heavy timber. Jarod and I were there, but they weren't offering for any more shots.
As we waited for Chris' bull to expire, we decided to keep calling. Ten minutes later, here came another lone cow. She stopped 30 yards away and I drew and shot. My arrow sank deep into her chest. She turned, ran about 60 yards, and crashed!
We went and field-dressed her and then went to look for Chris' bull. After a short blood trail, there he lay, so we field-dressed him. Upon completion of that task, Jarod expressed he wanted to shoot an elk too. So I mentioned an aspen draw about a half a mile away that I had called elk in before. We went over there and setup with Chris and myself being the primary callers.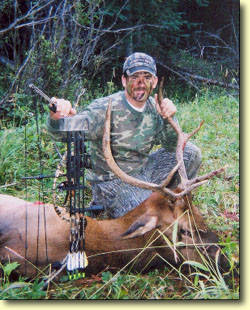 Jarod's Bull
Four minutes later, here came a bull! The raghorn was coming fast toward me, so Chris cow-called to stop him. Jarod shot the bull at 24 yards! He turned, ran a few steps, stopped, took a few more steps and fell over.
We looked at each other in disbelief! Three elk in two hours with our bows! This was both Chris and Jarod's first archery bulls!
As we were field-dressing the last bull, packing out three elk was the topic of discussion. We knew we had a big job in front of us. By 7:00 pm, we had two of them packed out and the third ready for the next morning.
Click-a-Pic ... Details & Bigger Photos
Click-a-Pic ... Details & Bigger Photos
Home | Hunting Forums | Photo Gallery | Hunting Articles | Videos

|


Hunts & Tags | Hunt Draw Odds | About Mule Deer | About Elk
Store | Classified Ads | Photo Tours | About this Site | Advertising

|


Older Content | Email Us | Privacy Policy | Links | Podcasts