"Change Of Plans"
Written by Brad Michel
Edited by Rod Hart (Alpine Productions -- Professional Writing & Editing)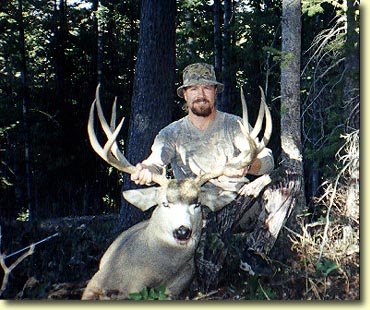 Brad's Idaho buck is 32 inches wide and scores 185 B&C.
On the first evening of deer season I found myself in a spot that my friend, Terrell, and I had named N.O.W. Canyon. It was an area where we'd spent a lot of time scouting with good results. I entered the canyon after working my way across a succession of ridges farther down the drainage, eventually topping out on a high crest. Moving down the ridge I found a good vantage point and began glassing with my Leupold 10x40 Wind River binoculars. Before long, I made out the body of a deer at the head of a nearby draw. Closer scrutiny revealed a large 4x5 buck that had a four-inch cheater on its left side. The outside edges of the rack extended about three inches beyond the buck's ears.
It was getting late and the mountain that I was on was extremely steep, but I dove off anyway, hoping to get within shooting distance before dark. After traveling about 600 yards down the slope, I lost sight of the buck, so I sat down and waited until it was nearly dark. The big 4x5 never reappeared, but I did spot another good buck farther down the draw. Unfortunately, I could only get to within 500 yards of him before it became too dark to shoot. In those last few remaining moments of daylight, I carefully looked the area over and discovered a possible stalking route that would take me to within 300 yards of the animal. There was virtually no hunting pressure in the area, and I felt confident that I'd be able to find the buck again the following day.
By then it was completely dark and I still had five miles of rough country between the truck and me. It took 30 minutes just to climb back to the top of the mountain, then another two hours to finally reach the vehicle.
I was extremely excited about seeing the two bucks and wanted to do whatever I could to increase my odds of taking one, so I called Terrell that night and told him about the deer. After discussing strategy with my friend, I decided it would be worth a trip to Terrell's house the following morning to borrow his Bushnell 1000 rangefinder and Harris bi-pod. While I was there, we took my rifle to the range to check it out, as I had taken a nasty fall while hiking through an area of loose slate rock the night before. I managed to keep the gun above me during the spill, but I just did not want to take a chance that the scope might have been bumped. I was relieved when everything checked out and we didn't have to make any corrections.
After leaving Terrell's house around noon, I arrived back at the top of the canyon by 2:00 p.m. With all my newfound gadgetry in hand, I took off walking at a brisk clip, anxious to get back to where I'd seen the second buck. I was a little concerned about my late start, as I wanted to reach my destination at least an hour before dark. Oh well, I'd just have to hustle and try to cover as much country as I could.
Climbing from the bottom of a draw, I reached a high point and started through a patch of heavy timber. I was moving fast and making a lot of noise, so it was with great surprise that I looked up and saw two deer bedded only about 100 yards away across a small opening in the trees. When the pair stood up, a quick look through the binos confirmed they were both bucks. As one of the muleys dove out of sight, his very high antlers made me wish that I'd used my rifle scope to view them instead of the binoculars! The tall buck's companion hesitated for a moment, but then took off as I shouldered the rifle.
Peering through my Leupold 4x14 Vari-X 3 scope, I was dismayed to discover that it was still cranked to 14X from our trip to the shooting range. The buck was running broadside to me as I turned the magnification down to 4X and tried again. Holding the crosshairs low (because of the rifle's 300-yard zero), I made a good hit behind the left front shoulder, knocking the buck to the ground.
As I reached down to pick up the spent brass I was excited, but I also felt strange because of the time spent mentally and physically preparing for the buck I'd seen the night before. But the real excitement began when I walked up to the downed buck! He was a heavy-horned 32-inch 5x5 (counting the eye guards) with almost perfectly symmetrical tines.
It was 3:38 p.m. as I positioned the deer to take some photos, using the saddle of a small tree as a tripod. Once the animal was caped and cleaned, I boned all the meat, placed it in game bags and then loaded them into my North Face pack. Even though it was nearly 9:00 p.m. before I reached the truck, the trip out seemed effortless with that 185 B&C Idaho mule deer strapped on my back. What an incredibly surprising hunt this turned out to be!
Click-a-Pic ... Details & Bigger Photos
Click-a-Pic ... Details & Bigger Photos
Home | Hunting Forums | Photo Gallery | Hunting Articles | Videos

|


Hunts & Tags | Hunt Draw Odds | About Mule Deer | About Elk
Store | Classified Ads | Photo Tours | About this Site | Advertising

|


Older Content | Email Us | Privacy Policy | Links | Podcasts