"Four Bucks From The Same Hill"
Written by Brian Heidbrink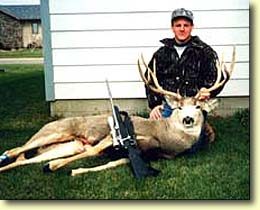 Brian's '93 buck is 28 1/2" wide and was aged by the GFP at 5 1/2 years old.
I have hunted mule deer in numerous places within my home state of South Dakota for 24 years. Although South Dakota isn't known for producing "trophy book bucks," I have always considered a trophy buck to be the largest buck within the area. My goal has always been to locate and harvest that individual animal. This is especially difficult when hunting on public land and contending with hoards of other hunters.
About 10 years ago my dad and I found an area that was open to public hunting, but looked rugged enough for deer to hide from the heavy pressure it received during rifle season. It also contained some adjacent land that did not allow any hunting. This looked like the perfect place to locate some decent sized bucks. The first few trips to the area during archery season involved lots of walking to get a feel for the area. On one of these trips I climbed to the top of a hill to take a break and get some rest. Although this hill was not any higher than any of the other numerous hills and ridges, it did provide a perfect, unobstructed view of a large portion of the area. This discovery significantly changed my mule deer hunting since.
The next morning I decided to start out by glassing from this hilltop location. It was unbelievable the number of deer that I spotted from this one location. Although many of the deer were over a mile away and impossible to judge through my 10 power binoculars, I knew that this could be a productive method to locate the best bucks. However, I knew that to become effective I needed some better optics. The following Christmas my wife gave me the perfect gift, a Leupold 12-40 spotting scope.
It was a long wait until the following archery season but opening morning of the 1992 season found me perched on my hilltop lookout with my new spotting scope. After spotting numerous deer, including some nice bucks, I selected one buck that was much wider than all the other deer that were located. Unfortunately, some does that wandered into my setup blew my stalk on this buck. I located this buck on several other trips but each stalk was blown or abandoned for one reason or another, however, with each sighting of this deer I became more educated in his habits and tricks. I never harvested this deer during the '92 archery season and I was never able to hunt this area again after the rifle season closed to see if he survived.
I was relieved to locate him again on the opening weekend of the '93 archery season, right in his same home territory from the previous year. I had gotten lucky and drawn a rifle permit for this area and so I was confident that I would harvest this buck. On the last weekend before rifle season opened, I got within 15 yards of him and missed a perfect broadside shot. I was worried that I might have spooked him too much and that he would leave the area and not return before rifle season.
An early snowstorm hit the area the afternoon before opening day of rifle season. I was supposed meet up with three other friends that I had hunted elk and turkeys with, however, they elected to stay at a hotel in a nearby town rather than hassle with setting up camp. I chose to sleep in my Bronco over night rather than risk not being able to get into the area from town because of the snow. Opening morning found 10" of fresh snow on the ground. At first daylight I located the buck on a ridge only 1/8 mile from my hilltop position. Once he dropped off the side of the ridge I made my move to the edge of the ridge. He had only dropped down about 100 yards and presented a perfect broadside shot. One shot from my 300 mag. dropped him in his tracks. I looked at my watch and realized that it was only 20 minutes into the season and I had finally harvested the buck I'd hunted two years for. My decision to sleep in the truck paid off, as the slippery roads caused an accident that blocked the only road into the area, and my friends didn't get into the area until after the sun had already risen - and my deer was already field dressed.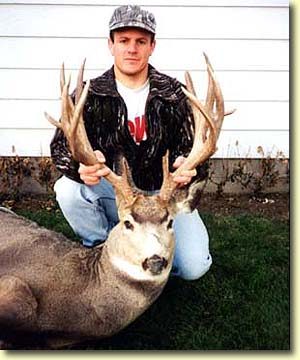 Brian's '95 "sticker tine buck".
Opening weekend of the '94 archery season found me once again spotting from my favorite hilltop position. Although higher than normal temperatures kept the deer from moving much, I did spot a shed antler through my spotting scope that seemed impressive. Upon closer inspection, this antler was heavier than any deer I had seen in the area and it had a 3" sticker tine coming off the rear forks. I had found my new obsession. The shed, however, was located real close to where I normally parked my truck and camped.
On my second trip to the area I decided to camp in a different area and approach my hilltop position from a different path. This turned out to be a smart move as I located the buck with the sticker tine in the draw that contained my normal morning path. I had probably been spooking this buck in the dark every morning during my previous trips. To my surprise, he had a matching sticker tine on the opposite side and had put on even more mass than the previous year's shed antler. I spent the rest of the '94 archery season hunting this buck without any success, but was getting his patterns figured out. The rifle season found me without a permit and I prayed that he would survive the barrage of rifle hunters. I was really worried because his favorite area was right below the ridgetop trail. Once again I was unable to hunt after the close of the rifle season so I had to wait until the following year to verify his fate.
During the summer of 95, I once again drew a rifle permit for the area. I set my sights on harvesting the "sticker tine buck", if he survived the previous rifle season. I was only able to make two weekend trips to the area during the archery season, but on both trips I spotted the buck from my hilltop position and was able to twice sneak within 15 yards of him. Unfortunately, was never presented a good shot opportunity. His headgear had reduced somewhat in size from the previous year but still contained the two "sticker points." Although I really wanted to harvest him with my bow, I looked forward to hunting him with a rifle just to see how he managed to survive all these years living so close to the main access road.
Opening morning of the rifle season found me once again perched on my hilltop position with hopes of locating the "sticker tine buck." At first light I spotted him in a draw directly below me about 600 yards away with five does. They were feeding along the edge of a thicket in an area that allowed an easy stalk. I dropped into a small drainage and quickly got within 200 yards. I peeked over the edge to check on the status of the herd. They were still feeding along without any knowledge of my presence. I decided to continue down the drainage and get to a point that was only about 70 yards from where the deer were feeding. A minute later I reached my intended spot and peeked over the edge to find that the deer were gone! Scanning the area, I located them bounding over the opposite hill about 350 yards away. I knew that I couldn't have spooked them so I continued to look around only to find two other hunters parked along the access trail and starting to stillhunt down into the same draw. I cursed myself for not taking the shot at 200 yards when I had the opportunity. I knew that I would probably not see this deer again during the hunt since he was headed for the private property that did not allow any hunting. I figured out now how he had survived all these years. He simply headed to the private land at the sight of the first vehicle along the ridge trail above, and stayed until the pressure was gone.
I continued to hunt the rest of the day by stillhunting along some draws that I had previously seen deer using. Although I located some nice "shooter" bucks, I couldn't shoot them knowing that the "sticker tine buck" was still out there. That evening I returned to my hilltop location deciding to try glassing during the last hour of daylight. I didn't really expect to see anything, but I knew my chances were better by hunting with my eyes rather than my legs. After the morning hunt I had lightened my load by returning to camp and removing the spotting scope from my pack. I figured that if I saw something that far away, someone else would also be able to see it and probably get to it quicker than I could. Much to my surprise after only 5 minutes of glassing I located a buck about a mile away bedded below a cedar tree. He was only 250 yards from the fenceline separating the public from the private land. I could tell that he was an above average buck, but without the spotting scope I couldn't tell exactly how large he was. I watched him for another 5 minutes trying to judge his rack. During this time I noticed another hunter on a hill halfway closer to the buck. I couldn't believe that he hadn't seen the buck bedded only 1/2 mile away from him.
I finally decided to go after this bedded buck. I knew from past experience that if his rack looked good through my binoculars at that distance that he must be a "shooter" buck. With less than an hour of shooting time remaining, I knew that I would have to hurry. Based on the terrain that he was bedded in, I decided the best approach would be to circle behind him and approach from the opposite side as he was facing towards my direction and had a good view of the area in front of him. When I had closed the distance to about 1/2 mile, I decided to climb a small hill and verify that the buck was still bedded. I couldn't believe my eyes! The bedded buck was the "sticker tine buck." He must have stopped and bedded down before reaching the property fenceline earlier that morning. I couldn't believe that he had sat there all day, and that no other hunter had spotted him even though I had seen numerous other hunters within a quarter mile of his location during the day.
The adrenaline was pumping through me as I ran the rest of the way to get behind him. Once I reached the fenceline behind him, I began the slow stalk toward his bedded position. As I was about to top over the last rise between the buck and I, I heard two shots come from the opposite side of the buck. My heart sank as I assumed someone else had shot the buck. Just then movement caught my eye as the buck came around the side of the hill. We saw each other at the same instant, and the buck stopped in his tracks long enough for me to get the crosshairs on him. Unfortunately, only his head and rack were visible above the small rise. He immediately dropped back out of sight, and I knew he was headed for the fenceline 150 yards away. I raced to the top of the rise knowing I would only have one quick shot before he cleared the fence to safety. As I reached the top I shouldered my gun and released the safety in one motion. The buck was two strides away from the fence when I squeezed the trigger. He tumbled to the ground slamming into a fence post as the 180 Nosler partition quartered into him from just behind the last rib stopping just below the skin on the opposite shoulder. I couldn't believe that I had finally harvested the buck after all the events that had taken place earlier that day!
Brian and his son, Spencer, with Brian's '99 archery buck.
I had just begun the process of field dressing the buck, when another hunter approached me from the direction that the buck had come from. I recognized him as the hunter who was on the hill halfway between me and the buck when I first spotted him over a mile away. The guy claimed that he had been hunting along the hillside and just happened to bump into the bedded deer but only got off a couple shots as he ran off. I knew however that this other hunter had probably watched me earlier when I stopped on the hill a half mile away to verify the location of the buck. He must have watched me checking on the buck's location with my binoculars tipping him off to the location of the buck, then decided to try to get to the buck before I did by trying a direct frontal approach.
After hiking all day long, the two-mile hike back to camp seemed effortless as I thought back to the two years of hunting for this particular buck.
The buck was 22 1/2" tall and had 3" and 3 1/2" brow tines and 3 1/4" and 4" sticker tines. Although he was only 18" wide, he was the heaviest antlered buck that I had ever seen in South Dakota. He was later aged by the GFP at 7 1/2 years old. I couldn't believe that a buck could live that long in this heavily hunted area.
I have since taken two other bucks during the 99 season from this same hilltop lookout. The first one came on the second morning of the archery season when I spotted and stalked to within 15 yards of a bedded buck. However, he spotted the top of my hat as I peeked over the ridge and jumped from his bed. I came to full draw and whistled at him. He stopped in his tracks 24 yards away broadside and looked back to identify what had spooked him. He jumped the string as I released causing my perfect lung shot to end up hitting him in the spine and dropping him on the spot. This buck scored 166 7/8" P&Y gross and netted 160 3/8" and was aged by GFP at 8 1/2 years old.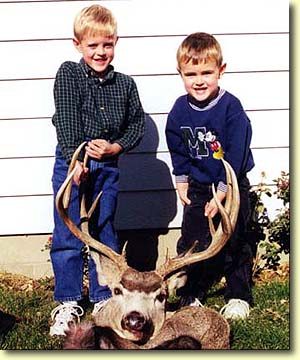 Brian's sons, Spencer and Braden, with Brian's '99 rifle buck.
The second buck of the 99 season came on opening day of the rifle season. From my favorite hilltop position, I watched another group of hunters spook a buck into a draw just over the ridge from where I had shot my archery buck. Knowing that this was a draw filled with dense cedars and numerous escape routes, I decided to wait until mid morning and get the help of my dad and neighbor to help drive this buck out of his hiding place. We weren't two minutes into the drive when the buck exploded out of the bottom and raced up the hill. I whistled to get the attention of my dad hoping he would get a chance to harvest this buck. I followed the buck in my scope as my dad's shot missed its mark. I knew the buck would be over the top before dad could get another opportunity so I took the shot dropping the buck in his tracks just below the ridge. It was a strange coincidence that both of my 99 bucks were harvested within 60 yards of each other - one on each side of the same ridgeline.
Click-a-Pic ... Details & Bigger Photos
Click-a-Pic ... Details & Bigger Photos
Home | Hunting Forums | Photo Gallery | Hunting Articles | Videos

|


Hunts & Tags | Hunt Draw Odds | About Mule Deer | About Elk
Store | Classified Ads | Photo Tours | About this Site | Advertising

|


Older Content | Email Us | Privacy Policy | Links | Podcasts