"After The Slam"
Written by Brittney Johnston
After my incredible hunting successes and "Wyoming Slam" of 2002, I wondered how I was going to be satisfied with my 2003 season. Because this year was my first year of high school, I wondered how I would have much time for hunting. Missing school can count against you and catching up is tough. My parents and I talked about it, deciding that I would only have time for three hunts this season if I were going to keep up my straight A's.
Again this year, I was fortunate to draw out an either sex Wyoming antelope tag for Unit 99 type 8, which is a muzzleloader only tag. August 20th arrived hot and clear when the sun peaked over the Uinta Mountains of Utah. My dad and great uncle spotted a herd of 20 does and a nice buck feeding in a sagebrush draw. Our range finder told us the buck was at 172 yards. I felt comfortable at that distance with my Thompson/Center 54 caliber. I use 150 grains of loose Triple 7 and a Barnes 275 grain MBZ. My dad gave me one of those "are you sure" looks. Getting a good rest and a deep breath, I squeezed the trigger slowly. Smoke filled the air, blinding my vision of the herd, but my dad's voice came through, "He's hit! You hit him! He's down!" I couldn't believe it! Opening morning and I already had a buck that scored a little over 68 points - enough to make the Longhunter Record Book minimum. I love hunting antelope in the treeless expanses of sagebrush of my home. It holds many draws the antelope can hide in, and the populations are doing well.
After bagging my antelope with my muzzleloader, I decided that I wanted to hunt this year exclusively with black powder. The one shot challenge is appealing, and I love to talk about different aspects of the sport with my dad and his friends.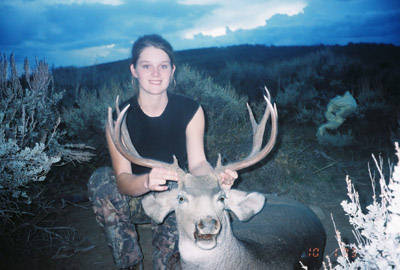 Waiting until October was hard for the opener of the mule deer hunt. The morning hours proved fruitless as we glassed small herds of does and small bucks. I had my heart set on a mature buck. For the evening hunt, my dad and I sat on a ridge glassing broken sagebrush flats. Movement caught my eye way out in the distance. One of the deer appeared to be worth looking at, so we slipped off the top and fast walked, hidden from the deer, to get a better look. Peeking over a ridge, we saw four bucks feeding down towards a flat. Again, the trusty range finder pegged them at 80 yards; the third one back had a nice 25-inch spread with four points per side. At the shot, three deer left in a hurry. All that was left where the herd had been was dust. Where did the buck I had shot at go? We hustled over to find the buck piled up in the sagebrush. He was knocked off his feet so fast we hadn't even seen him go down. Scoring over 150 points, this buck easily makes the Longhunter Record book minimum.
Not enough time for me to hunt elk this year, but after getting my six by six last year, I figured I could wait until next year to pursue them again.
My last hunt of the season was a two-year dream to hunt the largest land mammal in North America - the American Bison. Dad had a deer hunt in South Dakota planned and asked me if I wanted to have that dream fulfilled. Because of the drought and subsequent lack of grass across much of South Dakota, the Lakota Sioux tribe was offering bull buffalo hunts at reduced prices in order to reduce the herd size. No short sleeved shirts this time. November in South Dakota this year reminded me of what the Artic must be like.
After glassing the herd, we picked out a nice bull. At 80 yards, he looked like a barn. Kneeling down, my Lakota Sioux guide told me to let my muzzleloader rip right behind the shoulder, which is just what I did. The great bull staggered, walked about 20 yards while I reloaded, then tipped over. What a beast! It was great hunting bison with the Lakota Sioux of Little Bighorn fame, and to see the great respect they have for the buffalo. We were invited to celebrate in the Lakota way by burning sweet sage and offering thanks to the Great Spirit for the life of this animal. We also ate a piece of the raw liver after it had been drenched in the animal's bile. The Lakota believe this is a sure defense against illness and disease (I got the feeling that if you could survive eating the liver, nothing else could make you sick).
What a year! Needless to say, my year after the slam was every bit as exciting and successful as 2002 had been. I'm already beginning to wonder what 2004 will hold.
I wish more youth could experience the great outdoors the way I've been able to experience it. Moms and dads, take your kids out hunting and fishing. It will help them have a greater respect and outlook on the wonders of this earth on which we live.
Note:
Brittney Johnston is 15-years-old, just completed her freshman year at Evanston High School in Evanston, WY, and enjoys shooting, hunting, fishing, shopping, getting her hair and nails done, and traveling.
Click-a-Pic ... Details & Bigger Photos
Click-a-Pic ... Details & Bigger Photos
Home | Hunting Forums | Photo Gallery | Hunting Articles | Videos

|


Hunts & Tags | Hunt Draw Odds | About Mule Deer | About Elk
Store | Classified Ads | Photo Tours | About this Site | Advertising

|


Older Content | Email Us | Privacy Policy | Links | Podcasts