"RETIREMENT BUCK"
Written by Bruce Gallagher
I have been a public school educator for the past 31 years. Upon the completion of this past school year, I made the carefully thought out decision to retire. Friends and family both asked me how I was going to occupy my upcoming "free time". My response was plain and simple. I'm going to do the things I've always enjoyed, but just more of them.
Archery hunting has always held a place at the top of my list. I have been an avid archery hunter for the past 15 years. I have always looked forward to spending four or five weekends of my late summers and early fall in the flat top mountains in Garfield County, near Meadow Lake, in the White River National Forest. Those of you who also hunt this time of year know exactly what I mean. The weather, for the most part, is beautiful. The solitude and anticipation of hearing the calls of bull elk in such pristine settings borders a religious experience. We are a fortunate few who are drawn to this yearly epic event.
Because of the limited time I had to hunt, I pursued only elk in the past. This year was going to be different. I also applied for and drew a deer tag. I also decided to purchase a treestand after several seasons of hunting ground blinds and continually being pinned down by the elk I was fortunate enough to call into bow range.
We set up our camp two weeks before season and with all of this "free time" I had, I spent a lot of time scouting. I decided to hang my stand on a ridgetop north of our camp where there was an abundance of rubs and other promising sign. Opening day arrived with the usual pre-dawn delusions of monster bulls and bucks soon to be gracing the walls of my family room. The newness of being 15 feet up a tree added to my excitement. And there I sat...and sat...and sat. Two full days of sitting in what I was sure, was going to produce Mr. Elk and Mr. Deer. No such luck!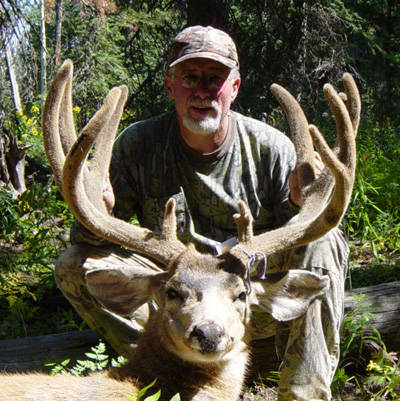 When day three arrived, I decided that my legs needed to be stretched and that I most definitely needed a change of scenery. It was Monday, 8-30-04 and I decided to go north to an old forest service road closure with my hunting buddies Bryan Burgess of my hometown of Rifle, CO and Kevin Siegel of Rockford, MI, Kevin's son Noah and his friend Blake. The guys had really been getting into the elk the last two days and Kevin shot just high over the back of a nice 5x5 bull the previous morning. Our other buddy, Steve Chesley, also of Rifle, went another ridge over.
From the road closure I headed east, down a timber ridge and up into an aspen ridge, around where I shot a cow elk about 10 years back. I got to the top of the quakies and started still hunting through some timber pockets. Around 8:15, while moving through one of those pockets, I saw some movement in a small open park to my right. I stopped and spotted a small buck and a good size five pointer feeding their way toward me. The bigger buck came into the timber about 35-40 yards from me. I hunkered down, took off my pack, grunt tube and a couple of cow calls hanging around my neck. I started creeping around a small spruce tree to try to get an angle on the bigger buck. I watched him for about five minutes, but he just never gave me a clear shot. I would glance back at the little buck now and then to make sure he didn't spot me and send them both on their way.
Suddenly, while glancing back at the smaller buck, I noticed some more movement to his right. Out steps this monster with several other bucks (a bachelor party) about the size of the one I was hoping to get a shot at. The monster hops a log and comes into the timber right at me. At about 35 yards his head gets behind a spruce tree and I go full draw. He steps out and locks up, looking right at me. Decision time. Do I take a frontal shot? I spend a fair amount of time practicing and I feel pretty comfortable at that range. After holding on him for what seemed an eternity, I put the 30 yard crosshair pin of my 15 year old Hoyt Pro Force Extreme just inside his right front shoulder and let it fly. My Blackhawk Vapor carbon arrow tipped with a 125 gr. Innerloc broadhead hit the mark perfectly; full penetration right to the fletching. He ran, or more like staggered, right by me within about 10 feet. He went about 15-20 yards and ran into a tree. He stood up and piled right over. I watched him lay there for about 5 minutes. I walked up on him and he was done. It was a surreal experience to say the least. As I stared in disbelief at this magnificent animal, I couldn't help reflecting in not only how unbelievably fortunate I was, but on what day it was. It was a Monday! Not a day I usually get to hunt. This retirement stuff ain't so bad!
I estimated that between hunting and scouting, I spent about 25 days in the mountains this season. I was not able to fill my elk tag. I moved my treestand three times. My last set was between two wallows. Hopefully that will produce another story for next year's archery season.
FOOTNOTE:
I shot him at 8:30a.m. and was dressing him out at 8:45a.m. He's a 5x6, estimated to be 6+ years old. He dressed out at 265 lbs. and his estimated live weight was around 330 lbs. His official Pope & Young gross score is 189 5/8 and his net score is 178 2/8. He is also the #3 mule deer buck in velvet harvested in the 2004 Colorado archery season. He might also qualify for the Boone & Crocket record book, but they require the velvet to be removed. No way! I'd sooner go back to work!
Click-a-Pic ... Details & Bigger Photos
Click-a-Pic ... Details & Bigger Photos
Home | Hunting Forums | Photo Gallery | Hunting Articles | Videos

|


Hunts & Tags | Hunt Draw Odds | About Mule Deer | About Elk
Store | Classified Ads | Photo Tours | About this Site | Advertising

|


Older Content | Email Us | Privacy Policy | Links | Podcasts