"It Better Have Cheaters!"
Written by Cole Helm
As I do every year in early September, I began packing my equipment dreaming of the big bucks I was going to see. I was dreaming of the big ones I would pass up in order to shoot a monster. It seems that it is always a "dream" that I am actually going to pass on a big buck for a bigger one. I just can't seem to keep my trigger finger from itching. However, my wife decided that this year I needed a stipulation on what I could shoot and told me that I had better get a buck with cheaters on it. When I started to explain that just because one wants to get one with cheaters, doesn't mean he is going to get one, or even see one with cheaters. And, if he does see one then he still has to make a good shot. But, she didn't care for my excuses and explained to me that I had already shot numerous good solid typical bucks, but I needed a buck with cheaters for the collection.
Well with the thought of "it's just not that easy" in my mind, I headed to bed to get a little rest, I would say sleep, but does any hunter sleep the day before the big hunting trip, because I know I sure don't.
Morning finally came and my 2007 hunting trip had officially begun. After a long five and a half hour drive, I had reached my hunting destination in Wyoming's high country. However, due to some prior work obligations that needed to be taken care of, I was unable to do any scouting that night. Opening morning came after another long night of dreaming of the hunt about to take place. Joining me on my hunt were my brother James and my dad. We usually try to make hunting a family affair; however, my oldest brother was unable to join us, but this might have worked to my benefit when it came to getting my buck, because he seems to be just a little quicker than me getting off his horse and grabbing his gun, but his presence was greatly missed.
Throughout the first day, we glassed hillside after hillside, put together a couple of drives, and had some lunch, but had yet to actually get a chance at a big buck. We had split up several times during the day, and had each seen some bucks, but couldn't get a shot. Feeling a little discouraged after turning up a few four points, but not being able to get a shot, we headed back with hope of being able to make one last stab up a big open draw with a few pines and lots of quaky trees. The draw has been productive in the past and always seems to hold a buck or two.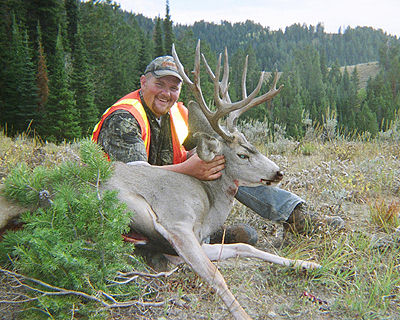 Luck was on our side and we made it to the bottom of the draw about an hour before dark. As we started up the draw, we began to see lots of action. First, we jumped four bucks, and to our disappointment they were all big two points. So, we got on and rode a little farther up the draw where we jumped three more bucks, once again two were two points and one was a small three point. Then we seen two more bucks, these both a little bigger, probably three points, but still not big enough. It was like we were in buck heaven…the farther up the draw we went the bigger the bucks got.
Then, we spotted three bucks, one of which looked pretty good and we decided we needed to get a closer look. Unfortunately, on our way over to get a better look at the buck, one of our horses took a spill and in order to save the horse from any injury, we had to let the bucks go and head back down the draw to flatland, thus ending our 2007 opening day.
We took the next day off and James had to head home and get back to work. So, it left just my dad and I to hunt down a big buck. The following morning found us overlooking the big draw we were in on opening morning. We spotted three bucks feeding in the bottom of the draw, one decent four point, a small four point, and a two point.
After deciding to pass on the bucks, we moved on hunting up one side of the mountain and down the other until we finally came across two more bucks. Once again the biggest one was a real heavy three by four and we elected to pass yet again.
After downing some lunch, we rode a few trails, you know the type where dad claimed it was a trail, but there was no sign of a trail, without any success. We finally came out into a pass and my dad had a plan to make a little drive and even though it didn't look like a real large pocket, I thought he might be on to something. I learned in the past that I have the best luck hunting when I follow my dad's lead and don't question him. So, off he went with the horses and there I sat eating some lunch watching the pass.
After about a half an hour of not seeing anything, I was starting to feel kind of discouraged because I was sure that if anything was in the pocket it would have already come out. I relaxed a little bit and began thinking about where we should hunt next when suddenly, there he was…a big buck came out of the trees and was headed through the pass, and he wasn't wasting anytime in doing so. I jacked a shell in and drew down on him. I could see when he first came out that he was out past his ears, but I didn't get a long enough look to tell how far. Now all I had was a side view, so I started counting points, it looked like he was a four point with an extra inline point. It also crossed my mind that he was fairly heavy. With all of that running through my mind, I decided that I had better shoot it and see just how big he was. The last thing that went through my mind before touching off the round was, "it better have cheaters."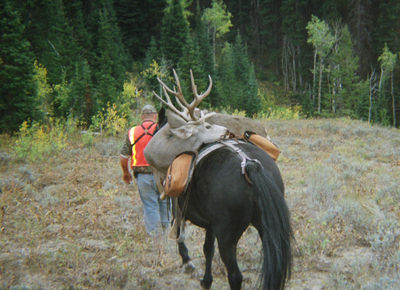 My .30-06 roared as I subconsciously decided that he was the one I was looking for. I had to shoot him once more to finish him off, but still never could see exactly how big he was. I radioed my dad that I had got one down, and that the work was about to begin.
As I approached the buck I grew very excited, as I could see that it indeed was decently heavy and had not only one extra point, but another good looking extra in between the G-4 and the main beam. Then, I started beaming from ear to ear as I seen two cheaters, one on each side, granted they are small at about an inch long, but they were there! I was going to be able to fulfill the goal my wife had set for me.
The buck isn't the largest on the mountain, but he is plenty good for me, and will leave me another lasting memory of a successful hunt with my dad. The buck ended up being a 7x7 and measured 26.5 inches wide. It hasn't been scored yet, but I'm guessing it will score in the mid 170's. The bottom line for me is the character that it possesses. I love a buck with character and as a bonus I was able to call and tell my wife that I had got one with cheaters! I've decided that sometimes it's better to not know how big the buck actually is because the excitement when you find that he is truly a good buck is one of a kind. Like that saying goes, "better lucky than good."
Click-a-Pic ... Details & Bigger Photos
Click-a-Pic ... Details & Bigger Photos
Home | Hunting Forums | Photo Gallery | Hunting Articles | Videos

|


Hunts & Tags | Hunt Draw Odds | About Mule Deer | About Elk
Store | Classified Ads | Photo Tours | About this Site | Advertising

|


Older Content | Email Us | Privacy Policy | Links | Podcasts