"No Help from Mother Nature"
Written by Corey Jacobsen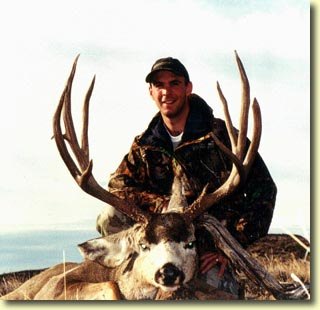 Corey's 2001 Idaho buck scores just under 190.
Imagine weather so mild that you're able to hunt monster mule deer in a T-shirt...in Idaho...in November! That is exactly what we were doing opening day of our controlled deer hunt in southern Idaho. My good friends, Mark and David, along with myself, were fortunate enough to draw a mule deer tags in an area we had scouted some monster muleys in years past. However, with a very mild fall and many hours of pre-season scouting we were left with one certain consensus, we needed some snow to push the big bucks into our area.
There were several bucks in the area we were hunting, which was evident by our count of over 70 bucks on opening day. We passed up several 170 class 4 points before finding a buck that we potentially deemed a shooter. Unfortunately, this old bruiser, with an 8-inch cheater off his G2 and several other kickers, had broken both main beams just past the G2's, so we let him go.
When we got home, I dug through a pile of sheds from that area and found a set of his sheds from 3-4 years before. It had a whopping 188 typical frame, displaying the same 8-inch cheater.
We followed the big buck onto the flat above us, and he led us right into the action. The sound of antlers crashing together brought our binoculars up on a massive framed 3x4 dominating another mature 4 point. Bucks were chasing does everywhere, including a beautiful typical 4 point, with a small cheater off his passenger side. We watched him in the spotting scope for quite a while before deciding that he would likely score around 192. But, we decided it would be too hard to pull the trigger opening day. Besides, we were confident we could find him later in the season in the same area if we needed to.
The next few days Mark passed up a couple of beauties that are still running through his mind, including a 5x8 that would gross over 200 inches. On day 5, though, we found the one that we didn't have to look at twice. He was a monster, and the more we looked at him, the bigger he got. We came up with a rough score of 207 inches, his only deduction being a 7 inch in-line kicker, but a definite Boone and Crockett buck.
After a couple of long stalks, Mark got his chance, but missed the Booner by only a few inches. However, as we would later come to find out, it wasn't his marksmanship, but shattered glass bedding in his stock, that caused the misses.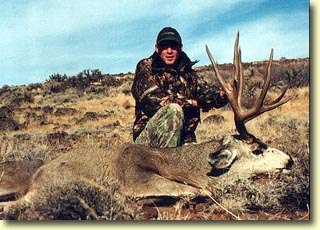 What an awesome typical!
As the week progressed, the bucks were becoming very sparse, and we went from our 70 bucks per day, to 12 or 15 bucks a day. Hoping for any kind of break in the mild weather, but getting none, our panic was momentarily calmed on day 8 when David shot a nice 170 class 4 point, one of the biggest bucks we had seen since the Booner.
On day 9, I made up my mind to hike back into the area where we had seen the big buck. I was convinced that there was a shooter somewhere in there. The big 4 point from opening day was also on my mind, still being the second biggest buck we had found, and also living in the same area.
I reached the flat just after noon, and where we had counted over 100 deer on opening day, I found none. Realizing I only had a few hours to hunt that area, as I would need 3 or 4 hours to get back out to the 4 wheeler, I immediately headed down the canyon to where we had last seen the big bucks.
I spotted 2 nice 4 points, but they weren't quite big enough to put this coveted tag on, especially so far away from any roads. The lower I moved down the canyon, the more deer I began seeing, but none of them were the big ones we were after. I hunted the last flat and decided I would need to begin hunting my way back towards the 4 wheeler.
I turned back across the flat, and as I came to the first rock shelf, 12-14 deer jumped up. They were deer that I had obviously walked past on my way in. Somewhat discouraged from a long day of hiking, I slowly raised my binoculars up to find the big typical 4 point from opening day making his getaway with 3 other bucks and a handful of does. I ranged him at 440 yards, just as he was topping the hill. I knew I would have to hustle to get another look at him on the next flat.
Out of breath and with blurred vision, I topped the hill and began frantically trying to spot the big buck. I picked up the other 3 bucks making their way to my left at about 250 yards. I quickly scanned the flat, and found the big boy about 300 yards to their right, sneaking across the flat to my right. I quickly pulled up the range finder and ranged him at 378 yards. I took a solid rest on a large rock, put the crosshairs of my 7mm Remington Mag. on his back and squeezed the trigger. The big buck went down! It seemed like a mile across that flat as I stumbled over the rocks up to where he was laying. As I looked at his massive rack, I couldn't help but notice the enormous size of this monsters swollen neck and body, wondering how I was ever going to pack all this out alone.
The long pack out gave me plenty of opportunities to replay the afternoon's events over and over in my mind. The big buck had 13-1/2 inch deep forks, 17-inch back tines, great mass, and a 27-inch outside spread. He ended up scoring just under 190 inches.
Mark also got a nice 4 point the next day, and as luck would have it, the weather we so desperately needed moved in on the last day of season, after we were all tagged out.
Click-a-Pic ... Details & Bigger Photos
Click-a-Pic ... Details & Bigger Photos
Home | Hunting Forums | Photo Gallery | Hunting Articles | Videos

|


Hunts & Tags | Hunt Draw Odds | About Mule Deer | About Elk
Store | Classified Ads | Photo Tours | About this Site | Advertising

|


Older Content | Email Us | Privacy Policy | Links | Podcasts