"Three Big Bucks!"
Written by Craig Church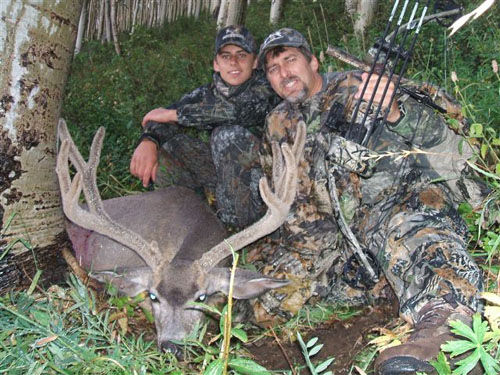 Craig's Utah Archery Buck
It started in August during the Utah archery hunt when my boys and I went to a favorite hunting spot in a pocket of aspen trees. It was raining slightly off and on and I had set my oldest son Kason on a trail that I thought would give him the best chance to take a buck. My younger son Kyler and I set up on another trail about 50 yards away. We were under a lone pine tree when I caught movement up above us and it was a nice 27-1/2 inch 4-point and he was headed right for us. Kyler had ranged some key spots with our range finder when we first set up, so when the buck decided to go by me I knew right where to place my pin.
He was 35 yards away when I shot my Mathews Bow and the shot felt good. We were pumped and couldn't believe what had just happened. Kason came over and I sent him and Kyler down to where the deer was when I shot to make sure I hit him. The deer had run off and out of sight behind some trees and I didn't know for sure how hard he was hit. Kason saw my arrow embedded in a dead fallen tree and thought that I had missed. As he went to get the arrow it was sticky with blood and a smile came across his and Kyler's face as they gave me the thumbs up.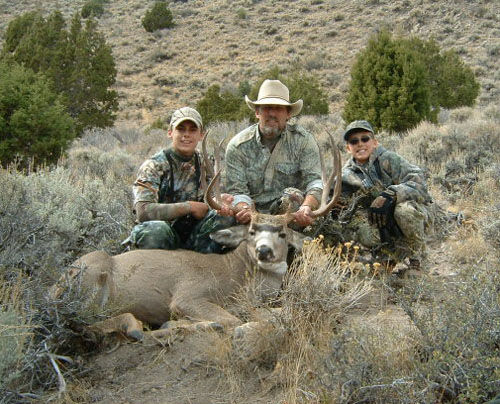 Craig's Nevada Buck
We waited for what seemed like hours before we started stalking the buck. We found blood and followed the trail to the trees where we last saw the buck. I said "he should be right here," as soon as I said that the buck jumped up and ran off about 100 yards and stopped. He stood there looking around and I couldn't believe it. I felt sick thinking I had hit this beautiful buck and then scared him off. Since the rain was falling and there would be little blood to track, we decided to just sit down and watch, hoping the buck would run no further. We waited for about 20 minutes and the buck finally went down and I was able to claim my first velvet buck with a bow and he was a dandy. And to top it all off, I wasn't done hunting for the year 2007!
My friends and I had put in for hunts in Nevada and Colorado and we had drawn both. In October, my boys and friends and I all headed for Nevada. My friends had to go to another area so me and my boys were at it again. The first day of this rifle hunt I had my Browning A-Bolt 7mm that I had won from the Big Buck Photo Contest in 2004 in Trophy Hunter magazine. We pulled in to the area I wanted to hunt and I pulled out my Swarovski spotting scope and found a buck feeding on a ridge that deserved a closer look. We started hiking up to him and knew we were getting close, but we couldn't see him anywhere. We came around a tree and something caught my eye across the canyon about 800 yards away and it was a nice 28-1/2 inch buck! He had us pegged, so we crouched down behind the sage brush to see if he would get comfortable again. After about 10 minutes, he finally laid down but he was still watching our direction. Kason set up my spotting scope so he could watch the buck while I put a stalk on him. I made my way slowly down the ridge and up the other side when I finally caught sight of the buck's antlers, but I didn't have a shot. I set up my shooting sticks and decided to wait for the buck to stand up, because I was only 200 yards away from him. About 20 minutes passed and he finally stood up and I dropped him with a shot to the neck. He is an awesome 28-7/8 inch 4-point buck that gross scores about 180. I couldn't believe it, I had harvested another huge buck and I still had a hunt in Colorado!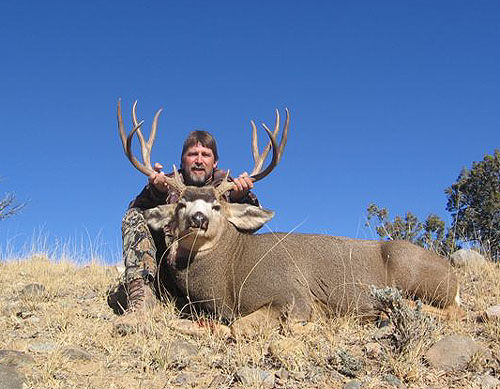 Craig's Colorado Muley
Now it was time to go to my last hunt and it was going to be me and my best friends, Cary Edwards and Doug Hare. We have hunted together a long time and were looking forward to this November hunt. The deer would be in the rut and our expectations were high, but with the warm weather we found out in a hurry that it was going to be a tough hunt because the deer were spread out all over. We hunted hard for three days and Doug finally shot a nice 24-inch 4-point, so Cary and I were optimistic. We finally found a nice buck that we knew we needed to hunt. We had spotted him with some other bucks and does, but it was too late to stalk him so we decided to wait until morning. All night I couldn't sleep. I could see this big buck in my head and could picture him going down with one shot by one of us. I didn't care who, but one of us had to get this buck.
Morning finally came and we got into position and found the other deer that this buck was with, but no sign of the big one. After glassing about an hour, we knew the buck had to be here somewhere so we made a plan. Doug would be our dog since he had his buck already, Cary would go half way down the mesa and I would stay on top. As we started walking, the deer started to move. I got into position where I thought the deer would move and set up my shooting sticks, I could see Cary doing the same. Doug was coming up the bottom of the canyon and the deer started running everywhere. I watched a lot of deer come out and saw a lot of bucks, but not the big one. I was beginning to think the buck got away when all of the sudden he stepped out right below me only 200 yards away. I pulled the trigger and down he went. I had shot him in the neck just like my Nevada buck. It was another 28-inch 4-point and another 175 buck! Doug was the first to him and he started celebrating with Cary and we were giving hi-fives. We couldn't believe the year I had, 3 bucks in 3 states that were all over 27 inches wide. I am so thankful that I can hunt and get close to my boys and have a great time with my friends. We love getting together to hunt and are thankful to our Heavenly Father for this beautiful country we live in and for big mule deer bucks.
Click-a-Pic ... Details & Bigger Photos
Click-a-Pic ... Details & Bigger Photos
Home | Hunting Forums | Photo Gallery | Hunting Articles | Videos

|


Hunts & Tags | Hunt Draw Odds | About Mule Deer | About Elk
Store | Classified Ads | Photo Tours | About this Site | Advertising

|


Older Content | Email Us | Privacy Policy | Links | Podcasts