"My Lucky Pair"
Written by Curt David
Edited by Rod Hart (Alpine Productions -- Professional Writing & Editing)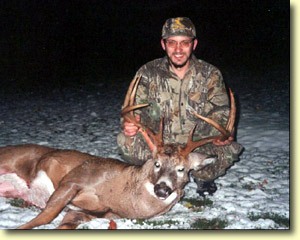 Curt's whitetail scores 144 6/8 P&Y.
A bow-only zone near my home in Albany, New York, produced this nice whitetail for me on October 29, 2000. Several days before taking this animal, I had come upon a group of seven whitetail bucks at a range of only 60 yards. I was extremely nervous and afraid to move lest one of the bucks see me, so my shot was taken from an awkward position. Unfortunately, the arrow just grazed the big buck that I would later harvest.
One week later, the rain that had been falling turned into our first snow of the year. I was wet and cold, so I decided to move to another spot while my partner made a small drive toward my new position. The drive worked like a charm as a nice eight-point came right to me, but much to my dismay, the buck "jumped string" just as I released and sped away, unharmed.
That miss, however, turned out to be a lucky one for me when I spotted my big nine-point less than one minute later. After an easy 17-yard shot, the buck I thought I'd never see again was on the ground. The 81/2-year-old whitetail dressed out at 186 pounds, with almost zero fat on him. He scores 144 6/8 P&Y and ranks number 239 amongst New York State whitetail bow kills.
Figuring I would never be able to equal my big whitetail while hunting in New York, I decided to book a Canadian hunt for mule deer the following year. Within the first two hours of my adventure, Frank Wesley of Sundown Outfitting set me up on a Pope and Young muley at a range of 70 yards. As luck would have it I missed, and throughout the rest of my weeklong hunt, I learned just how hard it is to take a mule deer with a bow from the wide-open spaces of Alberta. Frank and I stalked in on several other beautiful bucks, but things just would not come together for me.
Finally, on the last day of my hunt, Frank spotted a nice 4x5 as it disappeared into a creek bottom. After pointing out a spot where I could enter the creek bottom undetected, the outfitter stayed behind to keep an eye on things from above. I began my stalk at 7:30 a.m., and four hours of crawling later still had not come across the buck. I was pretty sure he must have heard me and spooked, so out of frustration, I stood up and blew my grunt call. When I turned around to scan the area, there was my buck! I had crawled right past him. The rangefinder told me he was 68 yards away, so rather than risking a shot, I ducked back down and ran right toward him. Moments later, I ranged the muley at 48 yards and quickly got off a shot. As the buck ran over the top of a nearby ridge, I could tell from the blood trail he wouldn't go far.
This animal may not be a monster, but the hunt for him was one of the most exciting I've ever been on and I feel he is an excellent trophy for my first archery mule deer.
Author's note: My whitetail and mule deer were both taken using a Mathews Ultramax bow, Beman ICS Hunter arrows, and 75-grain Satellite Magnum broadheads.
Click-a-Pic ... Details & Bigger Photos
Click-a-Pic ... Details & Bigger Photos
Home | Hunting Forums | Photo Gallery | Hunting Articles | Videos

|


Hunts & Tags | Hunt Draw Odds | About Mule Deer | About Elk
Store | Classified Ads | Photo Tours | About this Site | Advertising

|


Older Content | Email Us | Privacy Policy | Links | Podcasts