"Hunt of a Lifetime"
Written by Adam Estrada
The day of the state draw results, I was so bummed, I didn't draw a single hunt. Later that day, I remembered I had entered into a lottery hunt for bull elk in the Valles Caldera National Preserve, so I decided to call. The lady who answered told me she had about a hundred calls that morning and so far none were on the winners list. She asked my name and when I told her, she said, "You got it! Your name is on the list!" I was so excited I jumped about 2 feet in the air. I was jumping around saying "I won, I won the lottery". I even told my boss "I quit, I just won the lottery". He thought I won a money lottery, but I told him it was a hunting lottery. He told me I was crazy. I was truly ecstatic! I called my wife and told her, she didn't believe me. She got on the website and checked, sure enough, my number was on the winner's list. From that day on all I could think of was this hunt.
Soon the day was finally here, my wife and I attended a short orientation and I had to draw for a subunit on the Preserve. They allowed one day of scouting your assigned area, which we saw a lot of high quality bulls. The first day of the hunt my wife and I set off in search of the bulls we had seen scouting. We saw a lot of elk, mostly young bulls and cows.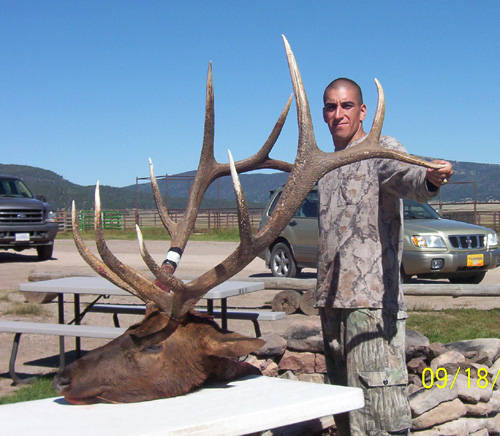 Second day, I was determined. We found ourselves on a 12-mile hike up in the thick timber and we ran into several nice bulls, but still not the bull I was looking for. We heard bugling and sneaked our way into their beds. There were about five bulls screaming at each other, but I wasn't able to get a good look at them. There were some cows with one of the bulls, so we stayed put while they bedded down midday. We were about 50 yards from them and we waited, and waited for them to show themselves. The wind was cold and would gust at times and I was getting worried they might wind us. Pretty soon, they started bugling again one after the other, about 5 bulls all screaming at each other. The herd bull got up and started chasing a smaller bull. When I finally got a glimpse of him, the waiting and anticipation got the best of me and I took aim and shot. We were in thick timber and in between some trees. I quickly started to reload my muzzleloader, at the same time trying to see any sign he had been hit. The elk didn't budge. We watched and waited, but nothing happened. The wind and their bugling must have covered the sound of the blast. They didn't hear my shot and I had missed the bull completely. The bull started raking a nearby tree while the other bulls were still bugling. I took a closer look at the bull, a nice 6x6, but decided he was not what I was looking for. The bull and his cows went off down the mountain and we were able to get a closer look at the others, all young 5x5's. I was getting worried; a few other hunters had tagged out with 290 - 310 bulls.
The third day found us bugling in a bull, but he was on us before we could set up for a shot. After a short while, the mountain got quiet so I decided to move back to where we hunted the first day and see if we heard any bugles there. Sure enough, right from the truck we heard them bugling. We got down and headed towards them. After walking into the tree line a little, I started calling, raking trees, my wife joined in, cow calling and I could hear the bull getting closer. My wife set up behind me in some trees and I was behind a lone tree in a clearing. All of a sudden this huge bull comes tearing up the hill, ready for a fight. I took one look at his rack and knew this was the one. I put the cross hairs of my CVA Optima Elite 50 caliber muzzleloader on him, took a deep breath and squeezed the trigger. A solid hit!
He ran about 20 yards and piled up. He was a great bull and scored 347 unofficially. I would like to thank Johnny and Albert, the workers from the Preserve who helped me pack out my bull, the Valles Caldera National Preserve, for the opportunity to hunt on the Preserve and most of all, my wife, Debbie, for being with me and supporting me. This was truly a hunt of a lifetime.
Click-a-Pic ... Details & Bigger Photos
Click-a-Pic ... Details & Bigger Photos
Home | Hunting Forums | Photo Gallery | Hunting Articles | Videos

|


Hunts & Tags | Hunt Draw Odds | About Mule Deer | About Elk
Store | Classified Ads | Photo Tours | About this Site | Advertising

|


Older Content | Email Us | Privacy Policy | Links | Podcasts