"A Big Bull with a Bow"
Written by Derron Hansen
Derron's first bull elk with a bow.
After five years of applying for a rifle elk tag in Arizona, I gave up. Instead, in 2001, I applied for an archery tag and couldn't believe it when I drew! Beginners luck, I guess?
I began my scouting while archery hunting deer in the area. My friend, Wade Hale, and I saw many nice bulls, most were still in velvet. We also marked the location of each of them on our map and planned to return.
September 14th didn't come quick enough! But when it finally did arrive I found myself in the field alone. Both of my hunting buddies had gone to hunt the "Strip". I spent the evening before opening day driving through the forest listening and watching for elk. The woods seemed to be full of the lovesick animals. One crossed the road 20 yards in front of me, he was a great 6x6. Not bad I thought to myself. The bull appeared to be almost all white. Kind of strange looking I thought. His eyes looked more black than normal, they really stood out compared to his body color. I dubbed him "Ghost".
Thinking that "Ghost" was the bull for me, I pulled over and setup camp and waited until morning. I couldn't get any sleep. The elk were bugling all night and I was excited. Finally, morning came. The elk were very active. I tried several times to get close, but was busted on each attempt, due mainly to my lack of elk hunting experience.
Afternoon found me atop a mountain glassing for bedded elk. The afternoon air was quite warm and it was the perfect time to take a break. Just as I had settled onto a rather large rock, I noticed the rocking back and forth of my vision through my optics. Just then, the rock that I was sitting on began to move! I couldn't believe it. I had to get off this roller coaster ride now! I ran off the backside just as it and another sizeable rock came rolling down the hill. It was headed right at me! I thought I was had. Luckily, I was able to side step the rock! I then watched the larger rock as it went down the mountain a crashed into a tree the size of a telephone pole, knocking it down. I couldn't believe what I had just experienced. I had escaped uninjured with my bow still intact, a little scuffed and dirty, but OK.
After that exciting event, I was pretty shook up. I tried to continue my hunt, but found myself too rattled. My thoughts kept returning to my little family I had left home and the scene of my little four-year old boy crying because daddy couldn't take him hunting this time. Realizing that I had literally touched the face of death and somehow survived, I decided to head for home while I still could.
Saturday found me back at work telling my story. I would have to work for five more days before I had vacation time, and for once I was OK with that. It gave me time to regroup my thoughts and rethink how I was going to fill my tag.
Thursday finally came! My good friend, Jerry Barela, had returned from his hunt and was ready to go get "A Monster Bull". Atleast that's what we hoped.
Jerry is very good at calling in big bulls and he proved it by calling a bull in the first spot we tried. My heart was pounding! This had to be my bull! When it was within 60 yards, Jerry stopped him. He had seen me draw, and also knew that I was ready to shoot any elk with horns. This was my first elk hunt! But Jerry gave me the sign indicating that the bull was too small? "What!" I thought. The bull had horns? 6x6! I was hoping that Jerry knew what he was doing.
After leaving the bull, I asked Jerry if he was crazy. He just smiled and said, "Yes! There are bigger bulls than that".
Jerry was right, just two miles down the road we ran into a very nice 7x7. He was huge! There wasn't much we could do though; he had spotted us before we saw him. He stood there just long enough for a good look, then vanished. "Wow!" is all I could say.
We had many more experiences with big bulls, but it seemed like something was always going wrong. Too much movement, noise, other hunters, etc. Needless to say, we found ourselves scratching our heads, wondering if we had blown the only chance to get a big bull.
The weekend finally came to an end. Hunters who weren't lucky enough to have a little vacation time had to head back home. I had learned a lot, but still didn't have my elk. Monday morning found us scouting out another part of the area. We saw one really nice bull and even tried getting within bow range, but again the bull eluded us. He would have scored in the high 300's!
We arrived back at camp and met up with Jerry's brother, Frank. He had been hunting for cow elk on a waterhole. He told me that my bull had come into his waterhole. I asked him how big the bull was and he said it was a 4x5. Jerry asked him if the bull was wallowing or just watering. Frank said the bull wallowed, then quietly retreated back into the woods. That turned us onto the idea that this was a rag horn bull, wallowing in a larger bull's wallow. We decided to give the afternoon hunt to watching Frank's waterhole.
This turned out to be the best move we could have made. Just as we were leaving to head for the waterhole, Jerry got a call from his other two brothers telling us to wait. They said that they felt like something was going to happen and wanted to be there.
At the waterhole, we all split up. We sat there for about two hours before we finally heard what seemed like music to our ears. It was the bugle of a bull some 500 yards away, and he was heading for the waterhole!
The bugle kept getting closer and closer, and with every bugle, my heart would beat louder and louder. I was sure that if the bull came within 50 yards, he would hear it!
As the bull came into the waterhole, he paused behind a tree about 40 yards away. Then, he let out a monster bugle! You know--the kind of bulge that makes your heart skip a beat! I was kneeling down with my bow, getting ready for what I hoped would be the shot of a lifetime. Jerry calmly told me to draw my bow. I looked up and questioned, "draw?" Thinking, "Is this bull actually big enough?" I thought Jerry's eyes were going to pop out of his head! He repeated, "Yes, draw, draw now!" This time he wasn't quite calm.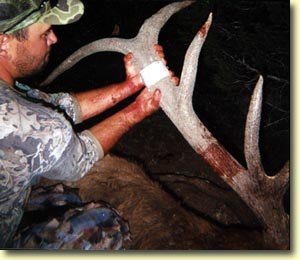 The bull is very heavy.
Just as I came to full draw, the bull walked out and stopped. I had to open my other eye to see how big he was, because my peep was full of elk hide. Wow, this guy is huge! I let the arrow fly and it hit perfect. The elk spun and ran.
I immediately turned to ask Jerry if I had hit him good enough. Before I knew it, I was on the ground! Jerry just tackled me and said, "You hit that elk so dang hard, he's dead!"
We looked for any sign of blood, but none. I was getting worried. Mike, Jerry's brother, came down from the hill where he had been watching the whole thing unfold. He said he saw the cows go over the ridge, without the bull! He said that the last time he saw the bull it had its head down and running slowly up the ridge. I couldn't believe it, maybe I had actually killed the bull of a lifetime! What a rush, was all I could say. WHAT A RUSH!!
I read somewhere that it was best to wait an hour or so before pursuing a wounded animal. However, Jerry and Mike were sure that the elk was down and I was excited to find my trophy. Five minutes later we found him, what a sight! He was larger than any of us had thought. It was hard to tell who was more excited, Jerry, Mike, Frank, Juney, or myself! We were all running around congratulating each other and expressing what a beautiful bull he was.
We field dressed the bull just as the sun was setting. The camera didn't fair the hunt very well, I guess all the running around had shook something loose. We sent Frank and Juney into town for another camera, and when they returned, we took some quick pictures of all of us with the bull.
Word traveled quickly and several of my good friends met us at the house. They were a little surprised, to say the least. After all, this was my first hunt. I think most of them expected me to come home empty handed or maybe with a little rag horn, which is what I would have expected too. Beginners luck is the only thing I can tell people. I don't know if I'll ever top this one? I'll keep trying though!
The bull has a 60-inch right main beam, a 55-3/4 inch left main beam, and a spread of 45-1/2 inches. He was missing three points, two eyeguards and his 5th royal point on the left side. Because of this, he won't score as high as he should. He is very massive though, with 9-inch bases!
Thanks to the Barela brothers for all the help, especially Jerry for his expertise in hunting. I truly felt like I was part of a family while I was with these crazy guys. They were always joking around and enjoying the entire hunting experience. We had a lot of fun chasing those MONSTER BULLS.
They decided to give me the nickname "Great White Hunter", because they are all Mexican and I was the only white guy in our camp. It made for a lot of good jokes that's for sure. It's times like this when you realize how important it is to have good friends, regardless of race or color. Thanks also to Lonesome Pine Archery for their part in getting me the right equipment to get the job done. And above all, thanks to God for creating such a beautiful creature as the elk!
Click-a-Pic ... Details & Bigger Photos
Click-a-Pic ... Details & Bigger Photos
Home | Hunting Forums | Photo Gallery | Hunting Articles | Videos

|


Hunts & Tags | Hunt Draw Odds | About Mule Deer | About Elk
Store | Classified Ads | Photo Tours | About this Site | Advertising

|


Older Content | Email Us | Privacy Policy | Links | Podcasts