"My First Buck"
Written by Duane Colborn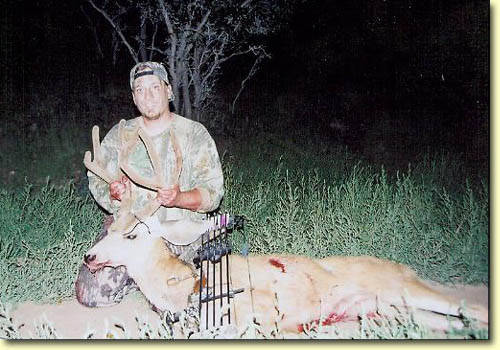 Duane's first archery buck.
This year's hunt began way back in January, when I decided to take the advice of some friends and start archery hunting. I have been deer hunting for fourteen years with a rifle, so this was a big change for me. I talked with my friends and did some research and decided on purchasing a Mathews Q2 as my first bow. By the time I was able to get my bow (April), I only had a little more than four months to get ready for my hunt, which would begin in August. I spent as much time as I could learning to shoot my bow and everything else I needed to know to have a successful hunt. Before I knew it, I was on my way to hunt southeastern Utah with my brother-in-law, Dave, and two other friends, Jeff and Tim.
We arrived on Thursday, two days before opening day, so that we could scout the area we would be hunting. It was the first time any of us had hunted this part of Utah.
There were two places that we had permission to hunt, one was some alfalfa fields and the other was located in a small area of cedar trees. After scouting, we decided that we should split up and send two people to each spot.
I spent opening morning in the area of cedar trees with Tim. That morning turned out to be very unproductive, as we saw only two does. When we talked to Dave and Jeff, who had hunted the alfalfa fields, we decided that we would all be more successful in the fields. It turned out that they had seen several bucks, including four that were monsters!
That evening, after setting up a few ground blinds, we went to the fields. It wasn't long before the deer started entering the fields. At first, it was mostly does with a couple of small spikes, but not long after a couple of nicer bucks entered the field. I was getting really excited because I had never seen this many bucks at one time. That evening, I had two spikes and one forked horn come within 8 yards, but after seeing the bigger bucks, I opted not to shoot them, even though I had never shot anything with my bow. The next day we all hunted the fields again, but were all unsuccessful. Monday morning turn out to be the same, but then came the evening hunt!
I set up in the same ground blind I had been hunting from since Saturday. Again, like the previous days, the fields began filling up with deer, but this time the bigger deer were coming in earlier. I focused on a nice sized 3-point that had made his way to within 150 yards of my blind. But after more than hour, he would not come any closer. I decided to take advantage of a dry drainage ditch behind me to see if I could get closer to him.
After making my way up the ditch about a hundred yards, I crawled out and made my way to the edge of the field. I had gotten closer, but not close enough, he was still 85 yards out. I watched for about another 1/2 hour, but he was not getting closer.
Then, I noticed another nice buck running down the hill and entering the field. He entered the field and continued running right towards me. He ran right past the other buck I had been watching and then stopped and started to feed. I took out my range finder and ranged him at 66 yards. After watching him for a few minutes, I figured he would not come any closer, so I decided that I would take the shot.
I drew back my bow, stood up, and put my 60 yard pin right on his back. I touched it off and it seemed to go in slow motion, as I watched as my arrow hit its target. I couldn't believe it! This was by far my best buck ever! He is a 3x4 with double eye guards and is about 15 inches wide. He isn't a monster, but for my first archery buck he will do!!!
Click-a-Pic ... Details & Bigger Photos
Click-a-Pic ... Details & Bigger Photos
Home | Hunting Forums | Photo Gallery | Hunting Articles | Videos

|


Hunts & Tags | Hunt Draw Odds | About Mule Deer | About Elk
Store | Classified Ads | Photo Tours | About this Site | Advertising

|


Older Content | Email Us | Privacy Policy | Links | Podcasts