"Second Chance Trophy Bull"
Written by Dustin Guthrie
As always, I applied for a controlled elk hunt in southern Idaho where I have been hunting all my life...unfortunately I didn't draw, so I began preparing myself for a different hunt. As early August rolled around, a buddy of mine told me about a "re-draw" that was going to take place for the tags that were not picked up by successful applicants. Two weeks later the results were in and I drew!
The previous year my aunt had taken a great bull that grossed in the mid 370's and netted around 365. Three years prior to that, I took a bull that scored right around 300 on the same hunt, so needless to say I was a bit excited. During preseason scouting we spotted quite a few good bulls and one we guessed would go 320-330. I figured he would be a great one to try and put on the wall.
On the morning of October 10th while driving to work my heart sank as there on the side of the road laid the big bull we had scouted....hit by a car. I quickly started thinking of what this would do to my hunt, and I figured that I would end up taking a smaller bull and have to deal with it or go into a new area without knowing what was there.
On opening day, I spent most of my time glassing and trying to locate another good bull, but I didn't even see an elk. The second day my thoughts and efforts shifted to deer hunting as it was open as well. With no luck to speak of, it was back to work for me.
Throughout the week, all I could think about was my hunt and where I was going to find another bull that was respectable enough to shoot.
Finally, the weekend came but I still had no ideas on where to find a good bull. My cousin, Brittany Johnson, also had a tag, but it just so happened that she was three months pregnant and couldn't really do much hiking around the hills. So, we decided to go to the spot where I had shot my 300 bull a few years prior. The plan for the next day was to set her on a ridge on the opposite side of a large face, then spread out and try to get something moving and see if either of us could get a shot. It was a relatively short hike and there was the possibility of maybe running into a good buck too, so we decided to give it a shot. The walk consisted of about a half mile walk through some CRP fields and then onto the face. The face was covered in rolling coulees that were covered in cedars and sagebrush that shot upward and turned into deep, piney, rocky canyons.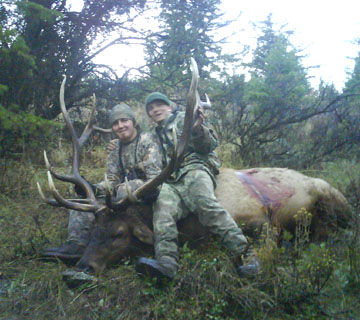 At first light we had my dad drop us off. Me, my brother Matthew, my cousin's husband, Travis Johnson, and my good friend, Blaine Casperson, were to spread out and push the face. We hadn't been walking long when suddenly I was interrupted by Blaine whistling at me.
"Hurry get over here, there's a good one!"
I was a little skeptical about this whole thing, I mean we were still in the CRP, how good could it be I thought.
"He's up over on the ridge next to that big pine." Blaine told me.
As I raised my binoculars up to take a look I could just see that it was a good six with at least one really nice sword tine. We called Matt and Travis over to take a look.
We all agreed that he was a shooter, but we weren't sure exactly how big he was. The only problem now was that the bull was around 700 yards away and we were in the middle of a CRP field. But upon further glassing we could tell that the bull was bedded down and facing the opposite direction. So, with our eyes on the bull we stayed low and did the best we could to sneak through the knee high grass and try to close the distance. At about 300 yards, I decided to take my chances. It had been about 5 minutes total since we had spotted the bull and against all odds he still had no idea we were even there.
After gathering myself for a minute, I found him in the crosshairs and let one fly. I looked up to see him take off running across the side hill and all I could see was his huge rack bobbing through the trees and let another one go.
The bull disappeared into a small grove of quakies. Travis and Matthew were sure I hit him, so I headed up the hill to look for blood. I went into the bottom of the grove and began to zig zag my way through the trees trying to cut tracks or maybe some blood. I began to get discouraged as I reached the top of the grove with no sign of a hit. Then, I looked up and there he was standing only 15 yards away, broadside! I pulled up, but my scope was still on 9 power, I had forgotten to turn it down and now all I could see was brown in the scope. I figured that I wasn't going to miss, so I shot again and he was gone in a blur. As I made my way up to where he was standing I heard Matt yell, "Dustin he's down, and he's a good one."
As I ran over there, Matt met me halfway with a celebratory hug that about put me down. I made my way over to my bull and I was in awe. It looked like he had tree trunks growing out of his head. I guessed him to be about 320 and I was stoked.
When we finally got him off the hill and threw a tape on him my jaw hit the floor...346 gross! And that is with what I estimated to be about 13 inches broken off...6 inches on the left G-4 and 7 inches on the left G-5 which would have put him just under 360! It was all just so incredible how things happened.
I just want to thank everyone for their help and everything they did to help me take this great bull. It was an awesome experience and it was that much better that I was able to share it with my friends and family. I especially want to thank my dad and my little brother Matt, who have always been there, the good hunting days and the bad. Thanks guys.
Click-a-Pic ... Details & Bigger Photos
Click-a-Pic ... Details & Bigger Photos
Home | Hunting Forums | Photo Gallery | Hunting Articles | Videos

|


Hunts & Tags | Hunt Draw Odds | About Mule Deer | About Elk
Store | Classified Ads | Photo Tours | About this Site | Advertising

|


Older Content | Email Us | Privacy Policy | Links | Podcasts