"My Big Bull"
Written by Emily Stephens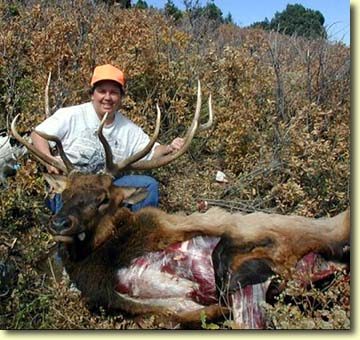 Emily's Wallhanger
I was thrilled to hear the news, I had drawn a late bull elk hunt right in my backyard, the Loma Grande mountain range, just 5 miles south of Nogal, New Mexico. I couldn't have done much better than that!
My husband, Virgil, and I had been scouting the area for several months, anticipating that one of us would draw a tag. We had found several bulls that I would be thrilled to have hanging on my wall. Now, we had to find them again during the hunt.
At 5:00am on opening morning, I grabbed my gun, bino's, and a sandwich and we set out. We got to the ridge where I had chosen to begin my hunt a few weeks prior, and began spotting just as the sun peaked over the horizon. We knew there were at least two other hunters in there, but they were well below us and not a threat at that point.
We had been glassing the mountain for about 30 minutes when I spotted a herd of elk about 900 yards to our north--two ridges over. Virgil, being his anxious self, began planning how he would push the bulls out of the canyon that they were headed for. He figured they were looking to bed down for the afternoon and that we would never get a shot unless we pushed them from the heavy timber. I wasn't as anxious as Virgil and told him that I wanted to hang tight for 30 more minutes, hoping that the other two hunters, who I believed had also seen the elk, would do the work for us and push the elk from their beds.
About 10 minutes later, we heard some movement. Then, on the opposite ridge we spotted nine bulls on the move and headed for the ridge that I was facing. I was thinking, "Life doesn't get any better than this!"
Virgil looked at me and said, "Better get ready, cause in a minute, all hell's gonna break loose!"
As bulls began coming over the ridge, I could see the first three were rag horns, but the forth was a beauty. I was all but filled with "Bull Fever". I missed with the first shot, and for a brief moment in time, my thoughts were…"If I don't get focused, I'm going to lose a great opportunity."
My second shot broke his vertebrae, and although I didn't know this at the time, the bull stopped in his tracks and my third shot went right behind his front leg. The bull dropped like I have never seen a bull drop. I literally jumped up and started wailing. I was using a .270, and never before had I dropped an elk so fast.
Nine hours later, after a hot day of skinning and packing the bull out, Virgil and I, along with two exhausted horses, were finally home with my trophy bull.
Note:
Be sure to visit Emily and Virgil's website. Virgil is a western artist who has created some incredible artwork. Visit them at:
http://www.notevena.com
Click-a-Pic ... Details & Bigger Photos
Click-a-Pic ... Details & Bigger Photos
Home | Hunting Forums | Photo Gallery | Hunting Articles | Videos

|


Hunts & Tags | Hunt Draw Odds | About Mule Deer | About Elk
Store | Classified Ads | Photo Tours | About this Site | Advertising

|


Older Content | Email Us | Privacy Policy | Links | Podcasts