"No Ground Shrinkage!"
Written by Emory Pylant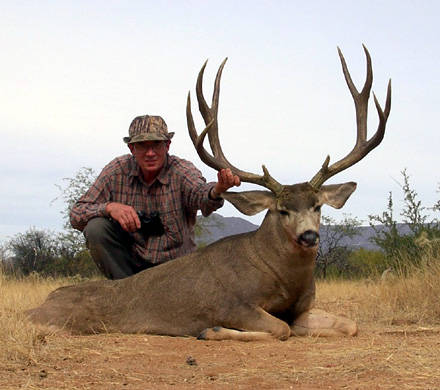 Emory's Buck Grosses 195 6/8 and nets 190 3/8!
In early December, 2003, the urge to hunt deer hit me like a ton of bricks. There wasn't much time left in the season, but I was aching to get out and try my luck. Living in Texas, a whitetail hunt would have been easier, but because I had not hunted mule deer in quite a few years, and because I prefer hunting for monster muleys, I opted to give it a go.
I spoke with three outfitters in Sonora, Mexico and decided to hunt with Eduardo Gomez, as he seemed to be the most knowledgeable, had good references, and was confident. He didn't feel me with a bunch of unrealistic expectations, but assured me that there was a good number of deer on his 40,000 acre tract and some quality bucks, as they only take 4 deer per year.
The hunt was on! We spent most of our time watching known travel areas and waterholes. We hunted from before daylight each day, until after dark. During mid-day, I would spend my time still hunting, walking slowly, glassing, and looking for fresh sign. I probably saw only 4-6 mule deer each day, and twice as many coues deer. The mule deer were about equally mixed, small bucks, does, and fawns, but they were really skittish!
Two of the other hunters, who had arrived at camp a couple days prior to my arrival, were seeing about the same as me. However, one of the hunters had seen one very large buck, but was unable to get a shot off. The other hunter had hunted with Eduardo in the past, and he explained to me that this was just how it was---few deer, but some real monsters.
On my 4th day of the hunt, one of the other hunters finally scored, downing a heavy 5x4 that had a 28 ½ inch outside spread, and scored in the 170's. It was similar to bucks that he had taken in the past while hunting the area.
On my 5th day, I went back to an area where I could see a good part of a small waterhole that I had watched a couple days earlier. During the first hour, a doe, small buck, and several coyotes visited the waterhole, but no big bucks.
Around 9:00am, I was glassing the area around the water. I spotted a doe about 200 yards away. I watched her for a few moments, then turned to my right and here came a deer along a broad, shallow swale. I soon realized that it was a mature buck, but could only see his left side as he came closer. He was only 50-75 yards away when I decided I wanted to shoot. I could still only see his left side, but the mass of his antlers and the size of his body had me convinced that he was big enough.
I steadied my rifle and touch the trigger---BOOM! He jumped straight forward, stumbled, and then turned back on his trail running. 20 yards later, he crashed to the ground.
When I got up to him I realized this was one of those few times when a deer didn't shrink once he was on the ground. Back at the ranch that evening, we figured the deer would net score very close to 190---I wouldn't let myself believe it would be over 190 until after it was officially scored.
It rained hard all night and the following day after I got my deer, so it was a good thing I didn't hesitate a few more seconds before shooting!
Incidentally, I've hunted Muleys in Colorado, Montana, Idaho and New Mexico on my own over many years (35) and have seen a couple bucks clearly enough through a spotting scope (but not close enough to shoot) to bet they were larger than this one. My hope next year is to get drawn, so I can go back to a place in Colorado I know well. It's rougher terrain and in a five day hunt, I expect to see many more deer than in Sonora, including several in the mid 20's---those will all walk like they have the past few times I have been there. But, there is always the chance of seeing a great one!
Click-a-Pic ... Details & Bigger Photos
Click-a-Pic ... Details & Bigger Photos
Home | Hunting Forums | Photo Gallery | Hunting Articles | Videos

|


Hunts & Tags | Hunt Draw Odds | About Mule Deer | About Elk
Store | Classified Ads | Photo Tours | About this Site | Advertising

|


Older Content | Email Us | Privacy Policy | Links | Podcasts