"A Great Year of Hunting"
Written by Eric Nunberg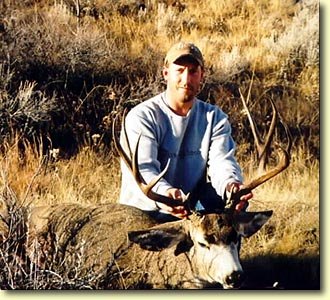 Eric had a great year of hunting, and topped it with this beautiful Montana buck that scores 166 3/8.
My story begins much the same as most. I am a native Montana boy and have lived here for nearly 28 great years. I've been lucky, in that I get to live in, and hunt, some of the most beautiful land in the world. Most of the time, during hunting season, I will chase monster whitetails around, but this past year was different. I have always had a yearning for a big muley and this year started out great, as one of my best friends and lifetime hunting partner took a 160-inch P&Y mule deer buck with his bow on opening morning of the season.
Later on during the archery season, I took a 300-inch Pope and Young elk with my bow as well. That was a great hunt, but that is a different story.
As the season progressed, I looked and looked for that trophy whitetail, but had no luck. However, I did manage to stumble into several respectable mule deer bucks, but none were quite what I wanted to shot.
I check my old hotspots, along with a few new ones, but I just could not seem to find what I was looking for. Finally, on the fourth week of the season, I managed to gain permission to hunt some land that I had never hunted before.
The next morning seemed to come all to quickly, as the previous night my dad and I were looking at maps of the area until late in the evening. We figured out where we wanted to be come daybreak. I chose to sit near the top of a long, deep draw. While dad, on the other hand, chose to sit closer to some hay fields. As daylight came upon us, both of us saw several smaller bucks in the 150-inch class, but nothing any better. When dad figured everything was bedded for the morning, he came over to join me. We then decided that he should would walk along the edge of the draw, and I would hustle down to the other end. We both hoped something would get nervous and explode from the draw below.
It worked out just about as we had planned, but neither of us were quite ready when it did happen. A 170-class muley made the break, and he didn't stop to look back. He had approximately 10 does with him, and he always seemed to be right in the middle of the herd as he made his getaway. No shots were fired.
We did keep a close eye on the direction he was going, as we were not going to let him roam the countryside without some sort of education.
As the day wore on, we had a good idea as to where he had gone. And, it was decided that since I only had one day to hunt I would get first crack at him. Dad started walking through the middle of the draw, where we expected the buck to be held up, while I paralleled him from above. As we moved along, several smaller bucks were kicked up from their beds, but not the big one that we were looking for. It seemed the closer we got to the end of the draw, the more deer that would boil out. Finally, when we were less than fifty yards from the end of the draw, out he came! He came out at a full run with his ears pinned back, which made him look absolutely huge.
As he started to crest the hill 200 yards in front of me, I let some lead fly. My first shot clipped him high in the back and a finishing shot put him down for good. This mule deer is my largest one to date, as he scored 166 3/8 inches. He has a 25-inch spread with 5 1/2 inches bases. His back forks are as good as any I have ever seen, but his front forks are a little weak.
I would like to thank my dad for letting me use his 264 on this hunt as my friend and hunting partner was using mine on and elk hunt in southwestern Montana. A special thanks goes out to the landowner as well.
Click-a-Pic ... Details & Bigger Photos
Click-a-Pic ... Details & Bigger Photos
Home | Hunting Forums | Photo Gallery | Hunting Articles | Videos

|


Hunts & Tags | Hunt Draw Odds | About Mule Deer | About Elk
Store | Classified Ads | Photo Tours | About this Site | Advertising

|


Older Content | Email Us | Privacy Policy | Links | Podcasts