Gone Scouting
Written by Eric R. Smith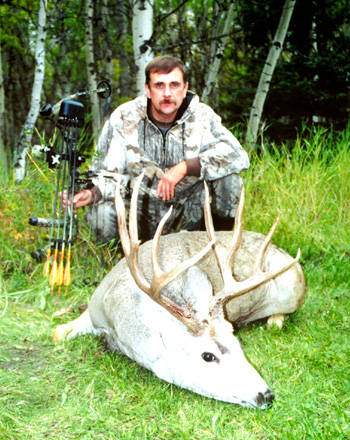 Eric's buck scores 157-6/8
I had just got back from an eastern Alberta antelope hunt three days earlier, and decided to go scouting for deer on September 17th, 2004. I had set up a tree stand in early July, at the end of a hedgerow.
There was a natural grass field to the east of it, and a hay field to the west. With a view of about 400 acres, this was a good spot to scout. Little did I know what was to come!
Arriving early that evening allowed me to take my time and get set up, or so I thought! Prior to getting into the stand, I had picked some gray vegetation and had gone out into the west field. I used it to make 3 different 30-yard markers. No sooner had I climbed into the stand, when a whitetail doe and fawn came out of the field and bedded under the tree. Soon after that, a small mule deer buck came by, then continued east, out of sight.
To this point, I hadn't even had time to put my camo on. With the doe only 20 feet below me, I slowly pulled on both my camo pants and shirt. Now, to have a look around and see what might be in the fields!
Being early, the field to the west was still empty. As I turned to look east, a movement to the north caught my eye. It was the small muley buck coming back to the west field.
With him, were three other muley bucks. It was difficult to see them as they made their way through the hedgerow. They entered the hay field about 125 yards north of me. The wind, unfortunately, was blowing from me to them!
Once they were about 20 yards out, they caught my scent trail! Three of the bucks were on the small side, but the fourth one was worth looking at! Once he had my scent, he kept looking in my direction. He knew something wasn't quite right, but couldn't figure it out. This went on for about 30 minutes.
Just when it looked like they were going to feed further out into the field, the whitetail doe got up. Both her and her fawn started to feed 20 yards from the stand. On seeing this, the muley buck began to walk my direction. He came to the first 30-yard marker and sniffed it. After smelling it, his body language changed. He went from alert to relaxed. He must have figured that was where the scent was coming from!
At the same time, the other three bucks had followed him over. One of them was sniffing another of the markers. The big buck went over and horned the smaller one in the butt.
I shoot a Bowtech VFT Extreme Bow set at 66 pounds. I use Beman 400 arrows, with NAP Shockwave broadheads. The arrows are traveling at 300 feet per second, so I use an adjustable 1-pin sight. I had time to change it to 32 yards. He never knew what hit him!
After going only 75 yards, he was down for good. All this took less than 2 hours; from the time I climbed out of my truck, until I tagged him.
After waiting 60 days, I had the buck officially scored. He is a 5x7, has an outside spread of 24-4/8 inches and scores 157-6/8 P& Y. Unfortunately, his main beams are short, only going 20 inches on both sides.
Click-a-Pic ... Details & Bigger Photos
Click-a-Pic ... Details & Bigger Photos
Home | Hunting Forums | Photo Gallery | Hunting Articles | Videos

|


Hunts & Tags | Hunt Draw Odds | About Mule Deer | About Elk
Store | Classified Ads | Photo Tours | About this Site | Advertising

|


Older Content | Email Us | Privacy Policy | Links | Podcasts