"Trophy Bucks on Public Land"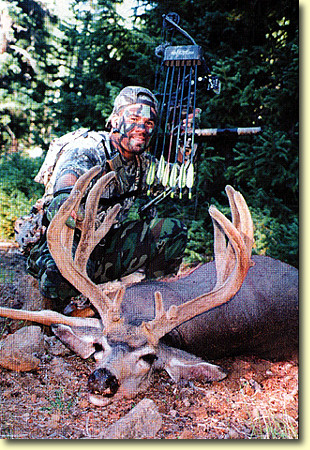 This deer will surprise you. It is a 9x7 that grosses 200 7/8". It officially netted 195 2/8". The picture doesn't show all the extra points, but you can see he has a good typical frame. It should score high in the Utah books.
We arrived at our campsite in southern Utah on Friday. It was about 2:00 pm. A couple of hours later we had camp set up. We then took a drive on the four wheelers and put together a good game plan for the morning hunt. Our plan was to hike through some likely looking country and have my father-in-law pick us up about 2 miles from camp. The hike would cover about 6 miles of bad terrain.
It was soon opening morning, and the sun still had an hour and a half before coming out. We put on our face camo and drank a cup of coffee. There were three of us - Hayden, Merl, and myself. We discussed the game plan one more time before taking off. We started down the road and soon came to the fork. Hayden took the upper part and I took the lower. We would meet up at the bottom and start again. When I split off from my hunting partner, I saw a doe. It had started off good. Well, as our hike proceeded, we didn't see anything until we were 100 yards from the pickup area, and they were just does.
The opening morning was shot. I always believed this was the best time to shoot the trophy bucks because they hadn't been spooked by other hunters. Well, it was now about 12:45 p.m. and we were back at camp. Hayden and I were hungry and we ate the breakfast that Merl had fixed for us. We discussed our game plan for the afternoon and drove the four wheelers for a couple of hours. As we were driving along, we noticed an area that looked promising. We stopped to take a walk through it and hadn't gone 200 yards before we jumped a 24" two point.
On the way back to camp, we spotted another big two point and a 24" four point. Back in camp, we ate dinner and talked about the deer we had seen. Another game plan was soon devised for the next morning's hunt.
Hayden and I woke up Sunday morning and went back to the area we hunted on the opener. Hayden said he would start at the bottom of the hill and walk toward the top. I would start from the top and work my way down. Maybe we would catch something between us.
About two hours had gone by and I hadn't seen Hayden. I was sneaking my way back to the four wheeler when I jumped a big four point. He was huge! I didn't chase him or try to put a stalk on him, but instead waited for my hunting partner to find me. When I finally saw him walking down the road, I began telling him about the buck I had jumped. He told me about a buck that he had jumped down lower. It sounded like the same buck. We decided to leave him alone and come back in the afternoon.
Later that day, we started up the mountain again on the four wheelers. We were just about to the place where I parked my four wheeler earlier that morning. As we rounded the top of the mountain, guess who bolted off. The big four point had bedded down right where I parked! We started in the trees after him, thinking that he might begin to feed, but he was gone. There was a couple hours until dark, but we decided to let him calm down and try again the next day.
It was tough to get out of bed Monday morning, but we wanted to see if our buck was still there. We parked the four wheelers about a half-mile up the road and started to sneak into the area where he had been. When we got there, he was nowhere to be found. We decided to walk around the mountain and back to the four wheelers. Hayden was sneaking right behind me for about 100 yards when he whispered, "I'm going to drop down 40 yards." I said okay and proceeded along. I would walk about 10 feet and stop, looking in every crack and crevice in the trees before moving on. The trees were thick and I didn't want to miss anything.
I had moved about 100 yards from where Hayden and I had split off from each other when I saw an antler moving 30 yards ahead of me. I thought to myself, "I've got you now." I looked around and noticed a bunch of fallen timber. I couldn't put a sneak on the deer without being heard. Looking back up, I saw a 24" two point moving right toward me. I knelt down behind a small, four-foot tall pine tree. I decided I would take him if the opportunity presented itself. I peeked around the side of the tree and the buck was about 10 yards from me, feeding, with his head down. If he kept his present course, he would walk to the right of me at about 5 yards. As I turned my body to the right to pull my bow back, he stopped in front of the tree I was behind. I started shaking because he was too close for comfort. The buck suddenly changed directions. He turned to my left in front of the tree. All I could see were his feet. I slowly switched knees, trying to create a comfortable shot. As I went to pull my bow back, my pack caught my string. I let off the string and positioned again, taking my eyes off the deer and trying to pull my bow while shaking.
When I finally got my bow drawn, I looked through the peep. I saw the deer's antler start to pass the tree 5 yards or less. I settled in and slowly raised my bow until all I saw was hair on my pins. I found the kill shot and released the string. As soon as I let go, my eyes locked with the deer and we stared at each other for what seemed like hours, but was only for a split second. Up to this point, I was thinking he was the two point. The buck turned and I saw his rack as he bolted up the hill. He looked like a 5x4 because I saw one cheater sticking out on the side of his horns.
When we found him, I saw that I had made a perfect lung and heart shot. He was a 9x7 non-typical mule deer. Oh, talk about excited! I still shake! He grossed 200 7/8". His net score was 195 2/8 after his drying period.
I hope this article gives all the other hunters confidence that there still are some trophy mule deer on public land. I would also like to thank God for the opportunity of taking this trophy deer, my hunting buddies, Hayden and Merl, and my wife and kids for letting me go hunting. Also, I would like to thank my dad for teaching me the sport of hunting. This is better that winning the Super Bowl or World Series. Thanks also go out to Hoyt USA for building a great bow.
Written by Frank Harper (Featured in the Spring 2001 issue of Trophy Hunter Magazine)
Click-a-Pic ... Details & Bigger Photos
Click-a-Pic ... Details & Bigger Photos
Home | Hunting Forums | Photo Gallery | Hunting Articles | Videos

|


Hunts & Tags | Hunt Draw Odds | About Mule Deer | About Elk
Store | Classified Ads | Photo Tours | About this Site | Advertising

|


Older Content | Email Us | Privacy Policy | Links | Podcasts