"The Droptine Buck"
Written by Frank Moore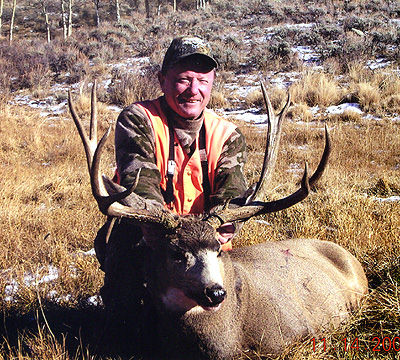 Frank's Droptine Buck
We have hunted this part of Colorado for the past six years. The area is south of Steamboat Springs and is made up of sagebrush flats, quakies and a sea of green timber. From the first time we hunted this area we have heard stories of the big droptine buck that people would see, but no one would ever get. On our annual trip, one of the group would hunt the drainage that this old buck was said to frequent. Our group varies between two and five family and friends.
In 2007 there would be three of us: my hunting partner, Tom, his son Tommy, and myself. We arrived a day early to warm weather and not much snow. Our season ran November 14-18. We had dinner and hit the hay early. Opening morning we found about 1-1/2 inches of new snow on the ground. It was about an hour before sun-up when we started out for the drainage where the droptine buck might still be. He hadn't been seen for two or three years, but he was there in our minds and we always looked for him.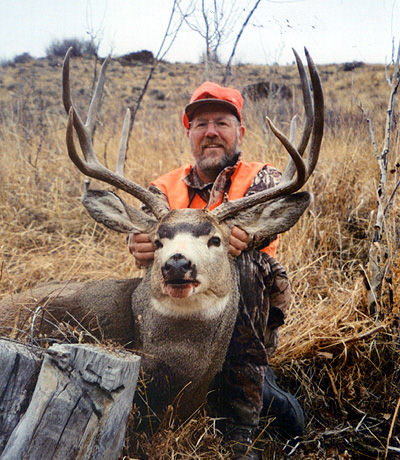 Tom's 27-Incher
As it got light we were seeing a few deer, but nothing that piqued our interest. About an hour and a half out of camp we spotted a group of deer about 700-800 yards away. They were feeding, but moving up the hill to the green timber. We got the spotting scopes out to look the group over. Sure enough, there was a pretty good buck in the bunch; we thought he was 28-29". If we were going to get closer, we would have to hustle. The higher the sun got, the faster the deer moved to cover.
We made a big loop and moved to a basin where we thought the buck might hold up before moving into the timber. As we snuck over the ridge, we found the deer had gone right through the basin. The snow was melting fast, and the tracks got harder to follow. We looked for that buck the rest of the day. Just before heading back to camp, Tom said, "Let's try this quakie patch. Tommy and I will go around and come down through the patch." My part was to setup on the far end in case the buck tried to slip out there.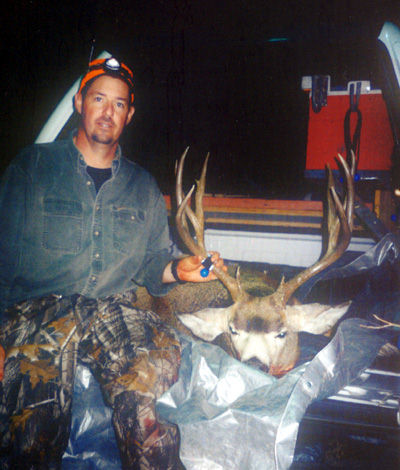 Tommy's 24-Inch 5x5
I found a big rock to sit by and waited for what seemed like hours. Finally, I saw Tom coming through the edge of the quakies about 250 yards away. I thought the hunt was over. What happened next went so fast I'm not sure I really know. Out of the corner of my eye, I saw movement in the quakies. Sure enough, here they came: two bucks and a bunch of does. The big buck we had seen that morning was second in line running right at me about 80 yards away. At that point, my focus was on that buck - he looked good! - and my first shot rang true. He piled up like he was hit by a truck. Next thing I knew though, he was up and going again! My second shot found its mark also, and he was down for good. I walked over and found him to be a 4x4 with a 4" droptine and eyeguards.
We finished the season with two more bucks: a nice 24" 5x5 and a 27" 4x4. As it turns out, my buck was just over 30" wide, good mass, and a gross score of 176.
Click-a-Pic ... Details & Bigger Photos
Click-a-Pic ... Details & Bigger Photos
Home | Hunting Forums | Photo Gallery | Hunting Articles | Videos

|


Hunts & Tags | Hunt Draw Odds | About Mule Deer | About Elk
Store | Classified Ads | Photo Tours | About this Site | Advertising

|


Older Content | Email Us | Privacy Policy | Links | Podcasts