"Patterson's Don't Mess Around"
Written by Dale Patterson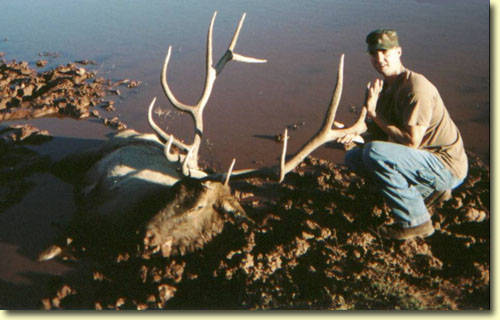 Dale's bull didn't go far after the first arrow!
In Arizona, big game hunting is taken very seriously. Big game hunting in my family is second only to...well it's still under debate what's more important. To get drawn in Arizona is difficult, to get drawn in a trophy unit is truly like winning the lottery! After four years of waiting, I finally got my chance, unit 9, the south rim of the Grand Canyon.
On opening day, September 12th, 2003, my father, Gary Patterson and brother, Travis Patterson, were assisting me on calling in bulls in the thick pines and cedar trees. We called in over twelve bulls on opening morning. The ones that came into shooting range were not the size I was looking for. Please remember, this is unit 9 and the bulls I was passing up were all well over 320.
That evening, my father and I went to a waterhole on the far, east side of the unit and my brother went to another waterhole to film anything that came in. My father and I had no bulls come into the hole we were sitting on, but my brother had much better luck.
When we return to camp my brother showed me the film and we decided that if we were unsuccessful the following morning, we were going to attempt to take this large bull he had filmed, the next evening.
The following morning brought about the same results with the exception of a 380+ bull I missed, it jumped my bow string at 30 yards and I wanted to cry, literally. I had a sick feeling in my stomach for hours afterwards. My brother and father remained optimistic; we were calling bulls in to within feet! Let it be known, there is no greater thrill than having an 800-900lb animal being so close that you could smack it on the rear, or having to lay face down in the dirt with your hands over your head in shear terror that you're going to get stomped. This happened on several, yes several, occasions.
That evening, we packed up the truck with all the necessary gear and made our way to the waterhole my brother filmed the large bull at earlier. My brother remembered this bull from two years earlier when he had the same archery tag. Yet, at the time it was not the size it is now. This waterhole had no blind, so I stomped down a sage bush and set up some blind cloth in front of me on the sage and faced the direction where the bull had entered the hole the previous evening.
The hole was way out in the open, so a bull would be exposed for at least 300 yards in any direction. So, with my brother and father in a ground blind 100 yards behind me on a hill over looking the hunt area, we waited.
I was set up for a 40-yard shot, as it was as close as I thought I could be without cows spooking the bull before they could get to the water. Suddenly, out of the corner of my eye I spot a flash of white. I turned to look and there, walking down the fence line right towards me is a big bull with ivory white tipped antlers gleaming in the sunlight. It wasn't the same bull my brother had videotaped. This one was much wider with enormous G-3's.
I quickly decided that I was going to take this bull. My heart was racing in my chest as I patiently waited for the bull to work within range. It was what I had been waiting for since my father had introduced me to hunting so long ago.
He jumped the fence to the corral area and then began trotting to my shot area. Without hesitation, he went right to the water and put his head down. I drew back and shot. The arrow hit home, just behind the shoulder in the spine. He swung around to retreat, but his rear fell into the water. I had broken his back! Without thinking, I knocked another arrow and shot again, this time hitting him in the chest. Then, after a third and fourth shot, the bull was finished.
The bull has not been scored officially, but it green scores 360+ and 345 after deductions.
Click-a-Pic ... Details & Bigger Photos
Click-a-Pic ... Details & Bigger Photos
Home | Hunting Forums | Photo Gallery | Hunting Articles | Videos

|


Hunts & Tags | Hunt Draw Odds | About Mule Deer | About Elk
Store | Classified Ads | Photo Tours | About this Site | Advertising

|


Older Content | Email Us | Privacy Policy | Links | Podcasts