"Let's Go Get That Mexico Monster Muley"
Written by James Reiley

Being a hunter my entire life, I had the privilege of harvesting several whitetail and mule deer trophy bucks. Although, I still enjoy hunting, I usually spend my time visiting friends and family while they do the hunting.
In September of 2005, my son Rick invited me to go along on a desert mule deer hunt in Mexico for the following January with him and his friend, Troy. Immediately, the thought of Mexico did not appeal to me. The thought of trying to travel and hunt in a third world country, coupled with some other issues I was dealing with at the time, forced me to decline the invitation. In an attempt to tell my son I would not go on the trip, he insisted that I reconsider. He was very excited about the trip and the potential for harvesting some of the biggest desert mule deer in the world. After listening to him ramble on about the outfitter, the guides, big bucks and what a great hunting companion Troy was, I decided I would give it a try.
During the months preceding our departure, I continued to agonize about going to Mexico. I had heard so many horror stories about other people's experiences. I was really having a hard time getting excited about going. January 2, 2006, the day had finally come! To my surprise, I was very excited as we made our way to the airport for our departure. After arriving in Mexico, all of the horror stories I had heard began to reveal themselves. Troy didn't have one off his bags or his gun, and I was missing luggage as well. After several hours at the airport wrestling with customs agents, it was apparent that we would not be leaving with our missing items that day. After brief introductions with our guides, Robbie, Danny, and Howie, we headed for the ranch. Three hours later and 40 miles of rough dusty roads, we arrived at our camp exhausted and disgusted from the days events. Needless to say, at that point I was wishing that I had stayed home. In my mind, it was a pretty bad start! Troy was missing all of his hunting clothes and his gun. I was missing half of my stuff, the camp was less than great, and we didn't see one deer on the way in through 40 miles of ranch roads. How good could the hunting be?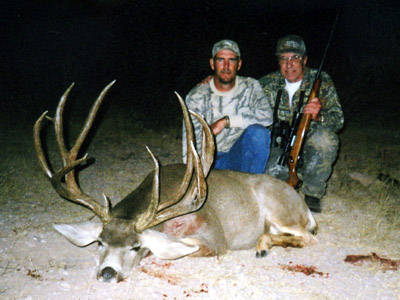 Never the less, the next morning Rick headed off with his guide and Troy and I gathered what gear we had and headed off to look for a monster muley. Only minutes from camp, Troy spotted the first buck from a high stand a few hundred yards off the road. Being that I was the only one with a gun, it was given that I would go after the deer. We made a short hike over a small hill in pursuit of the buck, stopping periodically to glass. Howie and Robbie quickly spotted the deer about 450 yards out and immediately began to command, "Shoot him, he's real big, shoot!"
Using Robbie's shoulder as a make shift rest, I let one fly only to watch the buck pause a moment before disappearing into the thick brush.
We headed back to camp so that Troy and Rick, whose name was on my bag, could head back to the airport in an attempt to retrieve the bags and gun. Only a few minutes later after Troy and Rick's departure, Danny and Howie were ready to go back out after the buck. It was only 1:15, I thought these guy's are crazy! Needless to say, I was out numbered and off we went. Within moments after setting up to glass, they spotted the buck. It was amazing how quick those boys could spot an animal. Especially one lying down under a tree 1000 yards away, as this one was.
It would be very difficult to get in rifle range without spooking the buck. As we made our way through the heavy brush and over the hills, Howie kept going on about what a monster deer it was. In my mind, after looking at the deer in the scope once, I just didn't agree. After 3-1/2 hours of brush and hills, Howie spotted the deer and we setup for a very long shot that would be tough to make. Seconds after I squeezed the trigger, the buck ran off. Howie said, "I think I am going to throw up!" Looking up, I asked him if he was getting sick? He said, "Yes, I am because you missed that buck."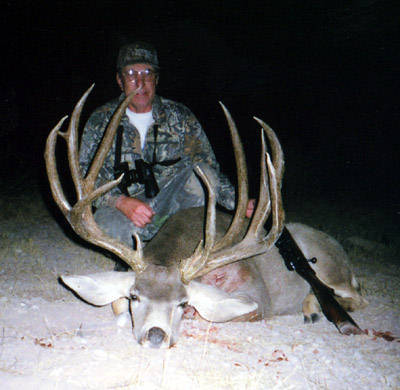 I felt terrible for missing the deer and was exhausted as well. There was no evidence that I had hit the so called "Monster Muley", in my mind he may not be as big as he is lucky or smart. We made our way back towards the truck as Danny gave us an ear full via the two-way radio about missing the deer. Upon getting closer to Danny's location, he began to yell, "Turn your radio on!" In doing so, Danny informed Howie that we had walked within 50 yards of the deer at one point and instructed us to wait for him to come down the hill. When Danny arrived he looked at me and said, "We are going to go get that buck!"
It was very hot at that point and my mouth was dry. I could hardly muster up enough moisture to spit. I told them this old man was not going after that deer anymore today! Immediately, the responded, "Yes, you are if we have to carry you up that hill. You are going." After a brief examination of the look in their eyes, it was apparent they were serious. As the day faded quickly, Danny and I headed out once again in pursuit of the "Monster Buck" that I still had doubts about. As Howie directed us from his vantage point, it wasn't long before Danny spotted the deer heading straight away from us. As I tried to get the deer in the scope, he suddenly turned and headed in our direction. This was the only chance I would have for a shot at the buck.
As the recoil from the .300 magnum echoed off the hills, I looked up to see the deer collapse to the ground. Howie announced over the radio as if it was a loud speaker, "You got him!"
As I approached the so called "Monster Buck", it was immediately apparent he was in fact a monster. Of all the deer I have harvested and seen over the years, I had never seen anything as impressive. The buck supported a 13 point non-typical frame with incredible mass and gross scored 240 inches! It nets 214 B&C.
Having never been on a fully guided hunt, I would have to give the experience an A+. Mick Chapel of New Mexico Professional Big Game Hunting and his guides did a fantastic job. All of the five hunters harvested trophy animals with an average Boone and Crockett score of 194. The Sonoran Desert in Mexico offers some great hunting and I would recommend a trip with Mick to anyone.
Click-a-Pic ... Details & Bigger Photos
Click-a-Pic ... Details & Bigger Photos
Home | Hunting Forums | Photo Gallery | Hunting Articles | Videos

|


Hunts & Tags | Hunt Draw Odds | About Mule Deer | About Elk
Store | Classified Ads | Photo Tours | About this Site | Advertising

|


Older Content | Email Us | Privacy Policy | Links | Podcasts