Two for Two in Idaho
Written by Jamie Vasa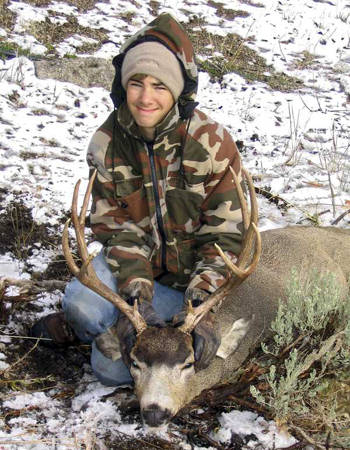 Garrett's 4-Point
As luck would have it, my 13-year-old son had drawn another tag in just his second year of hunting. I'm 40 and haven't drawn as many permits as he has. This year, he added an Idaho deer tag to his swan and crane tags, and the two turkey tags he has drawn the last two years. His older sister also drew the same youth hunt tag to "tag-team" the wily game bucks of Idaho.
The area Garrett and Alex were to hunt was new to me. I started my research by talking to the local "mule deer experts" and the shed hunters. I knew there were some really nice bucks in the unit we were hunting, but when, where, and how do you find them? Hunt as late in the season as possible and pray for snow, was the overwhelming opinion. So that was our plan.
Alex and Garrett had yet to shoot their first deer. Alex had been on two hunts that were unsuccessful and Garrett hunted last year and was unable to tag a deer. This year I knew that would all change. There were plenty of deer in the area and the fact that it was a draw hunt meant there would be very little pressure and competition from other hunters. I'm fairly sure that I was more anxious and excited for this hunt than either of them, and I didn't get to carry a gun!
The first trip to the area was a quick day-trip before the season to explore the roads and trails, and to stake out a base camp. The area was just as I had envisioned, wide-open sagebrush slopes with small pockets of aspen and pines. It looked perfect for spotting and stalking mule deer. My game plan for success was to find a location with a wide vista and use my binoculars and spotting scope to locate and analyze the deer and the terrain in order to make a good stalk.
October finally rolled around and we ignored the opening day barrage of hunters and nice weather and enjoyed some good duck hunting instead. I really had to occupy myself to avoid the desire to glue a spotting scope to my eye for hours inspecting sagebrush bucks. Last year, I was lucky enough to draw an Idaho deer tag during the November rut and I harvested a nice 6x6 buck with a 33" spread. I have never been so thrilled on a hunt knowing that every time I looked through my spotting scope there could be one of the biggest bucks I had ever seen looking back at me. Now, it was time for my kids to experience the same spine-tingling thrill.
The last week of the hunt was finally here so we loaded up the camper and headed for the hills. The forecast was for snow. We spent the first three days looking for a buck for Garrett as Alex was competing in a high school swim meet. Garrett's goal was to shoot a four-point or better buck before his sister did, with emphasis on before. The very first deer we saw was a nice 22"-24" four-point buck. Garrett and I stalked to within 100 yards, but I convinced him not to shoot it because I knew there were some bigger deer and we were only into the hunt less than an hour. Talking a youngster out of shooting his first buck that was within his goal was not easy; plus it would have been a fairly easy drag to the pickup and all downhill.
We moved on, in search of bigger and better bucks only to find several similar bucks and many smaller bucks. Garrett was getting nervous, after-all, he just wanted a four-pointer before his sister shot one. It would be nice to shoot a monster, but oh-well, it was fine if it didn't happen that way.
On the third day, we planned to hunt just a half day and then return home for school and then come back to hunt the last four days of the season. We made our way down a ridge where we could see for miles in all four directions. The wind was blowing and it was down right cold. Snow had fallen the day before, about three or four inches, so the deer would be easier to spot. I set up my spotting scope and began surveying the opposite slope. Right away, I had spotted a buck raking a large bush. It appeared to be the same buck we had passed up the first morning. I continued to look for more deer and found nothing more enticing. I let Garrett take a good hard look at the buck and he said he wanted to take him.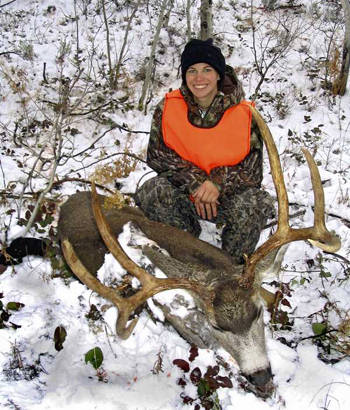 A Wide 3x3 For Alex
The buck was almost a half-mile away, so we would have to go back to the top of the mountain and hike a different ridge in order to get a shot. I wasn't too sure that if we did get the buck down we would be able to get him out of the huge canyon he was in. I explained to Garrett that since it was not the biggest buck around, that we wouldn't kill ourselves getting to it or trying to get it back to the pickup. We found a ridge that I thought would get us into position for a closer look and we began our hike.
Sure enough, after walking a mile-and-a-half we found the buck. He wasn't the trophy I was hoping for, but to my 13-year-old, it was the perfect buck. He was really getting excited and I could tell it was not the time to back-off and tell him, not this one, again. We quietly crept down a ridge and got in position for the shot. The buck was lying below the bush he had just used to polish his antlers, and when we topped the ridge, he stood up. Garrett rested his gun on his steady-sticks and got the deer in his sights. The deer ran up the hill a little ways and did the old "look back". Garrett asked, "Should I shoot him?" I said' "If you want him, take him;" boom the .264 Winchester mag. did the trick. The buck ran about 40 yards, jumped a stock tank and expired. One of the proudest days of my life had just been fulfilled.
This is where the story gets good, however. After nearly killing ourselves, dragging the buck up the mountain and to the nearest trail that we could get the pickup to, we hiked back to the pickup and drove all the way around the mountain only to find within 500 yards of Garrett's buck, standing right in front of us, was the biggest mule deer I have ever seen. He was only 100 yards away and had 10 or 12 points on both sides and was at least 35" to 40" wide. I was in total disbelief. It took a young boy to say, "That's okay Dad, I'm happy with the deer I got, I probably would have been too shaky to shoot that big of a buck anyway." What a beautiful buck.
The story was written for the next weekend when I would take my 17-year-old daughter to the same canyon and we would die before we left without that buck. I told Alex the story about the buck when we arrived back home and for the first time, I could finally tell she might be a little excited about going deer hunting.
I guess I'd forgotten what it was like to shoot your first deer, because I had a heck of a time convincing Alex not to shoot the first four point buck she saw. We did see a couple of nice bucks, but nothing like the big boy of the weekend before. The forecast was for more snow throughout the weekend and it appeared to be blowing in on us. The temperature was dropping and the winds were howling and it was becoming totally miserable.
As evening came upon us, we watched a 30" buck herd some does into a hillside of mountain mahogany. The buck was a four point, but with just a pair of crab-claws for front points. We couldn't get close enough for a shot, so we decided that spot is where we would start our hunt the next day.
We woke to a pile of snow on the ground, six to 10 inches or more, and it was still coming down hard. Alex and I attempted to get back on top of the mountain where we watched the buck the night before, but the snow was too deep and the visibility was zero. Our only choice was to stay down low, below the clouds and hope to see something close. We made our way down a mountain trail road and spotted a doe and a fawn. The doe was more interested in what was below her than she was in us. I told Alex there must be another deer, and probably a buck, just down the hill. We moved around to see what was there and I could instantly tell that it was a buck just from the size and his dominion. I pulled up my binos and holy cow! It wasn't the buck we had seen the week before, but through the falling snow and low light, I could see that it was a big boy and he had extremely long tines. I told Alex this was the big one and we would try to take him. We had to climb up the opposite ridge from the buck to get a shot and it was about a quarter-mile hike to get there.
When we finally slithered into position, I told Alex not to look at the antlers, just take a deep breath and squeeze the trigger. Her aim was true and the buck tumbled down the mountain. I had just had another one of those proudest moments, only a father can know. When we made our way down to the buck I was amazed at the length of his points and even more surprised to see that it was only a three-point, but what a three-point it was! Now Alex had something she could rub in her brother's face; Garrett had a new goal for next year; and I had memories to last a lifetime.
Click-a-Pic ... Details & Bigger Photos
Click-a-Pic ... Details & Bigger Photos
Home | Hunting Forums | Photo Gallery | Hunting Articles | Videos

|


Hunts & Tags | Hunt Draw Odds | About Mule Deer | About Elk
Store | Classified Ads | Photo Tours | About this Site | Advertising

|


Older Content | Email Us | Privacy Policy | Links | Podcasts