"A Hunt In Paradise"
Written by Jennifer Shewchuk
Let's just say I was thrilled when I learned that I was going on another fabulous mule deer hunt near the Great Sand Hills in southern Saskatchewan! The first time I hunted down there was in 2004, and I was not expecting to get drawn again in 2007. Luckily for me, I was drawn, and being a university student, I was quick to investigate whether or not I had any assignments or exams the week of my hunt. I managed to get all of my school work under control and it was smooth sailing from there on out, because there was nothing that was going to get in the way of another hunt in paradise!
Back in 2004 near the Great Sand Hills, I had shot an awesome non-typical mule deer with a heavy rack that scored 190. So this year, in 2007, there was only one thing that I
had
to do - beat the score of my previous mule deer. However, as my Dad, Stan, and I made the long drive down south from my hometown of Krydor, Saskatchewan all that I kept thinking about was finding a record book buck. It was then that my goal of beating 190 non-typical had changed into taking down a buck that would put my name in the record book for the first time! I knew it was possible since mule deer hunting in southern Saskatchewan is some of the best hunting I have ever done in my life - bucks galore!
The first morning out, I was very excited and could not wait to see what the area had to offer again this year. As to what I had expected, there were bucks around every corner, some of which hovered around the 170 - 175 typical mule deer range. They were nice bucks but being the first day, I was not too keen of tagging out this soon. I was definitely not ready to go home yet and I knew that "ol' big horns" was out there someplace!
The following evening, anticipation of finding a big muley had really set-in for me. For some reason I
knew
that we would find one. That night, I had mentioned to my Dad that I had a feeling I would shoot a record book mule deer the next morning. I could imagine the pressure my Dad was feeling because now he figured he would have to find me a deer that would make the record book or else he would have one disappointed daughter! However, my Dad is the best guide I could ask for and is an excellent hunter, so I knew his expertise would pull-through!
On the second morning, confident as ever, I set out on my hunt with the sun quickly rising. We arrived at our prime location and the search was on! It was only one half-hour into our hunt when dad spotted a buck that was standing amongst some trees - 182 inches of antlers staring us in the face. The buck was difficult to see, but what we saw of it was very appealing!! Suddenly, the big muley started running up a hill in the distance - I loaded my rifle. Still sleepy-eyed, I aimed my gun at the buck who stopped and turned towards us on top of a big hill. It was a far shot; I aimed above its back and pulled the trigger…the buck ran away over the other side of the hill unharmed. TOO HIGH! I MISSED! I couldn't believe it! I'm usually a good shot…
After I had shot I looked over at my Dad's face and at that moment I
knew
that he
had
to be a big muley - my Dad didn't say a word, had a game face on, scrambled around for his binoculars and camera and stated " Let's walk up that hill." With my heart pounding a million beats per second, all I kept thinking about during my journey up the hill was "Don't screw this up, don't screw this up, don't screw this up…". As we got to the top of the hill, there were a few deer walking around below us. "Where's my buck…" is what I thought while scanning the terrain. Ah ha! We spotted him as he slowly walked around some brush.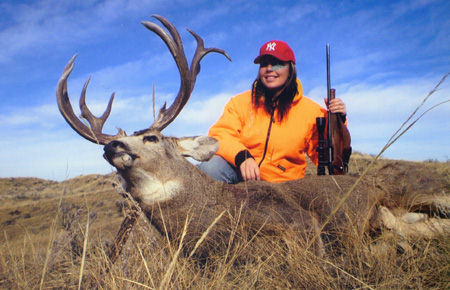 I was instructed to shoot as soon as the deer was out of the trees, while getting a confidence booster from my Dad who remarked "Don't screw this one up!" GREAT. That was Dad's way saying "You don't get a lot of opportunities to shoot at a record book buck so make sure this one counts!" and knew exactly what he meant. With my eyes on the prize I took my time to aim very carefully at the moving buck, which was about 100 yards away and almost over the other side of a hill. There was no way I was going to miss
this
time. It must have felt like an hour until I shot because all I could hear while aiming was Dad saying "Shoot…shooooot…shoot". BAM! I finally shot and the deer dropped down hard in its spot. Niiice!
As I walked up to the deer I realized that I had just shot my first record book buck, well, hopefully. I was so excited and happy that words could not come out of my mouth - I was all smiles! Dad's first reaction was to pull out the ol' measuring tape and, probably a little nervous too, immediately started doing a rough measure of the buck. With great anticipation I waited for the findings…and to my delight, the buck makes the book! Success! My prediction the night before was correct!
So that was the ending to my remarkable hunt near the Great Sand Hills in southern Saskatchewan, and I couldn't have done it without my own personal guide - my Dad! My mule deer buck ended up netting 182 typical Boone and Crockett. Now all that was left to do was to daydream about my trophy buck hanging up on the wall and look forward to my next return as I finished up another fabulous hunt in paradise!
Click-a-Pic ... Details & Bigger Photos
Click-a-Pic ... Details & Bigger Photos
Home | Hunting Forums | Photo Gallery | Hunting Articles | Videos

|


Hunts & Tags | Hunt Draw Odds | About Mule Deer | About Elk
Store | Classified Ads | Photo Tours | About this Site | Advertising

|


Older Content | Email Us | Privacy Policy | Links | Podcasts