"Trophy Bulls of Unit 27"
Written by Jim Lusk
Peter, Don, Larry and I had started our hunting season early by fabricating portable tree stands and hanging them in ideal locations for both deer and elk. What a thrill to have finally been drawn for a 2001 Arizona Archery Bull Elk permit! My son-in-law, Peter Fox, our hunting partner and Peters cousin, Chris Derton, and myself, Jim Lusk, had all been drawn for an Arizona Unit 27 archery bull tag. Don Lunt, my long time hunting partner, had been drawn for an archery cow tag. Along to help us on the hunt was my hunting partner and friend Larry Marin and my wife Terri. Before the season began I had talked to my good friend, Roy Jimenez, and he suggested that there was an area he knew with lots of open parks and wallows and pointed them out on a topo map. This would enhance the areas where we already had tree stands located. Before the opening day, Peter, Chris, Larry and I fed the map information onto our GPS units and located these sites and hung tree stands. Our main plan of attack was to chase the bulls in the mornings and sit wallows in the evenings.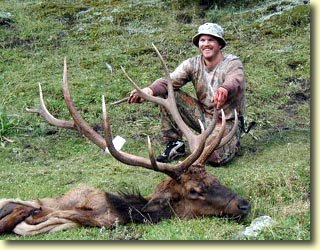 Peter's bull "The Screamer" green scored 339 P&Y.
As we arrived at camp on the evening of the second day of our hunt, we were greeted with good news. Peter had gone out by himself and tried his luck at bugling. He had a couple of bulls that were chasing cows and were hot to his bugle. He worked his way up to the bulls as they were facing off and cow called. One of the bulls screamed back at him and made his approach. As the bull passed to within shooting distance Peter tried to stop the bull with a cow call with no luck. When he finally did stop, Peter had a terrible shot due to the brush. Peter finally had to sit flat on the ground and made a terrific 30-yard shot. The bull whirled and ran. The tracking began and the bull only traveled ¼ mile before piling up. Peter had his bull, a beautiful heavy antlered 6 x 6. When we finally packed out the bull on our pack frames and arrived at camp, we green scored him at 339 P&Y points. We nicknamed Peter's bull "The Screamer" after a comment Peter had made. Peter told us that at one point during his pursuit of the bull, he was so close that the bulls screaming bugle nearly blew him off his feet.
The third day began with the bulls vocalizing so we were able to locate several bulls. I had one opportunity where Larry, my wife Terri and I went along a ridge calling as we went. Soon we had a bull talking across the canyon. As we made our way down to the canyon bottom, I bugled and we had a bull answer. Larry made a comment that the bull sounded small by his puny answer and then all of a sudden he grunted and chuckled and Larry said "Maybe not" with a look I understood. We made a plan that I would approach as Larry cow called. I made my way up the hill and about half way up I had a bull bugle right next to me. I finally located him as he moved in on Larry's cow calling, he turned out to be a nice 5 x 5 bull but not what I was looking for. As I approached the top of the ridge, the bull I was pursuing bellowed. He was on the other side of the ridge. I decided to cow call and got an arrow ready. As soon as I called I heard hoof beats and looked up to see him running straight at me! At about 8 yards he stopped and we were looking eye to eye. I estimated the 6 x 6 bull would score between 360 and 370 P&Y points. We stood face to face for what seemed like an eternity but all I had was a frontal shot. I wasn't going to take what I considered a risky shot. He finally let out a small grunt, whirled to run but to my astonishment stopped at only 15 yards. I did not have a clear shot due to the brush so I pulled back my bow and waited. The bull started walking toward Larry's calling and I followed but he never presented a clear shot. All of a sudden I caught movement out of my right eye and turned to see a black bear running down the ridge right at me! The thought that ran through my mind was that the season quota for sows had been met in unit 27; bear season had closed and I could not shoot! The bear finally saw me and stopped at 20 yards. We had a stare down, which finally ended with him turning and walking away.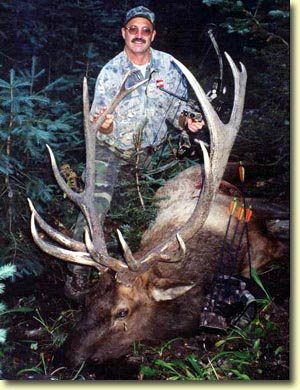 Jim's bull "Snaggletooth" green scored 343 P&Y.
My evening hunts consisted of Larry and Terri working their way around me bugling and cow calling as I sat in a tree stand over a wallow. If a bull answered, I would get out of the tree stand and pursue him. This worked pretty well, however, to this day I had not gotten close enough for a shot. This particular evening Terri could not join us so Larry and I had decided we would work our hunt a little differently. We would each sit a stand in "The Hole". Larry and I have a favorite hunting place we affectionately call "The Hole". We have two tree stands set up about 100 yards apart in a small drainage with lots of trails and a wallow at the bottom stand. It was the fifth day I had sat this wallow and I was getting a little discouraged. Pre-season scouting told me I needed to be patient and that the bull would eventually hit the wallow. On this days hunt Larry and I decided to be silent, only calling if the bulls seemed to be worked up. We climbed into the stands at about 3:00 p.m. At 5:30 p.m. I caught movement to my left. At 45 yards stood a very nice 6 x 7 heavy antlered bull. Before getting into my stand I had placed a scent pad saturated with cow elk urine at 15 yards from the tree. As the bull approached the wallow, he stopped and stuck his nose into the air. He stood there for quite some time and finally as if seeming to nod his approval he came on into the wallow. My heart was pounding out of my chest; the bull was only 12 yards away and standing broadside! I knew I could make the shot if only I could pull back my bow without being detected. I eased my bow back and placed my pin right behind the front shoulder. I released and watched as my arrow disappeared into the bull's chest. It sounded like all heck had broke loose as the bull thundered out of the wallow. He ran about 30 yards then stopped and stood still for several seconds. He whirled 180 degrees and ran another 10 yards and stopped again. He whirled a second time and as he turned to run fell hard to the ground. My bull was down! I looked up and saw Larry running down the hill towards me, he had heard the whole thing and knew exactly what had happened. After all the hugs, handshakes and picture taking we went to camp and got Peter and Chris to help with the skinning and packing. Back at camp we green scored my bull at 343 P & Y Points. We nicknamed him "Snaggletooth" due to the fact he was an old bull missing his teeth!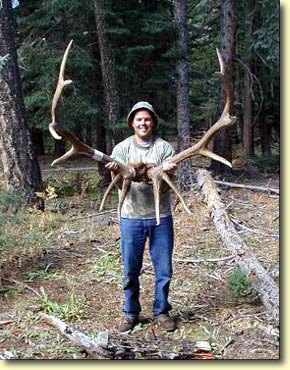 Chris' bull "Baldy" green scored 329 P&Y.
Talking about grumpy, the following day, Larry, Terri and I took my bull to Springerville to have the meat processed and then took the cape and antlers to Richard Owens of Hunters Lair taxidermy in Show Low for mounting. We had just gotten back to camp, cooked some elk heart/fixins and chowed down. Around 7:00 P.M. Peter and Chris drove up. Wouldn't you know it, Chris had decided to sit a wallow where Peter and himself had placed a tree stand as I mentioned earlier. At 5:15 P.M. a bull approached the wallow and as he put his head down to drink, Chris placed a 35-yard perfectly shot arrow into the big bulls' chest. The bull ran 50 yards and went down hard. Peter was a good distance away from Chris in another drainage and it took quite some time for Chris to find him and tell him the good news. After the well-deserved celebration and picture taking it was time to get the tired and grumpy old men at camp. After a little grumbling we loaded up our gear and pack frames and walked the 1-½ miles into the wallow and big bull. After another celebration and picture taking the work began. We all agreed, after several days of packing meat, antlers, head and hide from these three big bulls; a pack frame is worth its weight in gold. Once back at camp we green scored Chris's bull at 329. We nicknamed Chris's bull "Baldy" as the big 6 x 6 had rubbed off all the hair on his head while making one of his early season rubs with his antlers.
Even though Don hunted hard for a cow by sitting long hours in a tree stand, he was unsuccessful. He did see some cows and bulls but the right shot never presented itself. Despite this, the hunt was quite a success; three of us had tagged out on tremendous bulls during the first week of the two week long season. My daughter Mindie and granddaughter Cheyenne were especially happy, we would finally allow a campfire in camp. I want to thank my family and friends for sharing this hunt with me, it is a hunt I will never forget.
Click-a-Pic ... Details & Bigger Photos
Click-a-Pic ... Details & Bigger Photos
Home | Hunting Forums | Photo Gallery | Hunting Articles | Videos

|


Hunts & Tags | Hunt Draw Odds | About Mule Deer | About Elk
Store | Classified Ads | Photo Tours | About this Site | Advertising

|


Older Content | Email Us | Privacy Policy | Links | Podcasts