"Finally!"
Written by J.P. Kelley
Edited by Rod Hart (Alpine Productions -- Professional Writing & Editing)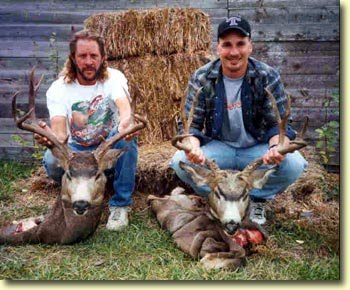 A Couple Great Bucks!
After seven years, my best friend, Shane, and I finally did it! We finally harvested two bucks that we can brag about. Before moving to Wyoming with the military, I had never even seen a mule deer, much less hunted them. Everything I know about muleys I have learned from Shane, or picked up in books, magazines and videos. Shane and I began hunting together in 1993, and have chased bucks together each fall since then. We have almost always filled our tags, though usually with small two and three points.
During the summer of 1998 I moved to Mississippi, which means waiting until July each year to see if I have drawn a tag. Last year was no different, as I was on pins and needles until my coveted permit arrived in the mail.
The months seemed to drag leading up to September 28 when my flight touched down in Denver. My buddy picked me up, and our drive back to Cheyenne consisted of non-stop talk about prior scouting trips, the weather, and the great time we'd had while hunting the previous year. Shane and I could hardly stand the wait until October 1, opening day.
Over the first eight days of hunting season we saw plenty of deer, though they consisted mainly of does and small bucks. On the morning of our ninth day of hunting is where this story really begins. By then, I had made up my mind to take the first 3x3 that walked in front of me. As Shane and I climbed a steep ridge, we paused for a breather and to make plans for the rest of the day.
We had barely resumed our climb when my partner and I heard the sound that no mule deer hunter wants to hear. Bounce, crash, bounce, echoed from below as we watched two does heading up the draw. We knew there were other deer moving about, but the heavy timber made it impossible to see them. Shane and I looked at each other, shrugged our shoulders, and headed for the top.
Upon reaching the summit, I told Shane that I was going to go to the right and circle around to meet him in the bottom. A short while later, I reached an open meadow and began glassing the nearby tree line. Just as I turned to go, a sudden flash of movement caught my eye. It was a buck, and he was a big one! There was no time to count points as the muley lowered his head and continued feeding. At the sound of my shot, it was as if the floodgates opened and there were deer running everywhere. The buck remained in my sight picture for an instant, and then he was gone.
When Shane got over to my location, the first thing he asked was, "How big?" I couldn't answer that question accurately, but I knew for sure the buck was at least a three-point. I was anxious to head over to where my buck had been standing, but there was one little problem. All those deer that had spooked from the sound my shot had settled down and gone back to feeding. We carefully glassed the herd, but after we were unable to locate another decent buck, it was time to find my trophy.
My Wyoming muley had traveled only 15 yards from where he'd been standing when I fired. You can imagine my jubilation when I discovered the buck wasn't a 3x3, but in fact, a nice 4x4.
For the next two days I tended camp while Shane continued to hunt. Then, on day 11, I spotted my companion hiking down the trail toward camp. When he got closer and I could see the blood on his pants, I knew Shane had scored. After a long and demanding hunt, my buddy had also downed a nice four-point whose rack featured a unique three brow tines on each side. Our hunt was over and we had taken two nice trophies, finally!
Click-a-Pic ... Details & Bigger Photos
Click-a-Pic ... Details & Bigger Photos
Home | Hunting Forums | Photo Gallery | Hunting Articles | Videos

|


Hunts & Tags | Hunt Draw Odds | About Mule Deer | About Elk
Store | Classified Ads | Photo Tours | About this Site | Advertising

|


Older Content | Email Us | Privacy Policy | Links | Podcasts