The Second Chance Buck
Written by Karen Anderson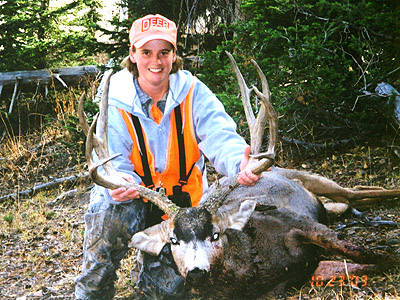 Karen's Buck Gross Scores 183 3/8!
The 2003 Utah deer hunt started for me during the spike elk hunt when my sister's boyfriend, Troy, jumped a big buck and it ran straight downhill towards me. I wished at that moment that it was the opening day of the deer hunt and not the elk hunt, because I knew I would never see that deer again. Buck fever had hit me early this year!!
We had seen several small bucks in the same draw with the big one, so my dad, Jim, and brother, Wayne, and I decided to hunt that draw for deer. That was something we have only done one other time in all the years I have hunted with them. It's rare for us all to hunt the same draw like that.
Opening morning of the deer hunt we were up and out of camp before light. We all had spots we were going to sit and watch for deer. I had walked almost a mile to get to the point I was going to sit on. I didn't make it to the point before Wayne jumped the deer out of its bed and it ran straight at me.
Wayne never saw it. I was shocked that I hooked my gun, a .270 Weatherby, on the pocket of my coat. I know now why I never wear that coat hunting; the buck was only 20 yards away when I finally got my gun up. All I saw were the big antlers, buck fever had hit hard!
I fired a shot and the buck ran away. I was shaking so hard that it took several minutes for me to calm down and look for blood. After about 3 hours of tracking and not finding any blood, Wayne came to help me. 10 minutes later, Wayne told me I had missed, and I had to admit to myself what I already knew, but didn't want to accept---I missed, probably shot right through his antlers.
When I finally got to the point to sit and watch, I had several does and a small buck walk around me. I let the buck go, hoping that in a few years he would be as big as the one I had already missed.
After a couple hours of sitting, I went back to camp for lunch and to hear what everybody else had seen during the day. Nobody had even shot, but me.
The afternoon hunt, we were all back trying to find the big one. That is when my cousin, Brian, shot his first deer---a nice 2-point. Great job!!
The rest of the weekend was uneventful and we packed up to go home. During the week, my dad, brother and I tried a few spots where they had seen some nice bucks, but we didn't see anything.
The weekend rolled around again and we were back in the same draw that I had missed the big one. As I came around one hill, I saw several deer down at the spring. One was a nice little 3-point, I had thoughts of just taking that buck, but as I was debating, he walked into the trees, ending that debate.
I continued on to find a nice spot to sit and watch, and after about 30 minutes, I heard something coming through the trees towards me. It was him! My heart started pounding, my hands and knees started shaking. I could not believe he was coming towards me again.
Lady luck was on my side. I watched him come at me through the trees, hoping he would stop in an opening to give me a good shot, and praying I would stop shaking. Buck fever had struck again! I kept saying to myself, "Look at the body, not the antlers." Then it happened, he stopped broadside 50 yards from me---it was now or never.
I shot, he started to run, I shot again, but he kept running. I shot a third time thinking I had missed yet again. I wanted to cry. I sat there trying to calm down, knowing I had to go look for blood and not expecting to find any.
After about 5 minutes, I got up and started down the hill to where he was standing. When Wayne's brother-in-law, Brian, yelled up to me that he had found blood. I was overjoyed. Brian had jumped the buck, but had never got a good shot and had followed it over to me. Sorry Brian! I was the happiest lady on the mountain at that time. I had hit the buck twice, once in the jugular artery and once in the shoulder. I would like all the guys to know that I cleaned, skinned and packed the buck out myself, with a little help from dad. Thanks dad!
I would like to thank everybody who helped make this dream come true, especially my dad and my brother, who let me tag along with them every year and put me in the best spot, even though this was probably the last time that it will happen---as this buck was bigger than anything they have ever gotten. The deer green scored 183 3/8 inches and is a 26-inch wide 4x5.
Click-a-Pic ... Details & Bigger Photos
Click-a-Pic ... Details & Bigger Photos
Home | Hunting Forums | Photo Gallery | Hunting Articles | Videos

|


Hunts & Tags | Hunt Draw Odds | About Mule Deer | About Elk
Store | Classified Ads | Photo Tours | About this Site | Advertising

|


Older Content | Email Us | Privacy Policy | Links | Podcasts