"Elk Nirvana!"
Written by Ken Zimny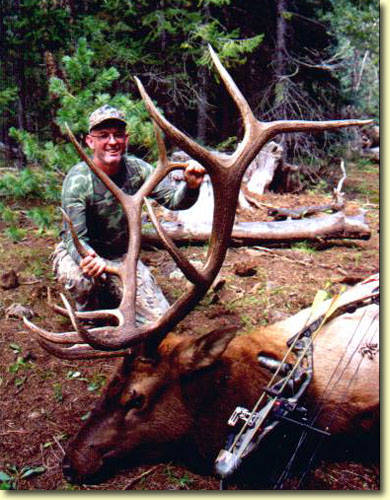 Ken's bull gross scores approx. 344.
My hunting buddy from Oregon, Randy Johnson, and I were extremely lucky enough to draw unit 1 Arizona archery bull elk tags for September 2002, and it was the elk hunt of a lifetime!
The country was a beautiful combination of large meadows and stands of pine bordering the famed White Mountain Apache Indian Reservation. Hunts go for big dollars there and many of the same bulls crossed between our hunt area and the reservation. We were close enough to hear some of their rifle shots!
It was such a blast I don't know where to start. Randy got there early to scout and selected a camp spot far from where we had planned to hunt. I was surprised and at first disappointed at the wasted research, but he had this spot pegged. I trusted the decision and it turned out great, especially after hearing other's griping at the Western sport store in Springerville. They were complaining of dry conditions and little bugling action. I could not believe one group of 3 locals wanted to go home early! I helped these guys out by pointing them to some specific locations and encouraging them not to leave. Hope they did better!
We were bugling in bulls constantly. It was often just a matter of deciding which one to pursue. I witnessed 3 full blown bull fights! It sounded like slamming baseball bats against each other---awesome!
The 2nd evening I followed a dandy 350 class bull with 7 cows. I chased him over the hills and hollers coming close on several occasions. Finally, it ended at a water hole. I snuck in while the cows were watching him and a 320 bull clash big time. He won, then took a quick dip in the tank and ran off.
The elk on this hunt were not spooky. You could be detected, but then let them wander off a while and get right back on them. Super! This went on the entire trip. After the first day I went lightweight, leaving all food, water, etc. at the truck. Had my GPS in one pocket and a compass in the other. This made me more mobile as I ran from bull to bull.
I had many close calls and passed many small bulls in the first 4 days. On the morning of Sept. 17th, I climbed to the peak of a small knoll at dawn. I'd seen a big bull raking up there the morning before. Nothing doing today, so I moved slowly down the North Slope. I bumped one bull, and then heard another bugle through the high winds. Upon pursuing, I moved all the way to the bottom then farther north to a meadow. I could see 2 bulls clashing, with cows everywhere way out in the meadow. There was quite a commotion and it allowed me to reposition closer to where I thought the elk would enter the pines.
None of the cows saw me. I moved quickly and circled around. The rowdy satellite bull distracted them the whole time. When the cows were all in the woods the bull slowly followed. It appeared that all 8 cows were obstructed from view, so I ran from pine to pine narrowing the gap between myself and the bull. The terrain was perfect, grassy areas between wide pines. I made the final sprint in as the bull was preparing to follow the cows into thicker timber. He saw movement, but had a few small pines between us. I took shooting position behind a fallen tree and drew as he moved to see what I was. Wide open! 40 yards is what I estimated, then let it go---8" behind shoulder!
He ducked at my release and took the arrow a little high, but I thought it was good. He ran a few yards, and then turned to look back. That's when I saw the exit hole. I cow called and watched where he ran, but lost him. 15 minutes later, I moved in and began tracking, marking blood spots with paper towels.
There was good blood splattered at the impact scene, and a steady but small blood trail thereafter. It played out at 150 yards and I was sick. But after 2 more hours of searching, I found more blood 100 yards away. It played out to nothing. Sick again, I went back to camp and got Randy. He thought things looked good and went off panning forward from the last sign.
10 minutes later, I hear "Hey Ken, over hear!" I can't tell you how ecstatic I was to hear this. My first archery elk after 5 trips! Believe it or not, the bull died right smack in the middle of an old logging trail! Randy was able to back up his truck right to the elk. Zero pack out!
All my meat was good and I got it to the processor in Springerville the next morning. 70 cents a pound, what a deal! Anyway it was processed quickly and frozen. We green scored the rack at around 344" gross.
Thanks to Arizona for the hunt of a lifetime! Experiencing 4 unsuccessful NM trips definitely made me appreciate this one more than ever. I could not be happier with my experience in Arizona's unit 1.
Click-a-Pic ... Details & Bigger Photos
Click-a-Pic ... Details & Bigger Photos
Home | Hunting Forums | Photo Gallery | Hunting Articles | Videos

|


Hunts & Tags | Hunt Draw Odds | About Mule Deer | About Elk
Store | Classified Ads | Photo Tours | About this Site | Advertising

|


Older Content | Email Us | Privacy Policy | Links | Podcasts