"Muley 101"
Written by Larry Pasero Jr.
On the long drive to Colorado from California in late October 2002, I could hardly stand the excitement. My daydreams grew wilder with every mile of sage. This would be a special trip. Once again my Dad and best friend Rich would make the pilgrimage, but this year we had a rookie in tow, my brother Jason. Jason was eager to live some of the stories we had tortured him with from previous hunts. Something always kept him from making the trip, Last year it was the appointment to the local Police department. As we gobbled up highway marker's heading east, the reality was, he wasn't missing this year, and he was enrolled in "Muley 101".
I was at a crossroads. I had taken some good muley bucks from this corner of Colorado, but wanted something more. I guess there is a time in a muley hunter's life when the bar is raised. I spent most of those 1,189 miles putting together a plan. I would wait for "THE ONE". I had dreamed about "The One" almost every day for the last year. As we passed through Heber Utah, "The One" had become a straight 4x4 or better with eye guards, at least as wide as his ears, with a cheater or two, deep forks, and good mass. At every meal break and gas stop I would ramble on about "The One", heck, I told a whole blackjack table in Wendover about him. By the time we crossed the Colorado line, eyes would roll as I diagramed my plan to find him.
Upon arrival at camp, evidence of the residual drought was apparent. Black dry sage, dusty roads, sparse junipers and stale buck brush were the norm. Although the conditions were disheartening, we managed to locate a few nice bucks on the day before the season. With each new deer spotted our excitement grew in anticipation for the season opener to follow.
Jason and I started his first muley hunt on point at a favorite ambush spot, and I was excited to sit in the fresh falling snow. We were able to locate deer in a few pockets, but nothing that warranted ending the season on the first morning. It was a breathtaking view. The sage rolled out below us. From our perch high above, we could see into a few shallow draws and pockets guarded by thick cover. After a morning tailboard meeting and snack, Jason, Rich, and I decided to head to another area as the morning warmed up. We got stuck in the slick Colorado clay mud and almost rolled the truck. Most of our energy was spent avoiding catastrophe and once our vehicle issues were resolved, we headed back in the other direction, beat up and exhausted.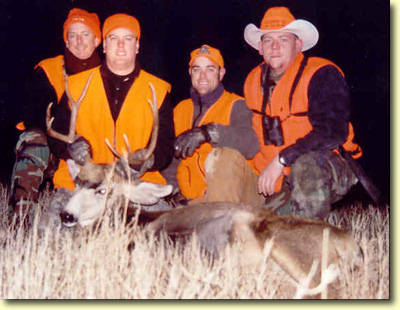 Jason's First Buck
All was quiet as we limped back towards camp. Suddenly, a few does crossed just ahead of us; seconds later a large buck bolted and followed the does up the hillside. For a split second they stopped a hundred yards away. Before I new it Jason was set up. Guided by some instinct he had never known, he found a good rest and squeezed off a shot or three. I have to admit, I was in shock when I saw the buck do a back summersault, then regain his feet and run 30 yards over the ridge. Everything seemed to happen in half a heartbeat. We celebrated and got ready to go claim his first muley buck!!! It seemed as though the morning drama was washed away instantly as we radioed back to Dad at camp with the good news.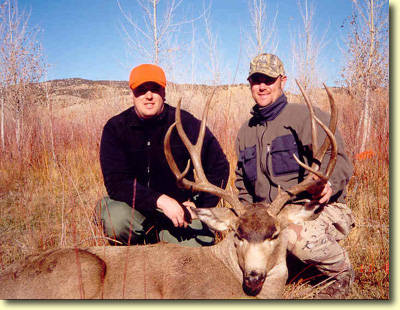 Larry's Colorado Trophy
Triumph turned to tragedy as we got to the spot where the big buck rolled. No blood, no bone, no hair, no buck. Up the hill we found two small drops of blood. After an exhausting 3-man search that took the rest of the day and covered the entire finger ridge and surrounding flat, we concluded that there wasn't a fatal wound. I felt for Jason, he was very disappointed and it was hard to explain that we've all been there. To his credit he got "back into the saddle" the next day and connected on a good 4x4. What made it extra special was that my Dad was with him to collect his first buck. It made my Dad proud to be present for both of our first bucks! Jason's excitement was contagious. Little did we know he would become the lucky charm.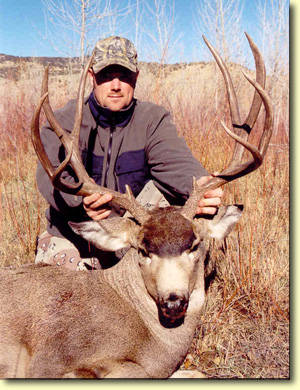 The next day he went with my Dad and helped him collect a good looking 4x3. In two days, Jason had seen two bucks taken first hand, and got lots of practice hauling them out. I took im out with me the next day (hey I'm no dummy). After a good lunch we headed to some juniper draws and we worked on his still-hunting skills. He was a quick study and a blast to hunt with. The afternoon came to a close as we stalked out to an edge and found a 27" 4x3 bedded just 80 yards below us. I had come to my crossroads. Earlier in my hunting life, there was no way I was passing on this buck. After a quick debate, my mind was made up. I had to pass. Getting up on this buck in his bed would be victory enough. Jason cracked me up, hissing under his breath "Why aren't you shooting??" "TAKE HIM!!!" "He's a good buck!!!" At this point, he was confused, and so was I. As the buck trotted off after a hot doe, reality set in and I wondered if I was out of my mind! As the story was told to the others they wondered if I had fallen ill or had been drinking. I had a goal and it felt good to stick to it. It was already a successful trip in my book, finding an exceptional buck would be icing on the cake.
The next morning we went to another favorite outlook. It was cold and crisp. As we glassed a few forkies and one super tall 3x3, the thought of passing on the buck the previous evening had started to sink in. Time was running out on the 2002 deer season. My good Pal Rich beat me in a quick "Ro-Sham-Bo" to see who got to look over the edge at one of our favorite "lucky" spots. Half disappointed, I took Jason off in a loop to our left to make a pit stop. Rich crept to the edge as we made our way to give him some space. I had my mind on loosing the lookout to Rich when below, a rustling willow caught my attention. Jason and I instantly spotted a large buck at the bottom of a tree, broadside, assaulting the sapling with his deep forked rack. As the new sun started to glisten the dew on his back, and as golden leaves fell from the violent display, the decision was made instantly. Not three seconds after we saw him, and before mention was made, I was setting up on my sticks muttering "I'm gonna take him, he's THE ONE"'. My poor brother didn't even have a chance to respond as I found a rock solid rest on my Steady Stix. When my crosshair found the spot, I let out half a breath and squeezed through the shot. The .300 Weatherby barked and we heard the smack of success. Ten steps later he piled up in the wet underbrush. He was mine.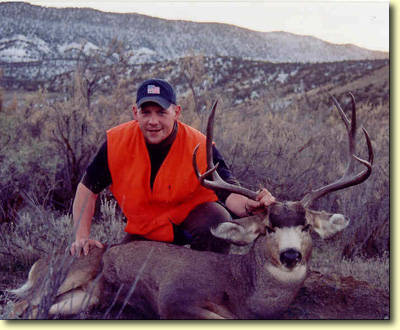 Rich's Big Buck
Upon examination of this buck, we found a fresh flesh wound high on his back. Was this the buck my brother had nicked?? We were only 500 yards away from the site of that episode. Maybe? When he was dressed, we found another healed entry and exit deep in his flank. It looked like an arrow had passed through him earlier in the season. We quickly learned the lesson that Muley bucks are tough customers, and shot placement is key. Another good lesson learned.
That night we headed back to the buck I had passed on. This time it was Rich's turn. Luckily, we found the buck in the same general area as before. Jason and I glassed and took ranged distances and gave hand signals to Rich as he got locked in. As soon as the shot presented itself, the buck laid down for an afternoon nap with 6 does. 45 minutes later, he got up to sniff around, and Rich made a great 300 yard shot, anchoring his biggest buck to date. The best part was that Jason had been witness to all 4 bucks taken, all with different methods, in different scenarios. He did well in his accelerated Muley 101 class. Now he's hooked just like the rest of us.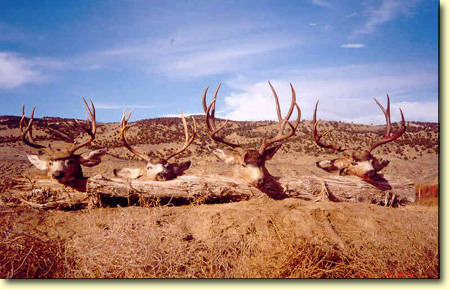 What A Great Hunt!
All told, the trip was our best ever. Everyone had a great time. It was pretty special to share such a great trip with family and friends. I can't wait for our next adventure together. I would like to thank my Dad for instilling in us the values and skills needed to be successful hunters and outdoorsman. Dad always had the time to take us outdoors and the lessons we've learned have helped make us the people we are today. I'd also like to Jason, Rich, Jerry, Danny, and Dan for all the help and especially for the great camaraderie we share.
Click-a-Pic ... Details & Bigger Photos
Click-a-Pic ... Details & Bigger Photos
Home | Hunting Forums | Photo Gallery | Hunting Articles | Videos

|


Hunts & Tags | Hunt Draw Odds | About Mule Deer | About Elk
Store | Classified Ads | Photo Tours | About this Site | Advertising

|


Older Content | Email Us | Privacy Policy | Links | Podcasts