"I Couldn't Have Planned It Better"
Written by Levi Spencer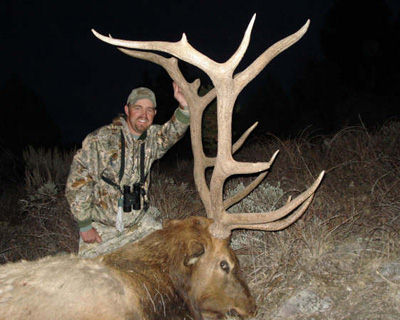 Well, if your year has been anything like mine, it didn't seem to take very long before the season was here. In other years when I have had a tag, the months just seemed to drag on forever. This year I was so busy it seemed like I didn't have near enough time to do all the scouting and planning I wanted to do for my first Nevada elk tag. I had been up to the area a few times during the rut and had seen some nice bulls. I was just hoping they would stick around until November. Well, before I knew it, it was the day before the season and my friend Mica, my brother in-law, Jared, and I were all sitting on a ridge glassing across a burnt canyon. We had seen a few decent bulls so far, but not really what we were looking for. We were just getting ready to get some lunch when Jared said he had a bull spotted at over a mile away laying under a burnt tree. We got the spotting scope, set up on him, and it looked like he was a decent bull. I wasn't convinced it was the bull for me until he stood up to stretch. I could see that he was a 7x7 with great fronts that stretched way out there. We couldn't get too much closer, but we got as close as we could and watched and studied him until it was dark. I still didn't know if I would take the bull because we had found that he had a broken third, but decided that we would come back in the morning and work in from the other side and see if we could get a better look at him.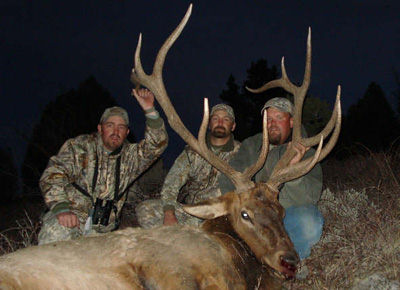 The next morning found us on our lookout point. Sure enough, as the sun came up, we spotted our bull up and feeding. We hurried back to the truck and came in on the back side. We parked the truck and headed up the ridge and over to find the bull. We sat down in between some rock cliffs and started looking for him. I spotted some cows feeding up the opposite side of the canyon. As I watched, the bull stepped out and was feeding up the hillside about 300 yards from us. I started to get set to shoot when I could here a jeep coming up the canyon. The elk heard it too and in an instant they were hightailing it up and over into the next canyon. The jeep pulled up a bit farther, turned around, and left, never seeing the elk or the disappointed hunters up the mountain. We glassed the distant canyon to see if we could see any sign of the elk moving up there. We spotted a bull about midway up the canyon, but he looked to just be a 6 point. There was no sign of the 7x7, so we went back to the truck to get a bite to eat and make up a new game plan.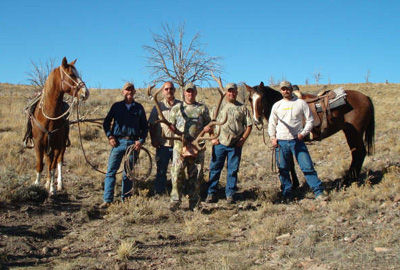 After lunch, we decided to just start heading to the canyon they went up. We worked our way around there all afternoon. We had to take it slow because of all the deer in the area and we didn't want to bump them over into the canyon with the elk. At one point, we had a couple cows spotted that were bedded down, but they got up and moved and we lost them in the trees. We were hoping they were the same cows that were with the bull, but we could never see him. As the sun was starting to get low in the sky, we had finally made it to a point where we could see the canyon. Almost instantly we spotted the 6 point we had seen earlier. He was a nice bull, but I decided to hold off. We pulled out the video camera and started filming him and watching him as he fed up the hillside. He sure was tempting me though. He was out there about 250 yards, kept turning broadside and giving me perfect shots. The sun was getting lower and still no sign of the other bull. I figured we would just spend the rest of the daylight watching this bull and then try again in the morning, but then it happened. We heard an elk chirp down in the bottom where we couldn't see. Jared was sitting a little higher than me and I kept asking him if he could see it yet. Finally, he said he could and that he thought it was my bull and I needed to get up there now. I grabbed the gun and the shooting sticks and got up the hill to where I could see him. The bull was heading up the opposite side of the canyon at a trot. I got my gun set up and Jared got the video camera on him. At about 240 yards, he stopped to look back and that is all it took. I let the 7mm Magnum roar. There was the distinct smack of a good hit as the bullet hit him right behind the front shoulder. He turned up hill and took off again. I lost sight of him behind a tree, so I had to get up and move. I found him again as he was heading up the hill stumbling. I pulled up, found him in the scope, and fired again, this time hitting him in the front leg. He still kept trying to run even though he would stumble and fall and get back up again. I sat down and got a good rest again and as he turned to head down hill I hit him in the opposite shoulder, dropping him. I had stayed calm throughout the whole deal until he hit the ground, and then I started to get really excited. It wasn't how I had planned it, but I couldn't have planned it any better. Once we knew he was down for good we made the steep down hill and up hill climb to get to him. He was huge! I could barely pick his head up to move it around. The sun was starting to go down, so we took a few pictures, and then set in on the real work of trying to get him cleaned out and taken care of. It was well after dark when we got done, so we hiked back to the truck and decided to bring the horses in to get him out in the morning.
The next morning my dad brought the horses up to help haul the bull out. My father-in-law also came and helped cut and pack him out. It was another long day up on the mountain, but well worth it when we had the bull back to the truck. I couldn't have asked for a better hunt. I got a great bull, especially for my first elk, had some great times with some great friends, and had some great family who came and helped me out. I would like to thank Jared, Mica, my dad, and father-in-law for all they did to make it such an incredible hunt. Too bad I have to wait ten years before I can put in for an elk, because I can't wait to get up there again.
Click-a-Pic ... Details & Bigger Photos
Click-a-Pic ... Details & Bigger Photos
Home | Hunting Forums | Photo Gallery | Hunting Articles | Videos

|


Hunts & Tags | Hunt Draw Odds | About Mule Deer | About Elk
Store | Classified Ads | Photo Tours | About this Site | Advertising

|


Older Content | Email Us | Privacy Policy | Links | Podcasts