"Michelle's Elk Hunt"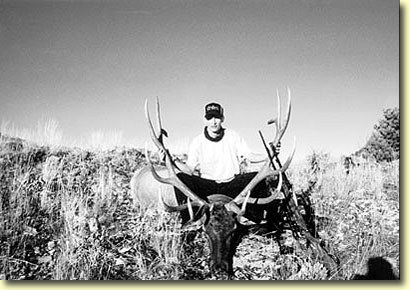 Michelle Lish from Tremonton, Utah took this bull scoring
357 points net last year. This was her first time hunting!
When I opened my draw results the word "SUCCESSFUL" was the first thing I saw. As I murmured the word, my husband Shawn quickly grabbed the letter from my hand in disbelief. His eyes lit up and cheers filled the room. After he had calmed down, he explained to me what I had just received.
The next few months were an extensive training process. I had never shot a rifle. Shawn coached me in every way possible until I felt confident that I could actually hit and kill an elk.
Opening morning seemed like a promising day. My brother-in-law Craig had spotted a couple of nice bulls and felt we could get a big one. After a half-hour trek in the truck on seldom-used roads we unloaded the 4-wheelers to continue to our prospected spot. Finally, after what seemed like an eternity of riding, Craig said, "This is the place." We walked for better than an hour, my son Jared found a couple of elk and we sat down to give a few bugles and cow chirps.
After settling in and watching for movement, a large-bodied seven by three, that we later named the "Freak", bugled back. I quickly dropped the bipod on the .257 Weatherby Mag., and raised the gun to my shoulder. I had him dead to rights 150 yards away. With my finger on the trigger, excitement filled my body, and I was ready to fire. Shawn quickly said, "Wait." I questioned, "Why?" He said, "I don't know if he is a freak or if he has a broken antler." As the "Freak" came out into a clearing, Shawn got a better look, but the cow elk spooked and the bull was quickly moving away from us. Shawn said, "Get ready Michelle, he's a freak." By now the bull was 300 yards away. I perched down, got him in my sights and I fired seven rounds missing wildly.
For the rest of the day we hunted like crazy. Each member in our party was "Freak" crazy. However, the day rolled on and a storm moved in. Rain and cold surrounded us and our chance of getting a bull seemed to grow smaller as night came on.
When morning arrived and the sun was barely up, we decided to go back to the same spot and hunt. We knew there were other bulls in the area because I had passed up three smaller 6-points, but we were really hoping to find the "Freak" bull again. We parked the 4-wheelers in roughly the same spot, walked a couple hundred yards away and stopped to bugle. After my brother-in-law Wade bugled, an elk darted out of the cedars only a hundred yards from us. The bull was on the move until my son Jared cow chirped. He stopped, turned, and stood broadside looking for his cow. Shawn looked at him and said, "It's the Freak!" I quickly lifted my rifle to my shoulder. Because it was barely light, Shawn asked me if I could see him? I answered, "Yes I can, he's in the crosshairs." His huge body was gigantic in the scope. I grew tense, squeezed my finger and ... "click". "What's wrong," I thought. Everyone was shouting, "Shoot! Shoot!" I realized the safety was on. I said, "I can't. The safety is on." Shawn reached over and took the safety off. I felt the gun getting heavy, but could still see him in the scope. I hurriedly fired a shot and missed high. With the disgusted looks in everyone's eyes, I felt horrible. I walked off into the cedars, tears filling my eyes. I couldn't believe that I had missed him again.
As we gathered ourselves together, we trudged on to the next ravine. Shawn and I took off for the cedars and pinyons below us. Jared, Craig, Wade, and Ben moved around the side of the ridge to scout. Shawn and I could hear elk bugling around us. Shawn cow chirped and we heard one getting closer and closer. After sitting and listening for a while, he said, "Follow me." Meanwhile, the other guys were bugling and chirping too. Shawn said, "Get ready Michelle. Here he comes and he's a dandy." Because the rest of the group was situated with binoculars and spotting scopes they could see what was happening. Luckily, Shawn and I were sitting on a rock hidden by cedar trees. I slowly but quietly set the bipod out and readied myself to shoot. At about 200 yards and feeling a little nervous, having missed the "Freak" earlier, I said a quick little prayer and "Boom", my first shot rang out. The bull hunched up and I knew I'd hit him. He didn't drop so I shot again and "smack", he staggered a couple of steps backward and dropped.
Shawn grabbed me and hugged me. Everyone else was whooping like wild Indians. As we walked down the ravine and up the other side, I began to swallow hard. My heart was pumping fast, realizing I had shot this magnificent, beautiful creature. My heart swelled with pride, and my eyes wanted to spill their tears as hugs and congratulations were given to me for a job well done. I knew I couldn't have done it alone.
As we were admiring the kill, we were totally amazed. It was much larger than we had expected and so nicely proportioned. How totally awesome! I now know why people love to hunt.
Written by Brad Taylor and Michelle Lish
Click-a-Pic ... Details & Bigger Photos
Click-a-Pic ... Details & Bigger Photos
Home | Hunting Forums | Photo Gallery | Hunting Articles | Videos

|


Hunts & Tags | Hunt Draw Odds | About Mule Deer | About Elk
Store | Classified Ads | Photo Tours | About this Site | Advertising

|


Older Content | Email Us | Privacy Policy | Links | Podcasts