"My Smokepole Buck"
Written by Lucas Davis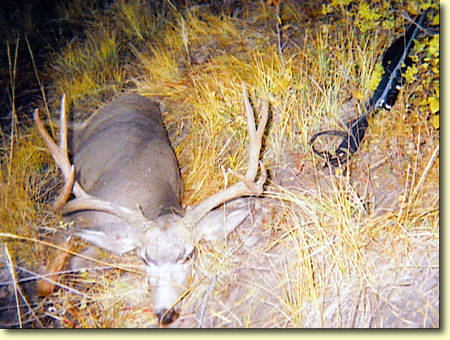 Lucas' 2003 Utah Muzzleloader Buck
The opener of the '03 Utah muzzle loader hunt found us packing out to our usual saddle camp high in Tooele County, Utah. Typically we are half of a group of 4...however, the other half of camp elected to try out some new turf this year. Last I heard they joined a dozen other hunters in the same area and didn't have much luck.
In any case, we arrived in camp shortly after dark which neglected us the opportunity to glass some of our favorite canyons. But, we had scouted the area fairly well and that combined with past years experiences gave us a pretty good idea where we needed to be.
After a rough night lying awake...like a kid on Christmas, we awoke to the early pre-dawn light. After glassing several of the canyons across from camp both to the north and south, we had not seen much and packed the day bags and headed to Kuester ridge. We worked the south slopes for about an hour and a half, only to see a few does and fawns. No bucks in sight!
We finally had arrived to our favorite canyon on the ridge, known as the Cap. It's a narrow steep canyon filled with pines on the East face and good browse consuming the rest. After working the canyon slowly, looking through all of our favorite beds, we turned up 1 doe. No bucks? I mean, where could they have gone?
It had reached about 9:30am and we decided to split up. My partner, Brian Kuester, would go low into the quakie stands on the north side of the ridge and I would go high. I arrived back in camp about 12:45 and Brian some 45 minutes later. Tired and still nothing but does turned up.
Typically, we would see 6-10 bucks on a morning hike like that.
After having lunch, loading up on some wood and taking some deserved naps, the afternoon was here and we tried to outguess the deer and try something else. Brian decided to head for a nearby water hole and I, being discouraged, decided to sit in camp. About a half an hour after he left, I decided that I had come this far, I may as well go out. Besides, it's opening day of the deer hunt and I have been too excited all year to just give up.
With that, I theorized that maybe due to the excessive heat, I would find a buck in some of those shady quaking aspen stands on the north slopes. So I headed out.
I was working the high shadowy meadows on my way across, nearly the same path I had crossed earlier that morning with no luck. Head drooped and meandering slowly, I looked down and there stood 2 bucks. I couldn't believe my eyes, 60 yards away and both staring at me. So much for surprise, but I was glad to see them!
It was a 2x3 and a small 4x4 that was about 16" or so. I was pretty tempted to shoot after the disappointment, but elected to pass and kept moving, hoping to make the Cap before dark.
As I moved into the next canyon, the last before my destination, I again looked down into the meadow below me and I spotted a deer looking back at me. I glassed and it was another 2x3, pretty heavy, but no width and I couldn't see any antler above its ears. I knew I didn't want him. Ready to move on, I spotted another deer, then another. It was a small 2-point and doe browsing up through, and eventually bedding near him. He had me pegged, but they never even looked up.
Again, a few minutes passed and I was ready to hit the cap. As I was about to leave, I spotted some tines poking through the brush, working up the meadow. A nice, pretty heavy 3x4 emerged and he was out past his ears, a gauge we typically peg at 24". He had fairly good mass and with that, I knew I wanted him.
Another smaller buck also worked his way up behind him. I can't say I gave him much attention after that. While watching him, the 1st deer arose from his bed, never taking his eyes off me. And me, standing there in the open, thinking, what was the point of hiding? Now I knew, great.
When he stood up, the 3x4 and the other buck both pegged me too. I was standing in some pocket deep browse and decided to slowly slump into the bushes.
Once down, I dropped my pack and crawled about 20 yards closer, to the nearest cover I had, 3 small aspen trees I figured I could use as a rest.
I occasionally, glassed down to see if they would bail. I just knew something would go wrong.
I had finally made it to the trees and found a good rest, all 3 bucks still staring at me, but unmoved. I looked down the scope and found my buck facing me directly, but also standing directly behind the 1st 2x3. I knew I didn't want to risk putting one across his hind quarters for fear of hitting him too. I stood there for what seemed like forever (probably 3-4 minutes) and waited, hoping for the right chance.
Finally, the 3x4 lowered his head and stuck a tine right in the others rump, which caused him to take a little hop forward. Enough that I could clearly see both front shoulders and I knew I could make the shot.
Seconds later, I lined up the cross hairs centered on his chest; about 2 inches below his chin and squeezed the trigger. Boom... the shot rang out and a cloud of smoke. I leaned to the side and saw deer scattering, and there was my buck, running up out the side of the canyon. Suddenly, he slowed, his chest arcing into the air and he tumbled to his right, rolling down the hill about 20 yards.
There he lay...and then I sat there. Stunned, I couldn't believe it, me...I think I pulled it off. I ran back up to my pack, reloaded, turning to watch him every few seconds to make sure he hadn't moved. Then back down the hill to my trophy. Just in time to see the sun cross the magnificent peaks.
The buck was just as I had thought; a fairly heavy 3x4 and he taped out at 24 1/2" wide. Not a huge buck for some, but for me a 10 year quest for the 24" mark. I'm proud to have him and I am sure he will look beautiful mounted.
Many thanks to Brian Kuester for packing with me; you're the big bro I never had.
Click-a-Pic ... Details & Bigger Photos
Click-a-Pic ... Details & Bigger Photos
Home | Hunting Forums | Photo Gallery | Hunting Articles | Videos

|


Hunts & Tags | Hunt Draw Odds | About Mule Deer | About Elk
Store | Classified Ads | Photo Tours | About this Site | Advertising

|


Older Content | Email Us | Privacy Policy | Links | Podcasts