"The Desert Bull"
Written by Mark Johnson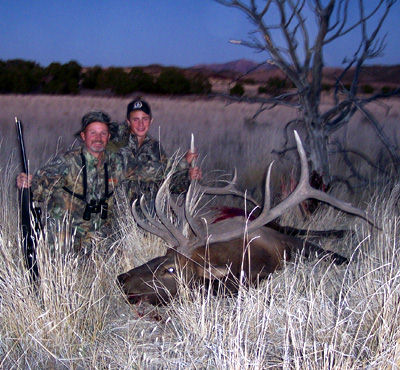 It all started at the hospital. I was there to support my daughter who was in the hospital in premature labor. The nurse that was attending Trina was pleasant and attentive. But when she found out that my 19 year old daughter loved to hunt, she quickly joined in the conversation. When I asked "Bonnie" if she enjoyed hunting, you could see her eyes light up. She told us of a 387 bull elk she had taken with her rifle just 2 years previous. She told us the whole story in detail, including a description of the limited entry unit she took the bull in. I've talked to several people in the past whose eyeballs are a lot bigger than the actual score of the elk, so I thought, "Ya right a 387 bull, uh huhhh". So I asked her in a teasing nature, "Have you got any pictures?" "Sure", she said, "I've got the magazine article in my desk." Bonnie returned a few minutes later with a magazine, her pictures and her story that had been published. It was one of the best stories on hunting I have read.
Bonnie's article was all I needed for true belief and respect for this sweet gal. I asked her about the limited entry unit and if she would tell me some places to check out if I was to put in and actually draw out. Not only did she say that she would tell me, but her husband knew the unit like the back of his hand and he would be glad to take me out and show me all around. Another unbelievable action! Who would take a complete stranger and show them all of the good spots in their hunting area?
As time passed, I couldn't take my mind off of the upcoming application deadline. My thoughts were really focused on this unit, but I didn't know enough about it. I started doing homework. I had eight bonus points and wanted an opportunity to go hunting in a limited entry draw area. I was sick and tired of checking the internet on the drawing date and finding myself unsuccessful. I have always said that you could put five names in a jar draw four and my name would be the last one in the jar every time for ten consecutive draws.
Anyway, I called the region biologist only to learn that out of all of the units in his region, this was the worst and was declining more every year. This really hurt my enthusiasm. I figured it might be an easy area to draw, but it would be a tough hunt, especially if I wanted to kill a big bull. However, when I started calling a few people who drew this unit last year, most had killed some pretty decent bulls. I called all of the successful muzzleloader applicants and all but one shot between 320 and 360 class bulls. Same with the rifle hunters. This was the information that I needed, and I decided to apply for a muzzleloader elk tag.
Then it began, all that was on my mind was this hunt. I am generally superstitious when it comes to luck, so with the power of positive thinking, I went to the local sporting goods store, on a whim, and bought me a brand new Knight Revolution in-line muzzleloader with a low profile halo-site red dot scope. I also started an exercise program in February. I knew that the mountains in this unit were steep and rugged and also if I had any chance at killing a bull, I would have to hunt hard. I also had a slight problem, well, ok, not so slight. Five years ago, my doctor announced to me that I had a heart problem. After consulting with a cardiologist, my options were easy, either have heart surgery right of way, or die within a year. During surgery, I had complications and suffered a major heart attack in the operating room. Before I got out of the hospital, I had suffered cardiac arrest 2 times, lost a moderate portion of heart muscle, and had a major blood clot lodged within my heart. Have I also mentioned the internal cardio defibrillator pacemaker the doctors implanted in me because of heart arrhythmia problems due to the damage the heart attack caused? I had a slight disadvantage when it came to hiking steep terrain. But in my eyes, this was a hurdle to cross. I was not going to let this beat me. I immediately started exercising out of the hospital and now, almost 6 years later, I can still climb to the top of the mountain, but I'm slower than the average guy getting there. Anyway, back to the exercise program motivated by this hunt; I enrolled in a cardiac rehabilitation program to know what my limitations were. I also purchased a heart monitor to keep track of my heart rate. I started walking, jogging, walking stairs, and lifting weights. I wanted to be ready if I drew out for this hunt.
The day finally came that I found out I was successful at drawing a 2006 Utah limited entry muzzleloader bull elk permit. I was so excited that I could hardly sleep that night. About a week later, I looked up Bonnie's number and called her home. She sounded almost as excited as I was. She said she would have her husband call me back. A couple of days of phone tag later, I got a phone call from Dan. He proceeded to tell me all about the area, including where the water holes were. He also said that he loved going out in the area and would love to go show me around anytime I wanted to go. Elk or not, this was the beginning of a really good friendship. Bonnie, Dan and I spent several days together throughout the summer riding four wheelers in this unit, learning country, pinpointing water holes, and looking for sign.
There was a lot of evidence of elk being in the country in past years but not a lot of fresh sign. In fact, not a lot of elk period. I was beginning to wonder if I had wasted my bonus points and my money on this hunt. Dan just laughed and reassured me that there were plenty of elk, and the rut would bring them in to the area.
I remember calling a friend of mine that lived by the unit and he ran some cattle in the area. He told me that there wasn't a lot of elk in the area but if a guy did his homework, he could probably kill a pretty good bull there. That is what I decided to do; is my homework. I learned as much as I could about the area and its elk, I talked to locals, I spent hours and days, besides riding with Dan and Bonnie, in the hot summer learning the roads. I talked to biologists, and to people who had previously hunted the area in the past. I called each bowhunter after the archery hunt ended. I could also account for most of the bulls killed on the rifle hunt.
But there was a slight problem. I hadn't seen many elk all summer. And let me tell you, if your idea of good elk country means pines and quaking aspens, forget hunting here. This unit was hands down the ugliest elk country I had ever seen. Cedars, sagebrush, and lizards seemed to dominate life in this hot dry dusty desert. I had no idea where to start hunting. In fact, I didn't know where I was going to hunt until a couple days before the opener. I finally decided to hunt where I felt the pressure had been the least, the South end of the unit.
Well the day finally came. Opening day found me, my 14 year old son, Trent, and my good friend, Robert, walking in the dark for hours on opening morning to a point above a water tank where we had seen elk tracks, including that of a pretty nice bull. We scanned the valley below us as the dawn broke, cow calling several times. Not a thing moved and it was pushing 80 hot degrees. We hunted until noon opening morning before heading back to camp for lunch. It was only the first day, but I felt very discouraged. I was hunting an area that had fewer elk than most limited entry elk areas in Utah. Between the heat, the flies, and the lack of animals, my anticipation of a tough hunt was quickly becoming reality.
After lunch, we decided to hunt a guzzler on the west end of the unit. I figured it was the most remote, and we had seen several elk tracks around it the day before. We parked about a half mile away from the guzzler and walked into it. The valley with the guzzler in it consisted of yellow grass with patchy cedar stands on both sides. I figured if we had any chance of an elk coming in it would be from the west. We decided to set up in a strip of cedars 100 yards south of the guzzler. While Trent and Robert created a ground blind in the shade, I walked over to the fence posts around the guzzler and began greasing the wood poles with cow elk urine in estrus soap. I applied it heavily. The wind was blowing from the North right into our face. At 3:30 we hunkered down and prepared to wait there until dark. About every half hour I would produce a series of cow calls mixing it up with mews and some estrus whines. But there was no response.
As I sat in the shade of the cedars on the soft ground made of juniper berries and needles, I contemplated my life and how fortunate I was to be with my only son, and also my friend that I've known since childhood, sharing their company and doing what I loved to do. I truly counted all of my blessings as I sat there in the late afternoon shade.
As the sun began to set, I heard what I thought might be a distant bugle. Unsure, I immediately responded with a series of mews. Nothing responded, immediately that is. About five minutes went by when the silence was penetrated by a very high pitched bugle with a deep rolling growl at the end. I couldn't believe my ears. It was behind us a half mile or so. I immediately responded with an estrus whine and the show was on. He answered me back instantly with a growly bugle. Nerves, excitement, satisfaction, anticipation, and every other emotion filled me when I knew that bull was coming right in to us. I cautioned Trent and Robert to not move and to stay quiet. I had a great set up; a great blind, and a dead rest using a limb of the cedar tree I was sitting behind. This bull was screaming his fool head off, but he was coming in directly behind us. Oh no, he is coming right at us with the wind blowing at him. "We are gonna be busted," I said under my breath, "He can't help but smell us." But he never did. He just kept coming, screaming the whole way. What seemed to be thirty minutes into this scene, I still hadn't seen him yet. He stayed in the trees. When he was within sixty yards he stopped and grunted, now I could see patches of brown coming through the cedars. It wasn't until he stepped completely out in the open at no more than forty yards broadside that I could see how nice of a bull he was. I have never been this excited. When I saw the mass on this forty eight inch width with fifty two inch beamed 5x6 bull, it wasn't hard for me to make the decision as to whether he was big enough to shoot or not. Even on opening day.
I placed the red dot behind his front shoulder, took two slow breathes and squeezed the trigger. My gun blast didn't seem as loud as it did while I had been practicing all summer to make a two hundred yard shot. Through the smoke, I saw this magnificent animal hunch up and then take off running. He ran about ten steps before I stopped him with a cow call. He just stood there. My son wanted me to take his gun and shoot him again, but I told him "no, he might see us and run." Trent had a muzzleloader deer tag for this region. I whispered to him "don't move, just hold still." I didn't want the bull to see any movement because he might spook and we would loose him. He just stood there for several minutes. Then he turned in the opposite direction and bolted three steps, but again stopped. As he was facing away from us, I reloaded my gun and punched him behind his front shoulder again. He took a couple of steps, staggered and fell dead. As he went down, he fell against a dead cedar tree which caused a huge crash. We were high fives and excitement filled the air like I have never experienced in my lifetime.
As I walked out toward this magnificent animal, I felt enormous respect for him. It was also a very spiritual experience for me. I thought of the hard work I had taken to prepare for this hunt, my past health issues and how I almost died, and of my excited son admiring an elk his dad had just killed. I felt truly grateful and blessed to be there and have such an incredible experience.
The bull scored 330. Not a record book trophy, but when all things are considered and added together, I wouldn't trade this experience to have a higher scoring bull for anything. I had my son, one of my best friends, my health, and most of all the memory that will last a life time.
I would like to thank some people who helped me in one way or another to harvest this bull: Drew from Payson Sports for his unselfish knowledge and his bench vise that he let me borrow. Knight muzzleloaders for their service and ideas when I couldn't get a consistent group at 100 yards. I would especially like to thank Dan and Bonnie for their friendships and the good times we had while scouting. They are truly some of the most friendly and unselfish people I have ever had the pleasure of getting to know. And last, thanks to my great wife who tolerated the time commitment, the thinking of nothing but this hunt, the echoes of cow calls during car trips and the money it took for equipment and scouting expenses. But most of all she understood when I told her how much this hunt meant to me and she encouraged me to enjoy it. I am a firm believer that if you are a hunter, doing your homework pays off. Doing my homework added to the excitement of harvesting a nice bull. It also allowed me to make new friends and set the stage for the hunt of a lifetime.
Click-a-Pic ... Details & Bigger Photos
Click-a-Pic ... Details & Bigger Photos
Home | Hunting Forums | Photo Gallery | Hunting Articles | Videos

|


Hunts & Tags | Hunt Draw Odds | About Mule Deer | About Elk
Store | Classified Ads | Photo Tours | About this Site | Advertising

|


Older Content | Email Us | Privacy Policy | Links | Podcasts