"The Hillside Buck"
Written by Mark Mews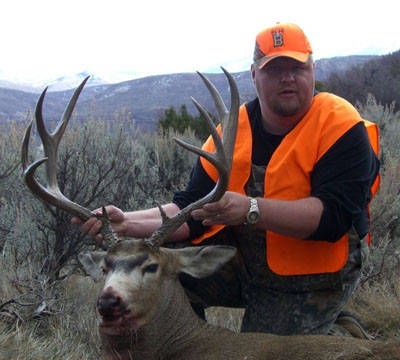 Mark's 182-4/8 Gross Colorado Buck
After the draw results returned I was left with another disappointment knowing that once again I wouldn't be hunting mule deer. But a call from a friend changed all of that when he told me about some Colorado vouchers that were available. Instead of frustration from another unsuccessful draw I was now waiting with anticipation for the upcoming hunt in Colorado. I would be going with four others who bought the vouchers with me. Now the only problem was that we knew nothing about the unit we would be hunting and the others were counting on me to get all the information to be best prepared. This is where the hunting community at MonsterMuleys.com came to my aid.
"....the hunting community at MonsterMuleys.com came to my aid.
What comes around goes around and you never know when the help that you have given someone else will come back to you when it is needed."
What comes around goes around and you never know when the help that you have given someone else will come back to you when it is needed. Other members gave me key information that would help me with getting access to public land and good places to hunt muleys.
The hunt started with the first two days spent covering lots of territory. Besides seeing more deer in two days then I normally see in an entire hunt in most Arizona units, I also saw more hunter orange then I thought was possible in one area. I wasn't sure if hunter orange was just required for the hunters or all residents of Colorado. But while we stood wide-eyed looking at the sea of hunter orange and all the deer hiding just yards from the quad caravans, two of the others in our group explored another area and were excited to tell us that night about the deer they had saw, the missed opportunities at some good bucks, and a lack of other hunters.
We hit this area hard the next few days with good results. The first day there saw Levi taking a 25-inch wide 4x3 and the next day John took a 25-inch wide 3x3. But Tim and I had our sights set higher hoping for at least a solid 4x4. In this time we did lots of hiking and glassing covering many draws and flats, but after seeing many does and smaller bucks nothing crossed our paths that we were looking for. The next day was spent as the previous few days and ended without a buck going down. So we were down to two days and it didn't help at all that I woke up still sore from getting our vehicle unstuck over and over two days earlier and the added joy of the aches that come with a flu and fever. We began the morning with another hike where I dragged behind, stopping in the dark every so often to send my breakfast back out from the same place I quickly swallowed it down earlier. With everything that was going on, when a heavy 3 point stepped out I decided that I was going to take this buck. I ranged the buck at 448 yards and turned my turrets on my scope to take the shot. What I felt was an ethical shot never presented itself, so I ended up watching the buck walk away. As I reflected I was a little relieved that I didn't get a shot knowing the buck wasn't really what I was looking for. Tim decided to stay in the area to try and get on a nice 4x4 he spotted that morning.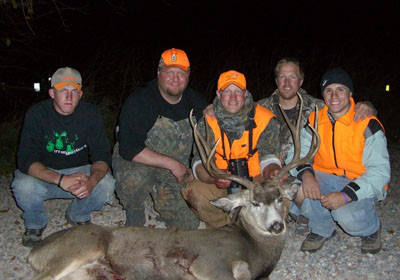 FONT SIZE=2>Tim's Fine Buck
As we headed out in the afternoon, I looked at the steep draws and oak brush telling myself I wasn't doing that hike again. I had covered the area repeatedly and didn't see the buck I was looking for. I decided to take a chance and go to another area that I had wanted to hunt. John, who had already filled his tag, and I hopped in a truck to quickly head out to another area I wanted to hunt. Upon arriving, off to our left I saw what looked like a deep, long draw that was a good place to hike to and glass, so we planned to stop there. As we pulled over a quick glance at a hillside close to the draw left our jaws dropped. All I saw was a tall rack on a swollen necked buck standing broadside near the top of the hill. Without taking a second look I pulled my rifle from its case, jumped out of the truck, crossed the road, dropped to one knee while chambering a round, and brought my scope up onto the bucks shoulder. A brisk crosswind hit me and I waited for a break in the wind and placed my finger on the trigger. Just then I paused when I was hit with fear as I asked myself, "Did I turn my turrets back to zero after I didn't shoot the 3 pointer earlier in the day at 448 yards?" This buck was only about 160 yards away so I quickly looked at my turrets to see my elevation set at 450 yards. I quickly turned the turret back to zero and raised the rifle again. This time I quickly squeezed the trigger as I settled my scope on the buck. I brought the scope back on target after the recoil to see nothing, but heard yells from John as he jumped around excited telling me how the buck dropped without taking a step. The tall buck was down with an instantly fatal shot.
John was up the hill and at the buck before I could reflect on the shot I just took. As I made my way up the hill he was yelling and explaining every feature of the buck's rack. After what seemed like an eternity I came up on the buck and was elated to see the dark, tall, 4x5 buck lying where he was shot. He was everything and more than I could have expected. It took some time before it really sunk in that I had shot what I had came for and would be going home successful. But the hunt wasn't over with Tim still needing to fill his tag. Within two hours Tim had made a successful stalk and taken the symmetrical 4x4 he was looking for.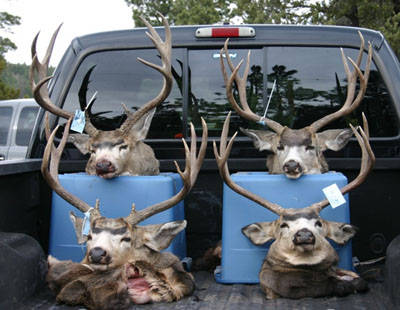 Four Great Bucks
We had filled our tags and were ecstatic that we had all taken our biggest bucks to date. It was a great hunt filled with highs and lows that ended with everyone happy. I couldn't have hunted with a better group of guys. Everyone was just as excited for each other as they were for themselves. These are the kind of guys who make hunting fun and I know that it is a hunt that all of us will remember fondly. I was happy going home with a buck that I guessed would gross in the mid 160's, but I was in for a surprise. After taking the buck to the taxidermist we scored the buck and to my amazement we came up with a green score of 182 4/8 gross. I couldn't have asked for more and know that it will be hard to take a better buck. I still can't believe that after all the hiking, soreness, and being sick that on the next to last day my buck was standing on a hillside staring at me as I stepped out of the truck. I never worked so hard to end up taking a buck less than 200 yards from the road. I will never forget my hillside buck.
Click-a-Pic ... Details & Bigger Photos
Click-a-Pic ... Details & Bigger Photos
Home | Hunting Forums | Photo Gallery | Hunting Articles | Videos

|


Hunts & Tags | Hunt Draw Odds | About Mule Deer | About Elk
Store | Classified Ads | Photo Tours | About this Site | Advertising

|


Older Content | Email Us | Privacy Policy | Links | Podcasts