"Trophy Mule Deer with a Bow"
Written by Mark Warnke
Featured in the winter 2002 issue of Trophy Hunter Magazine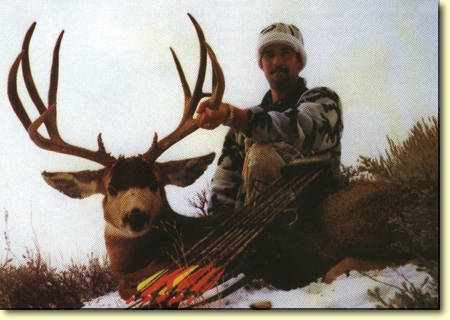 Dason, my unshaven and haggard partner, was sneaking in on a group of five good bucks and several does in the bottom of the valley between us. I sat above and opposite him, out of sight, in a cut on the ridge where we expected them to go if he got busted. This is the "front door, back door" method we employ when hunting the open, high desert of Idaho. A stiff wind masked Dason's stalk, but just as it had happened repeatedly during our 15-day hunt, a perimeter doe spotted Dason and the whole group blew up and headed my way. They went lower than we had anticipated and I had to back out to cut them off. I was able to make my move and ready myself for the shot. The buck I wanted stepped into the alley I had lazered at 45 yards straight downhill. I picked my spot, slowed my breathing and squeezed. I saw the flight of the arrow as it left the bow and realized I had forgotten to adjust for the stiff crosswind. I shot an inch in front of his brisket and my heart sank. It would be another three years before my hopes of a trophy buck would come true.
My quest for a trophy mule deer with a bow and arrow started four years ago. I had an opportunity to learn from one of the most tenacious bow hunters I knew, Dason Lasiter. When I met him, he was 24 and had taken over 20 animals with a bow! He patiently walked me through the process of learning to shoot and helped me through the frustrations of the constant near misses that accompany bow hunting.
I had already taken several good bucks in the 160-170 class with a rifle, but I had always wanted a chance to take one in the 180-190 class. Bow hunting offered the chance to at least see them because of the seasonal timing of the hunts.
The area we were hunting was grueling - open, steep terrain covered with crunchy snow. This made sneaking in on big bucks incredibly difficult. In fact, I have hunted almost every big game animal in North America and none matched the challenge of taking a big mule deer buck where we hunted.
I hunted for 15 grueling days and took nothing my second year. I made a decision the third year, based on exhaustion, to take a 22-inch, four-point that mistakenly trotted by me at 13 yards.
Now I was in my fourth year and I hadn't taken a buck of the caliber I wanted. Keep in mind, my failure was not from lack of trophy bucks - we saw them every day - it was getting close enough to them for a shot. I hoped that this would be my year. I had put in my dues and it turned out I was right.
This year began with visibility problems caused by high-altitude fog. We were trying to hunt in the moving open pockets of fog when Dason stumbled onto the biggest buck I've ever seen. Height, mass, tines, symmetry - he had it all. I saw him long enough to name him "Mongo" and guessed him to score over 190. The current typical state record with a bow in Idaho is 196, so I was definitely excited.
We caught up with "Mongo" and several other good bucks during the next few days. My partners had several chances at him, once while he was standing at 50 yards and another at a slow walk at 45. Both missed their shots. They had their reasons, but I think it was the size of the buck. Monster bucks have a tendency to make arrows do funny things. He was only about 28 inches wide, but he had the height and the front tines of the monsters in the book. He also had excellent mass.
We found him again two days before the end of the season and he had some real whoppers running with him. "Mongo" was still the biggest, but one of the bucks with him was a strong 190 candidate and another was not far behind. We decided to put Dason as the sneaker while Ryan, a friend from Illinois, watched the back door and I was behind him. Once Dason began to move in, he was spotted immediately and the deer began to move away slowly. I was tucked back in a gully that I hoped the deer would come through; making it impossible for me to see what was going on below me. The deer split and "Mongo" went over the top near Ryan. Unfortunately, he was too far away for a shot. The others came my way and began filing through the gully about 75 yards below me. Then, there he was - a solid 190 - a real pig. I had no chance as he crossed below me more than 80 yards away. My heart sank, but I decided to continue moving downhill. I made it to where the other deer had crossed and caught movement out of the corner of my eye. I swiveled slowly to my left and nine yards away on the other side of a huge sage was a great buck. He was alert and staring right at me. Luckily, my arrow was knocked and I slid my release onto the string. What followed was one of those moments all bow hunters can identify with - I waited for what seemed an eternity for the buck to make his move. When the buck began his mad dash downhill from me, my arrow caught up with him in two bounds. As I approached the deer, I realized my quest had come to a truly awe-inspiring conclusion - I say that because of the sheer majesty of the buck. At that moment, I felt like the most blessed man walking the hills, as the feeling of accomplishment was amazing. I wish I could have bottled my emotions to be tapped into the next time I was feeling beat up by the immense challenge of harvesting a trophy mule deer with a bow and arrow.
My buck scored 203 gross. Because of 11 inches worth of cheaters and the lack of symmetry on his rack he nets in the mid 170's, but he is still a great buck.
He aged out at eight to nine years old and was probably past his prime. I hope I can chase his prodigy some day and even get another chance at the real monster, "Mongo", next year.
Click-a-Pic ... Details & Bigger Photos
Click-a-Pic ... Details & Bigger Photos
Home | Hunting Forums | Photo Gallery | Hunting Articles | Videos

|


Hunts & Tags | Hunt Draw Odds | About Mule Deer | About Elk
Store | Classified Ads | Photo Tours | About this Site | Advertising

|


Older Content | Email Us | Privacy Policy | Links | Podcasts